People donate all sorts of things to their local Goodwill stores, and employees likely run across a lot of random — or accidentally discarded — items.
An albino python, however, has probably not been one of them — at least until now, according to KDFW-TV.
What happened?
An employee at a Goodwill Industries in Fort Worth, Texas, was sorting through donation bins at a sorting center when the live snake appeared, according to the station.
The female employee — identified by KXAS-TV as Tassy Rodgers — upended one of the containers full of clothes when she spotted it: an albino python.
Initially, Rodgers reportedly believed the giant snake to be a fake. But then the python reportedly began moving and flicking its tongue.
"I was tipping this machine, and when I brought the bin back the snake was hanging over the edge," Rodgers said. "I was a little freaked out and thinking this cannot be fake; it's gotta be real."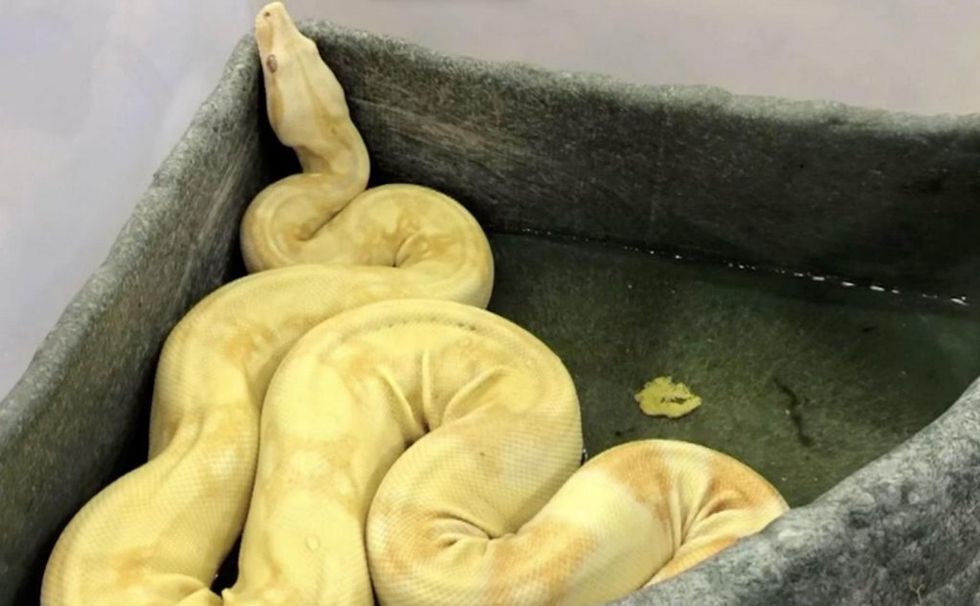 (Image source: KXAS-TV video screenshot)
Rodgers immediately phoned store manager James Murphy, who — luckily — owns snakes and is particularly familiar with pythons.
Murphy arrived at the sorting center and placed the snake back into the empty bin.
"I just don't know what the context is of how this snake got to us," Murphy told KXAS. "There are multiple steps this snake had to take to get here.
"I don't know if someone may have [dropped it off] maliciously," Murphy added. "Maybe they wanted to get rid of it and weren't quite sure how, or maybe it just wanted to get warm. It was in a pile of clothing."
Murphy plans to care for the snake until the store figures out how the snake got there — either in error or on purpose.
"With pythons, they're very strong and they are constrictors. So if he didn't want to let go of that bin, it would have been hard to get him off without hurting him," he explained. "So, we tried to coax him to start slithering, to relax his muscles and that's when I started holding him. Eventually he relaxed enough for me to get him in that bin."