Amid the spread of controversial drag queen story hours at public libraries — during which performers in full makeup and glitter read to children and toddlers — one drag queen admitted that the events are meant to "groom the next generation."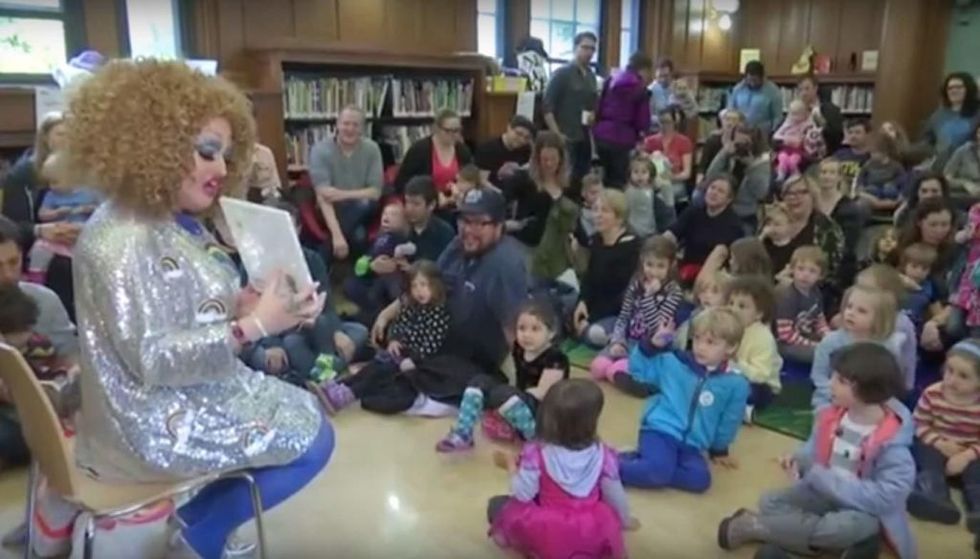 Image source: YouTube screenshot
Dylan Pontiff — who helped organize a story hour for kids as young as age 3 at a Louisiana public library originally scheduled in October — is shown in a video telling the Lafayette City-Parish Council at a Sept. 17 meeting what's behind the "very beautiful" event.
"This is gonna be the grooming of the next generation," Pontiff said. "We are trying to groom the next generation" to be accepting of LGBT values. Pontiff was dressed in street clothes for the meeting but goes by Santana Pilar Andrews when he's onstage, LifeSite reported.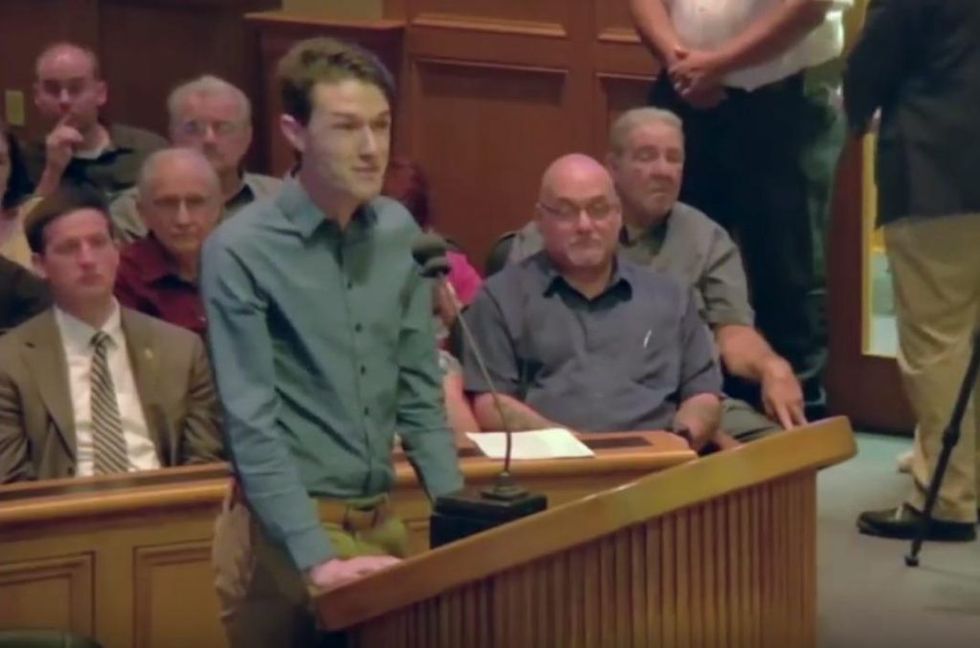 Dylan Pontiff (Image source: YouTube screenshot)
What else did Pontiff say?
Pontiff, who said he's been bullied most of his life for being gay, blasted those opposed to the drag queen story hour — even those gathered at the council meeting.
"Apparently to a lot of people in this room I'm the big boogeyman," he said, "and as you can see I'm probably the most unintimidating person you've ever seen in your entire life."
Pontiff denied charges that drag queen story hours are overly sexual and said he can alter content to make it appropriate for children.
"I can go in and entertain adults in a club and also entertain a group of students and young children," he said. "I'm able to do that because I'm an adult and able to filter myself."
He also ripped "some of the looks I've received here tonight" and called out grumblings by those seated behind him as "disgusting."
"We are trying to teach people to be tolerable [sic], to be patient, to be loving," Pontiff said, "and the fact of the matter is that I'm standing right here and there's probably 50 people behind me, looking at me with daggers wishing that I would probably die in a car wreck whenever I leave here is truly implorable [sic]."
He said the point of the drag queen story hours is to "raise people to be loving and caring individuals ... not only just the children at this event but children in the future."

What's been happening with the Lafayette drag queen story hour?
The Lafayette event — originally scheduled in October at the library's main branch downtown — has been postponed, with no new date announced, according to the Daily Advertiser.
The paper added that the event was moved to a larger space at South Louisiana Community College, but the school backed out two days beforehand over security and logistical concerns.
But Baton Rouge Pride announced a Drag Queen Story Time set for 2 p.m. Dec. 2 at the Aveda Institute Baton Rouge, the Daily Advertiser reported.
What do others have to say about the issue?
"Unfortunately, the Drag Queen Story Hour program is turning public libraries into platforms to advance the transgender revolution, places where pro-homosexual activists are given access to children as young as three," John Ritchie, director of TFP Student Action, said in an interview, according to LifeSite.
"Instead of protecting the precious innocence of our children with wholesome stories, libraries are misusing our tax dollars to harm their innocence," Ritchie added, according to the outlet. "To attempt to dismantle and destroy the distinction between male and female is not only biologically ridiculous, but also a direct attack against God's plan for us and for the family. Everyone who loves the family should wake up, pray and push back."
Indeed, LGBT activists have said they're determined to indoctrinate children to accept the movement's agenda.
"I am here to tell you: All that time I said I wasn't indoctrinating anyone with my beliefs about gay and lesbian and bi and trans and queer people? That was a lie," S. Bear Bergman wrote in his piece, "I Have Come to Indoctrinate Your Children Into My LGBTQ Agenda (And I'm Not a Bit Sorry)" in 2015. "All 25 years of my career as an LGBTQ activist, since the very first time as a 16-year-old I went and stood shaking and breathless in front of eleven people to talk about My Story, I have been on a consistent campaign of trying to change people's minds about us. I want to make them like us. That is absolutely my goal. I want to make your children like people like me and my family, even if that goes against the way you have interpreted the teachings of your religion."
Gay activist Daniel Villarreal wrote in Queerty.com that those in the LGBT movement "want educators to teach future generations of children to accept queer sexuality. In fact, our very future depends on it ... Recruiting children? You bet we are."
His 2011 piece added, "Why would we push anti-bullying programs or social studies classes that teach kids about the historical contributions of famous queers unless we wanted to deliberately educate children to accept queer sexuality as normal?"