Payback is continuing for those who've made Carson King's life difficult — and the Iowa Oktoberfest is the latest to get its pound of flesh.
What's the background?
Earlier this month, the 24-year-old King held aloft a sign as TV cameras rolled asking for Busch Light money and he got a lot more than he bargained for — now to the tune of $2.2 million, which he's donating to the University of Iowa Stead Family Children's Hospital.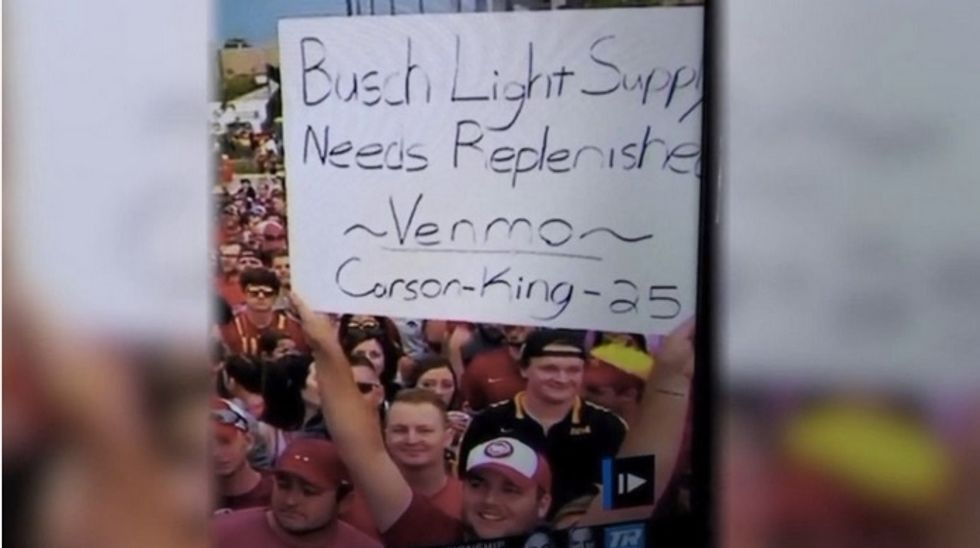 Image source: WHO-TV video screenshot
A Des Moines Register reporter writing a King profile last week background checked his social media and discovered a pair of tweets King posted — at age 16 — that the paper called "racist jokes." Angry Twitter users then turned the tables on reporter Aaron Calvin and dug up old tweets of his, also characterized as "racist."
On Thursday, the Register fired Calvin, who spoke to BuzzFeed News in the aftermath and said that while it's standard practice to background check profile subjects, his editors told him to ask King about the unearthed tweets. TheBlaze didn't hear back from Register executive editor Carol Hunter regarding if Calvin went to King on his own or if editors directed him to do so.
"Throughout this entire process of the discovery and inclusion of the tweets, the editor knew, the editorial board knew, and the executive editor knew how I'd included them and handled them for the article, and as far as I knew, approved of that," Calvin added to BuzzFeed News.
Here's a news station report on a news conference King gave about his unearthed tweets prior to the Register running with its story. Yes, he beat the paper to the punch:
Busch Light feels the heat, too
Besides scads of Twitter users unleashing their wrath on the Register, Calvin, and Hunter, Busch Light and its parent company felt the heat as well.
Given the beer was the focal point of King's viral sign, Busch Light matched King's donation and also gave him a year's worth of beer and proclaimed him an "Iowa Legend," the Register said.
But when word of King's tweets came to light, Anheuser-Busch InBev — Busch Light's parent company — said it will "have no further association with [King]," though the company will honor its agreement to match the funds for the children's hospital, the paper added.

As you can imagine, that decision angered King backers, too — and KKWL-TV reported that Iowa Oktoberfest decided to pull Busch Light from its lineup of beers.
"We did some reading of our own besides what's just being put out there and understand Carson King's comments and what happened and realized he's quoting a TV show [Comedy Central's "Tosh.O"] on a channel that Anheuser-Busch spends a lot of money on. They cut their ties with a local," Chad Shipman of the Oktoberfest told the station.
Shipman added to KKWL that "we figured we wanted to support his cause more than we wanted to support a beer product. We are the Iowa Oktoberfest, and we want to support Iowans."
Others seem to agree: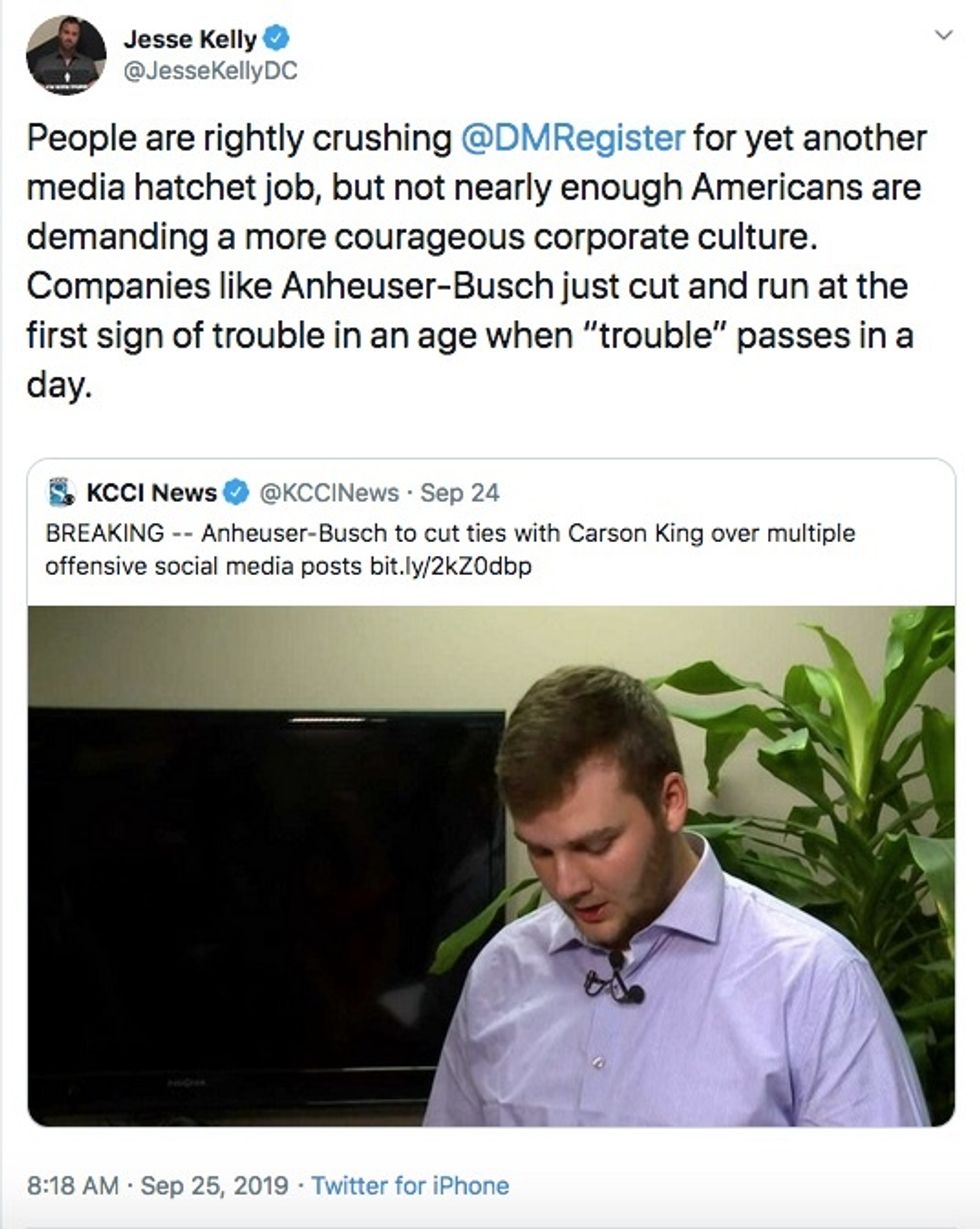 Image source: Twitter
UPDATE 8:30 p.m: In response to TheBlaze's request for comment regarding the Iowa Oktoberfest pulling Busch Light, an Anheuser-Busch representative on Monday told TheBlaze the company "has no official comment to report. But I can clarify the fact that Busch Light was not part of the original line up for Oktoberfest 2019."
TheBlaze on Monday reached out to the Iowa Oktoberfest with Anheuser-Busch's contention but didn't immediately receive a reply.
This story has been updated.