It seems Antifa — the cowardly band of leftists who mask their faces while physically attacking people they disagree with, even police, despite claiming to be "anti-fascist" — truly has no shame.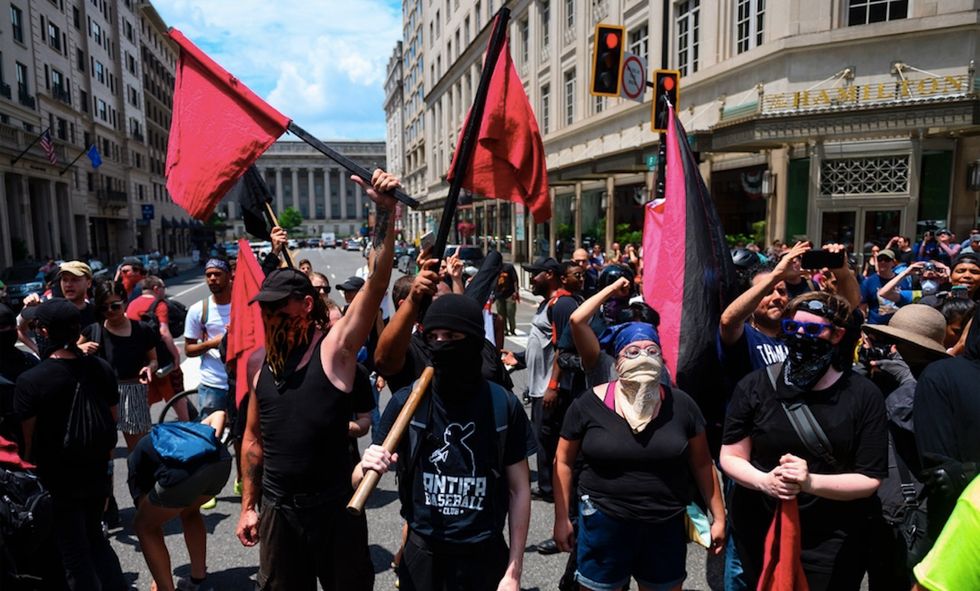 Image source: ANDREW CABALLERO-REYNOLDS/AFP/Getty Images
Daryl Davis — a black musician who's been reaching out for decades to the likes of the Ku Klux Klan and neo-Nazis and black separatists in order to foster racial reconciliation — said he's been called every name in the book in the process.
"I have been called [N-word], a porch monkey, a pavement ape, by racists, an Uncle Tom, an Uncle Ruckus, an Oreo, a race traitor, a sellout, both a pimp and a prostitute, by some of those who look like me and who claim to despise racism," he noted in a Facebook post Friday. "When you add it all up, I've been just about called every name but my own name."
Davis added that a few nights before he was on a panel at a Philadelphia conference that discussed ways to "deescalate racism, antisemitism, and violence in our country."
But Antifa wasn't having it
Meanwhile, Antifa members "threatened to do violence to the conference organizers and panel speakers and burn down the building where we were to speak," Davis noted, adding that Antifa couldn't damper the mood during an after-party featuring "a room filled with people from all walks of life and every political persuasion from MAGA hat-wearing Trump supporters to supporters of those at the opposite end of the Make America Great Again people and everyone in between."
"We ALL got along fantastically," he said.
Antifa was anything but thrilled, Davis said, as police closed streets surrounding the party while "about 40 Antifa members gathered outside the building to protest, accusing the the speakers and organizers of being racist."
More from Davis' post:
We invited the Antifa members to come in a join the party and have an opportunity to talk with us. They refused. I thought I had seen and heard it all in my 61 years and nothing would surprise me, but I was mistaken. Now are you ready for this? The Antifa people called me a White Supremacist. What??? Are you kidding me??? Wow!!! That's right, you heard me!!! They called ME, a White Supremacist. Now, I KNOW I've heard it all. It's good to be colorblind sometimes, but this is ridiculous!!!
Here's a clip of Davis discussing the idea that those who are against racism should dialogue with and listen to and extend compassion toward those who espouse racism in order to change their hearts and minds:
Can Conversation Help End Racism? Daryl Davis Says Yes. youtu.be
Here's another clip of Davis recounting his attendance at KKK rallies where he befriended Klan members and saw many of them end their racism:

Beloved Community Talks: Daryl Davis tells how he makes KKK members retire youtu.be
(H/T: Louder With Crowder)