© 2023 Blaze Media LLC. All rights reserved.
Antifa terrorist who firebombed ICE facility invokes AOC's rhetoric in manifesto
'I really shouldn't have to say any more than this...'
The man who attacked an Immigration and Customs Enforcement facility in Tacoma, Washington, over the weekend echoed rhetoric from Rep. Alexandria Ocasio-Cortez (D-N.Y.) in his manifesto.
Willem Van Spronsen, who tried to firebomb the ICE facility after being angered by a "factually inaccurate portrayal" of the facility, condemned what he claimed are "corporate for profit concentration camps."
"I'm a black and white thinker. Detention camps are an abomination. I'm not standing by. I really shouldn't have to say any more than this," Van Spronsen wrote.
Last month, Ocasio-Cortez referred to migrant detention centers as "concentration camps" and invoked other Holocaust language, such as "Never again." Her comments ignited a firestorm of controversy and outrage that ended with Ocasio-Cortez doubling down despite widespread condemnation from Jews and actual Holocaust survivors.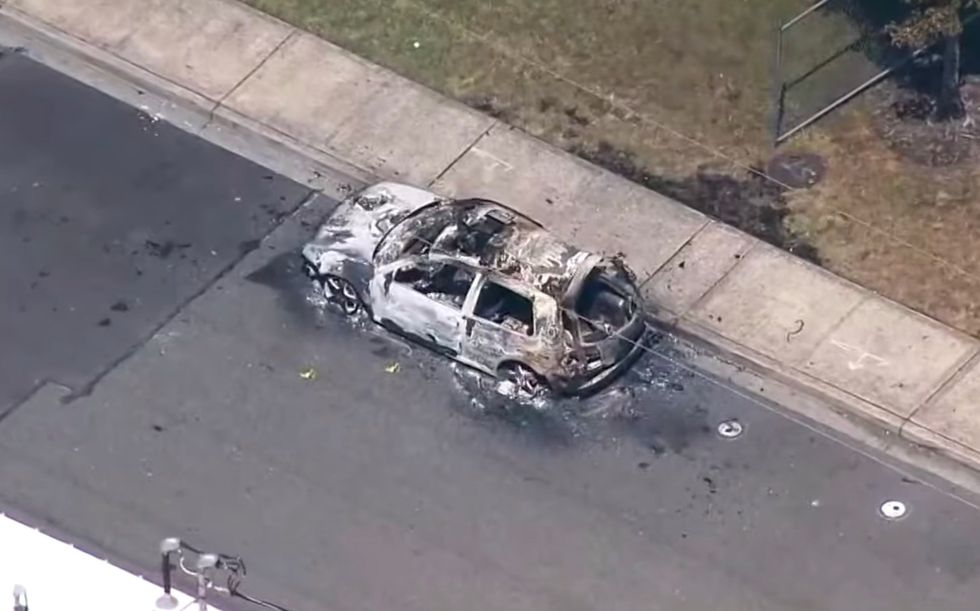 A torched car outside the Tacoma ICE facility.Image source: YouTube screenshot
Later in the manifesto, the self-avowed "Antifa" member encourages "comrades and incoming comrades to arm themselves."
"We are now responsible for defending people from the predatory state," Van Spronsen said. "Ignore the law in arming yourself if you have the luxury, I did."
Van Spronsen reportedlywent to the ICE facility about 4 a.m. armed with a rifle and several improvised explosives, such as molotov cocktails. He reportedly threw his incendiary devices at the building as well as at several vehicles in a parking lot, setting them ablaze. Police responded with lethal force and killed him.
What's the truth about the Tacoma ICE facility?
According to an official with GEO Group — the for-profit organization that operates the ICE facility in Tacoma — the media is telling an incorrect story about the facility.
The facility in Tacoma is not comparable to the ICE facilities that temporarily hold migrants at the border. The GEO group does not manage facilities that hold unaccompanied minors, are overcrowded, or along the border.
Instead, facilities ran by the GEO Group are relatively luxurious with "amenities including artificial turf soccer fields, flat screen TVs in living areas, indoor and outdoor recreation, classrooms, multipurpose rooms, and libraries," a fact sheet provided to TheBlaze says.
In a statement to TheBlaze, GEO vice president for corporate relations Pablo Paez said:
Like all Americans, we are concerned about the unprecedented humanitarian crisis at our Southern border; we acknowledge the challenge, but we are appalled by the historically and factually inaccurate portrayal of our facilities. The outrageous and baseless accusations that have been leveled against our facilities have led to misplaced aggression and a dangerous environment for our employees, whose safety is our top priority. Violence of any kind against our employees and property will not be tolerated. We are thankful for the quick and brave action by the Tacoma Police Department, which prevented innocent lives from being endangered.

Contrary to the images of other facilities on the news, our facilities have never been overcrowded, nor have they ever housed unaccompanied minors. The GEO Group's facilities, including the processing center in Tacoma, offer modern amenities with air conditioning, a bed for every individual, recreational activities, 24/7 medical care and access to legal services on the premises as we carry out our mission to provide the safest, most humane care possible.
(H/T: Andy Ngo)
Want to leave a tip?
We answer to you. Help keep our content free of advertisers and big tech censorship by leaving a tip today.
Staff Writer
Chris Enloe is a staff writer for Blaze News
chrisenloe
more stories
Sign up for the Blaze newsletter
By signing up, you agree to our
Privacy Policy
and
Terms of Use
, and agree to receive content that may sometimes include advertisements. You may opt out at any time.