The office of Manhattan district attorney Alvin Bragg on Tuesday morning dropped all charges against 61-year-old deli worker Jose Alba who fatally stabbed an attacker earlier this month, the New York Times reported.
What are the details?
Bragg's office charged Alba with second-degree murder and criminal possession of a weapon and sent him to notorious Rikers Island prison despite video that shows a much larger and younger man — 35-year-old Austin Simon — going behind the counter of a Harlem deli July 1 and physically attacking Alba who works there.
In fact, additional video shows Alba pleading with an angry Simon, "I don't want a problem" before Simon aggressively shoved Alba into store shelves and grabbed him by the neck.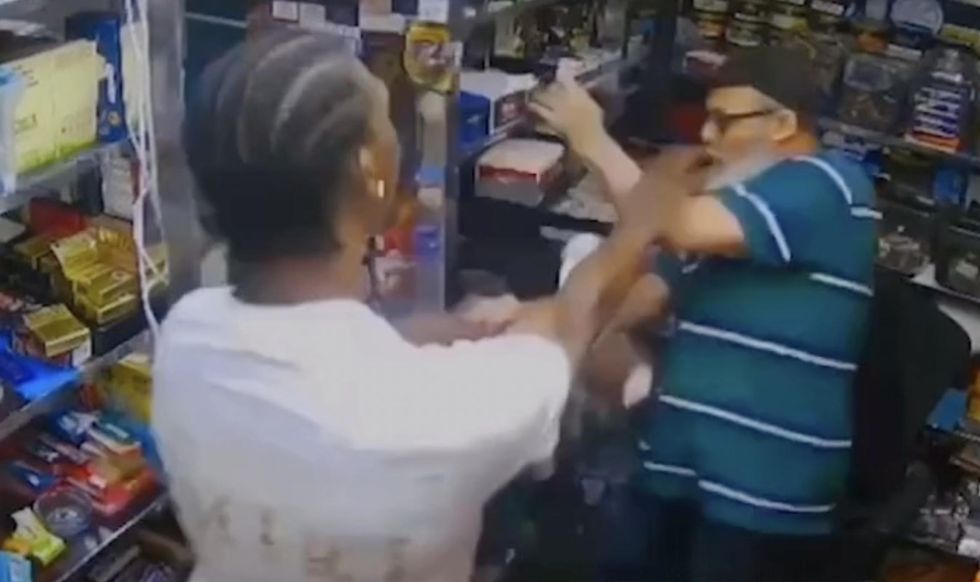 Image source: TeaTenders video screenshot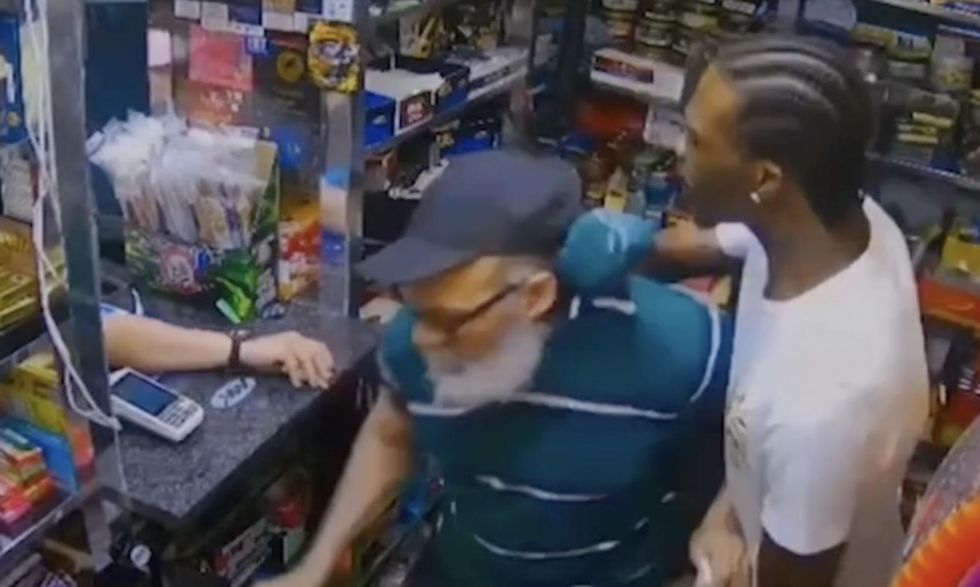 Image source: TeaTenders video screenshot
Simon was incensed that Alba took potato chips away from the 10-year-old daughter of Simon's girlfriend whose benefits card failed to work in the transaction.
'Homicide case ... could not be proven'
Bragg's office was intensely criticized for Alba's murder charge, his stint on Rikers, and the $250,000 bail Alba would have to raise to get out. One of Alba's defenders was Democratic New York City Mayor Eric Adams, who called Alba "innocent."
Soon, Alba was released on a reduced $50,000 bail and maintained he was defending himself against Simon. Pressure mounted daily against Bragg's office to drop charges against Alba as the investigation continued.
Finally, the district attorney's office said "a homicide case against Alba could not be proven at trial beyond a reasonable doubt" as part of a motion to dismiss the case filed Tuesday morning, the Times said. The case won't be presented to a grand jury, the paper added.
Here's video of attack and stabbing.
Content warning: Graphic video:
Simon was an ex-con on parole
The New York Post reported that Simon was on parole for assaulting a cop at the time of the deadly encounter in the Harlem bodega. State corrections records show Simon served prison time on a second-degree assault conviction for attacking the officer before he was paroled last year, the Post added.
In addition, the paper — citing sources and records — said Simon was busted at least eight times on charges ranging from assault and robbery to assault during a domestic dispute.
The New York Daily News — citing the criminal complaint — added that Simon's girlfriend grabbed a knife from her purse and stabbed Alba in the arm during the bodega attack.
Police sources said Alba was stabbed during the assault but that Simon's girlfriend denied to police that she stabbed Alba, the Post said in a separate story. Alba's lawyer said during his arraignment that Simon's girlfriend stabbed Alba three times in the shoulder and hand, the Post added.
New Video Shows Girlfriend Stab NYC Bodega Worker After Confrontation Turned Deadly | News 4 Nowyoutu.be
How did Simon's family react to the dropped charges?
The Times added that Simon's family spoke with the district attorney's office Tuesday morning and criticized the decision. Simon's cousin Candra Simon said "we are all clearly disappointed and can't understand how it's OK to take an unarmed man's life. This decision sets a dangerous precedent," the paper reported.