New video shows New York City deli worker Jose Alba pleading with an angry Austin Simon "I don't want a problem," before Simon walks into the area behind the counter and attacks Alba — after which Alba fatally stabs Simon in what many are calling a clear case of self-defense.
What are the details?
Simon confronted Alba at the Bluemoon Convenient Store in Harlem late July 1 after Alba allegedly touched the hand of the daughter of Simon's girlfriend and took back a bag of chips from the daughter that Simon's girlfriend couldn't pay for.
In the latest video of the altercation obtained by the New York Post, Alba appears to try to avoid a confrontation with Simon and de-escalate things.
"Papa, I don't want a problem, papa," Alba can be heard telling Simon, who appears to be the aggressor as he walks into the space behind the counter and growls, "What's wrong with you?"
Initially obtained security video shows Simon shoving Alba into shelves and apparently grabbing Alba by the neck and attempting to walk Alba out of the space behind the counter — which is when video shows Alba grabbing a knife and stabbing Simon.
Content warning: Graphic video:
'Gonna come down here right now and f*** you up!'
According to the Post's story — which contains a longer version of the new video — a woman is heard yelling off camera, "You can't touch my daughter. Don't snatch that out of my daughter, you f***ing piece of s**t!"
The woman adds, "I'm gonna bring my [racial slur] down here, and he gonna f*** you up. My [racial slur] is gonna come down here right now and f*** you up!" the Post reported.
Alba replies, "That's not my fault; it's not working," presumably in reference to the woman's benefits card.
The new video also shows the stabbing from a different angle as well as police handcuffing Alba: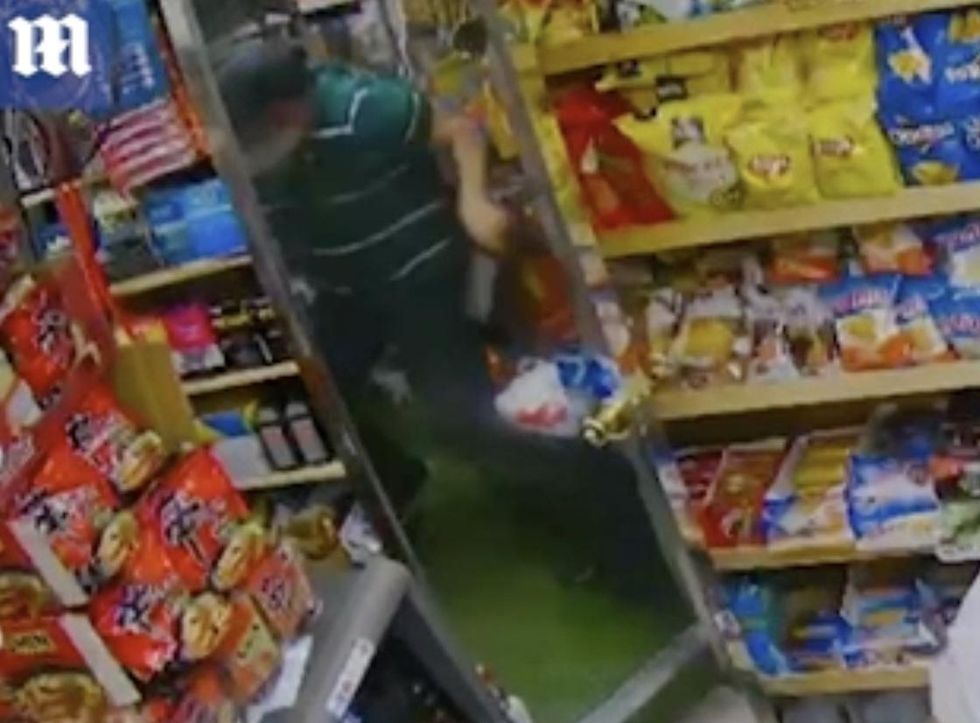 Image source: Daily Mail video screenshot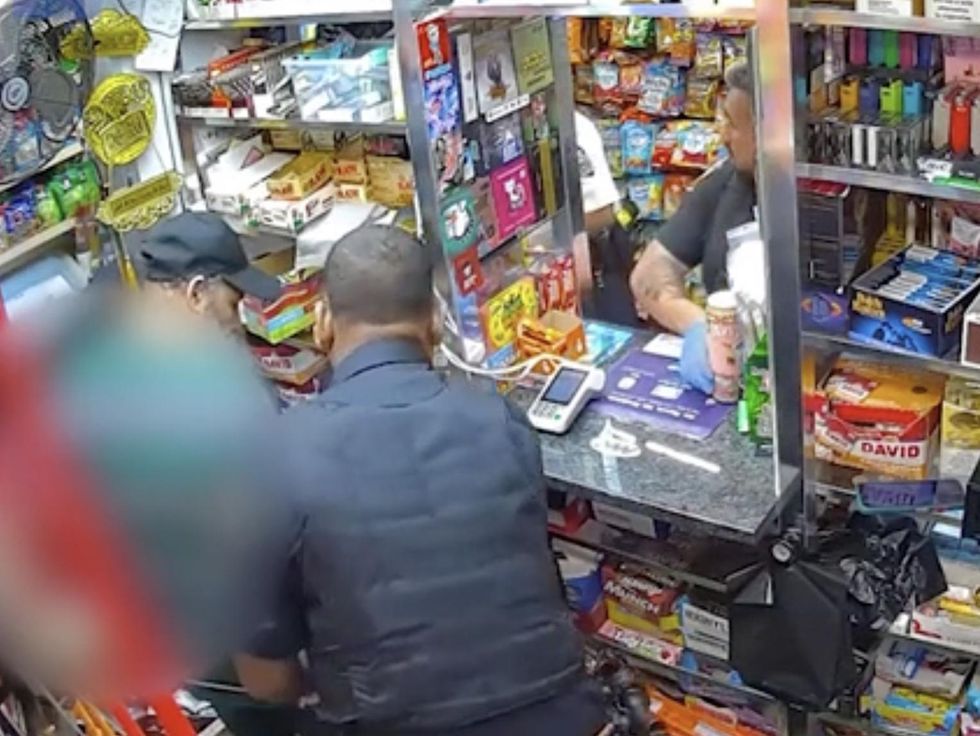 Image source: Daily Mail video screenshot
Alba was charged with second-degree murder the day after the deadly confrontation and sent to the notorious Rikers Island prison on $250,000 bail. Alba was released Thursday after prosecutors agreed to lower his bail to $50,000. The case is scheduled to go before a grand jury July 20.
Francisco Marte, founder of the Bodega and Small Business Group, told the Post that Alba was "very sorry for what happened."
"He knew that his life was threatened. He was protecting himself…or we would be looking to bury him today," Marte added to the paper.
A separate Post story reported that Simon was on parole at the time of last week's deadly incident for assaulting a cop. State corrections records show Simon served prison time on a second-degree assault conviction for attacking the officer before he was paroled last year, the Post added.
In addition, the paper — citing sources and records — said Simon was busted at least eight times on charges ranging from assault and robbery to assault during a domestic dispute.
Anything else?
The New York Daily News — citing the criminal complaint — added that Simon's girlfriend grabbed a knife from her purse and stabbed Alba in the arm.
Police sources said Alba was stabbed during the assault but that Simon's girlfriend denied to police that she stabbed Alba, the Post said in a separate story. Alba's lawyer said during his arraignment that Simon's girlfriend stabbed Alba three times in the shoulder and hand, the Post added.
Content warning: Graphic video: