After the co-owner of a Connecticut brewery used the business' Twitter account to threaten violence against conservative journalist Andy Ngo, a profusely apologetic Hanging Hills Brewing Company of Hartford said it's embarrassed and walking it all back, WFSB-TV reported.
Here's a screenshot of the tweets: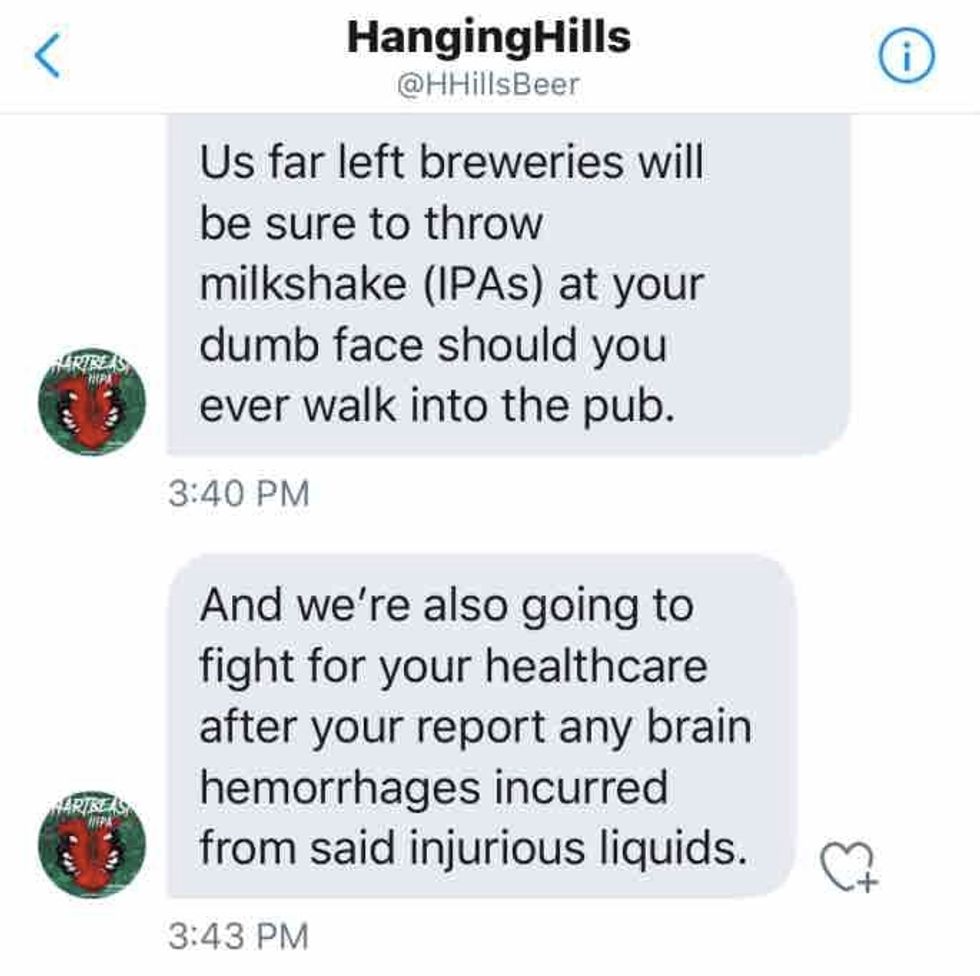 Image source: Twitter
What are the details?
The first message indicated "us far left breweries will be sure to throw milkshakes (IPAs) at your dumb face should you ever walk into the pub" — a reference to the allegation that Antifa militants in Portland tossed milkshakes mixed with quick-drying cement at Ngo during protests last June. He also said the Antifa militants beat and robbed him.
The cement-in-milkshake claim reportedly hasn't been substantiated, although Portland-based paper Willamette Week said it was able to create the concoction — except it looked much darker.
A second tweet said, "And we're also going to fight for your health care after you report any brain hemorrhages from said injurious liquids" — a reference to Ngo reporting that the attack left him with a brain hemorrhage.
Here's a clip of the attack on Ngo. (Content warning: Language):
How did the brewery respond?
The brewery released a statement on Facebook Sunday saying the tweets were intended as a joke and apologizing to Ngo, WFSB said.
"Unfortunately due to poor judgement and without full ownership knowledge, Hanging Hills has engaged in tweets with Andy Ngo that resulted in an expression of violence," the brewery posted, the station said. "The ownership of Hanging Hills strongly disapproves of this political discourse and apologizes directly to Andy Ngo who most certainly did not deserve any expression of ill will. We also apologize to his followers and our customers who were justifiably offended."
The brewery added that it will take action once all the facts are in and that it honors and respects everyone and their viewpoints, WFSB added.