A Tennessee sheriff called a concealed carrying bystander a "hero" for shooting a man and holding him until police arrived Wednesday after the man fatally shot his own wife in the office of a Kingsport dentist, WJHL-TV reported.
"I'm gonna call him a hero today," Sullivan County Sheriff Jeff Cassidy told reporters outside the offices of Guy Dentistry. "He was able to take care of the violent threat and hold that suspect until authorities arrived."
Cassidy added that the bystander with the concealed carry permit "eliminated a threat" and "did a really good job."
"I want to thank him from Sullivan County Sheriff's Office," he also said.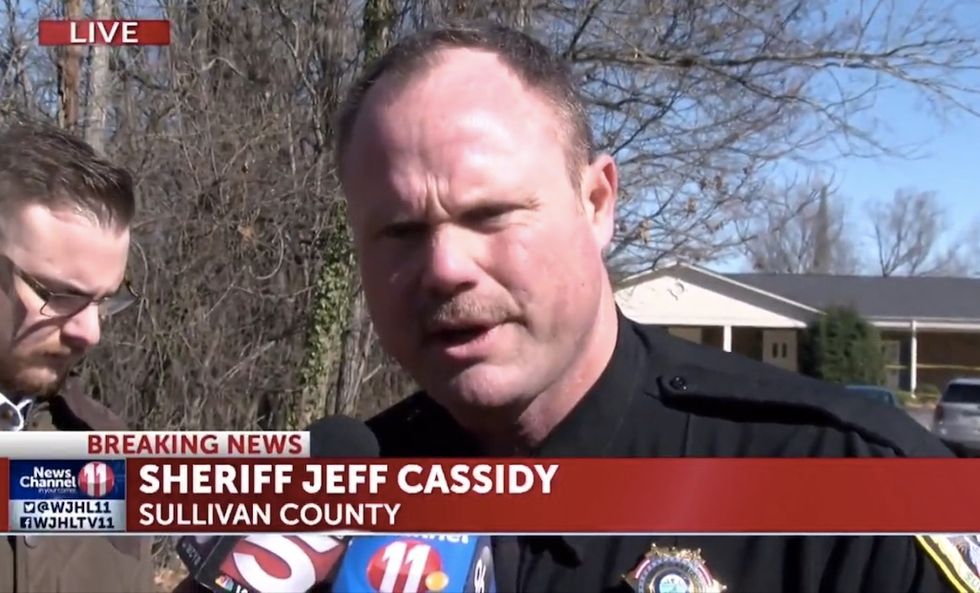 Image source: WJHL-TV video screenshot
What else do we know?
The woman — who authorities said was a dental office employee — died from her injuries at a local hospital, WJHL reported.
The suspect who fatally shot her was being treated for gunshot wounds at a hospital, the station said, adding that his condition is unknown. Cassidy told the station he "entered the business with intent of harm."
The names of the suspect and his wife have not been released pending notification of family, WJHL said.
The sheriff told the station he's unsure if the concealed carry permit holder who shot the suspect was a patient in the dental office.
JUST IN- first photos from the scene of what was an "active shooter situation" this morning at a dental office in t… https://t.co/aqtILTS0x1

— Jordan Moore WJHL (@Jordan Moore WJHL) 1550073074.0
There were no other injuries, the sheriff told WJHL.

Agents from the Tennessee Bureau of Investigation and troopers from Tennessee Highway Patrol are assisting the Sullivan County Sheriff's Office and the Kingsport Police Department, the station added.