A 24-year-old man who had been in court for sentencing Tuesday in Fresno, California — in connection with a violent felony conviction — later that day entered a nearby, secure police annex, headed to a detective's office, and began physically attacking and stabbing the detective, after which the detective fatally shot him, KFSN-TV reported.
What are the details?
The suspect, identified as Joseph Roy, had appeared at the Fresno County Courthouse for sentencing for an assault in which he used a "blunt object" to injure a man last year, the station said.
Roy had agreed to plead no contest to assault by means likely to produce great bodily injury, KFSN said, adding that in return Roy would receive no prison or jail time but possibly GPS tracking. In addition, the station said Roy would be required to complete alcohol and anger management treatment and wasn't allowed to possess a firearm.
After a year — providing he completed the treatment and didn't get into trouble — Roy's conviction would be reduced from a felony to a misdemeanor, KFSN said.
However, court sources told the station that Roy's sentencing was postponed after his attorney expressed concern that Roy wasn't fully understanding the proceedings.
"There's some time that took place between when he left the courthouse and when the assault on our detective took place," Lt. Bill Dooley told KFSN at a Wednesday press conference.
What happened next?
Police said Roy entered the Fresno Police Department Headquarters Annex at 11:42 a.m. The annex appears to be a short walk from the courthouse.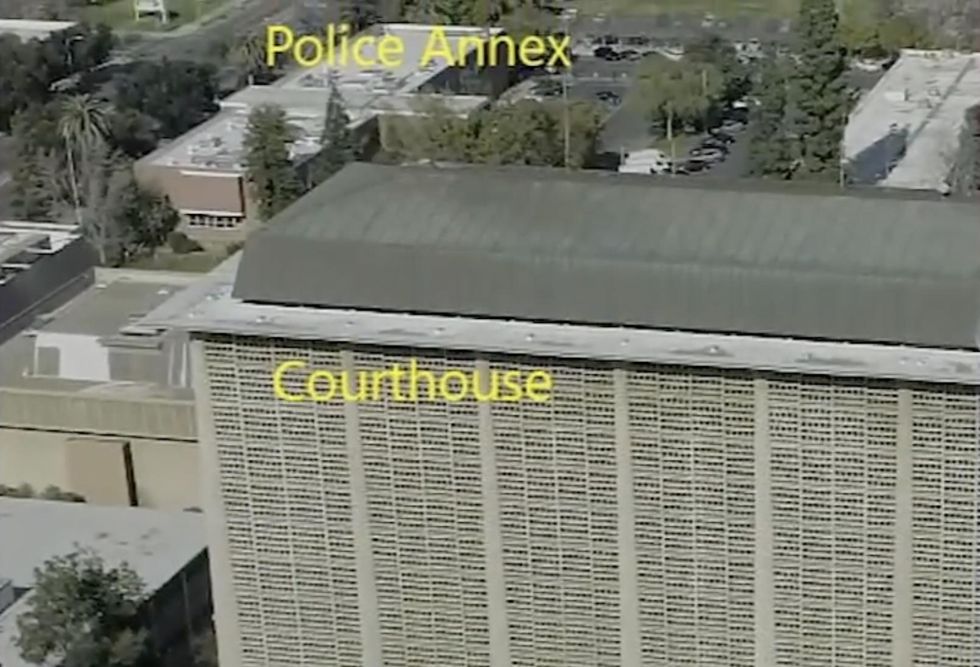 Image source: KFSN-TV video screenshot
Police said Roy entered a detective's first-floor office, began physically assaulting the detective, then grabbed a sharp object and stabbed the detective in the head several times.
With that, police said the detective armed himself with his gun and fired at Roy, who was pronounced dead at the scene.
The detective — who suffered a puncture wound to the top of his head, a large cut from the top of his head down the right side of his face, and a concussion — was taken to a hospital for his injuries and later released, police said.
Officials added to KFSN that the injured detective had no previous contact with Roy.
"As far as we can tell this is a random attack on our detective, but we're still trying to piece that together and figure out why," Dooley said at the press conference, according to the station.
Fresno police told KFSN the department had four contacts with Roy: He was arrested on felony charges in 2018 and 2021 and on two other occasions when he was placed on a mental health hold.
Anything else?
Investigators added to the station they're also trying to figure out how Roy got into the Annex building, as a key fob is necessary to enter any door, including the door accessible to the public.
Until officials determine how Roy entered the annex, they've stationed an officer at the public entrance for added security, KFSN said.
Roy's attorney declined to comment, the station reported.
In the meantime, investigators are studying exterior surveillance video to see how Roy got inside, KFSN reported, adding there are no interior cameras.
Content warning: Video shows graphic images of detective's injuries.