Rep. Henry Cuellar (D-Texas) fact-checked a CNN host in real time Tuesday after the host repeated misleading claims that Border Patrol agents were using whips to corral Haitian migrants at the southern U.S. border.

What happened?
Cuellar — the congressional Democrat who has been the most outspoken about the border crisis — rebuffed CNN host Victor Blackwell for perpetuating misinformation about Border Patrol agents.
Blackwell accused Border Patrol agents, "mounted on horseback," of "charging or chasing" migrants. He said one agent "appear[ed] to use what looks like a rope or lasso" against the migrants.
"Well, you know, certainly, we got to make sure we treat all the immigrants with respect and dignity," Cuellar said. "But I will say this: Border Patrol has had those horse brigades for a while, they've had them for a while, number one."
"Number two, they don't carry whips and they do not carry lassos," Cuellar continued. "I think the picture you're talking about, at least the one I've seen is the rein, the rein of the horses."
When pressed by Blackwell whether horse reins should be used against the migrants, Cuellar advertised caution against assuming the worst of Border Patrol agents.
"Well, again, if there was a problem, it should be investigated, and I think that's it. But we cannot paint the Border Patrol with that same type of paintbrush," Cuellar said. "Look, you know, what are they supposed to do? Just stand there and let everybody come in?"
"You know, they're supposed to be enforcing the law," he continued. "But again, as to how you enforce the law, you got to make sure you treat people with dignity and respect."
What is the truth?
Pictures show that mounted Border Patrol agents maintaining security in Del Rio were not using whips, ropes, or lassos against the migrants. As Cuellar pointed out, agents were photographed holding the reins used to control a horse.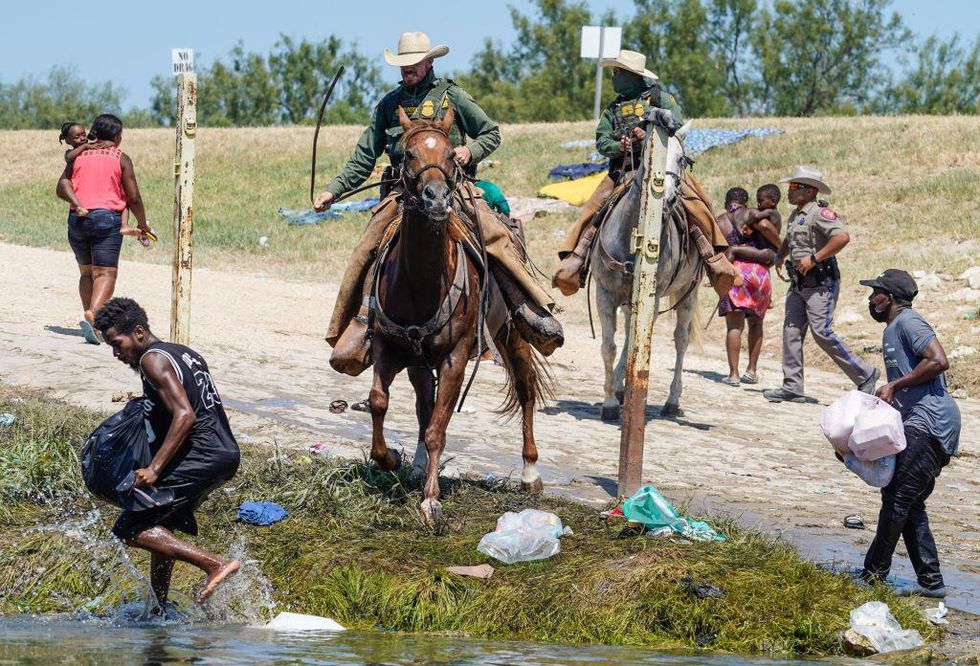 PAUL RATJE / AFP
Unfortunately for the anti-Border Patrol narrative, it's difficult to draw conclusions about behavior of Border Patrol agents from photographs, for they are missing the context necessary to ascertain what actually happened. While a few images purportedly suggest misbehavior, video does not irrefutably corroborate what Democrats and some media members have suggested.
In the above photo, for example, the mounted Border Patrol agent appears to be guiding his horse by tugging on the rein, not using the rein against the migrant.
Still, the Department of Homeland Security has promised a swift investigation into actions of the mounted Border Patrol agents.