Lavrov addressed the U.N. remotely after canceling his visit over Russian claims that EU states blocked his flight path, Reuters said, adding that in his speech Lavrov accused the EU of "Russophobic frenzy" in giving weapons to Ukraine amid his country's invasion. The outlet added that Russia said its "special military operation" that began last week is aimed at removing "neo-Nazis" ruling Ukraine.
What did the diplomats have to say?
"This Russian war of aggression will have profound implications for human rights in Ukraine and Russia, and the leaders of Russia will be held accountable," Michele Taylor, the U.S. envoy to the Human Rights Council, said in a statement, Reuters reported.
Canadian Foreign Minister Melanie Joly and Danish Foreign Minister Jeppe Kofod — both of whom walked out — joined Ukraine's ambassador, Yevheniia Filipenko, behind a large Ukrainian blue and yellow flag, the outlet said.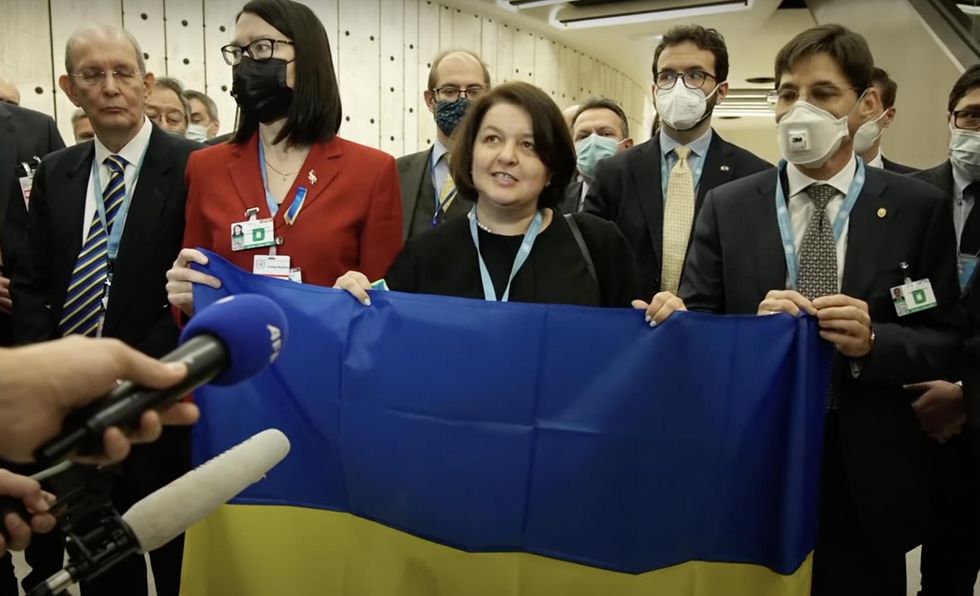 Image source: YouTube screenshot
"It is a remarkable show of support for Ukrainians who are fighting for their independence," Filipenko told reporters, Reuters said. She added that Kharkiv — Ukraine's second-largest city — suffered "massive destruction to civilian infrastructure" and that the "maternity wards are being attacked, civilian residential buildings are being bombed," the outlet also noted.
Russia denies targeting any civilian sites, Reuters reported.
"Minister Lavrov was giving his version, which is false, about what is happening in Ukraine and so that's why we wanted to show a very strong stance together," Canada's Joly said, according to the outlet.
Human Rights Council diplomats walk out during Sergei Lavrov speechyoutu.be
Anything else?
A dozen Russian U.N. diplomats accused of espionage are being kicked out of the U.S., according to the U.S. Mission to the U.N., in a move that reportedly has been in the works for months.
And 70% of U.S. adults believe U.S. troops should get involved if Russia invades a NATO nation, according to a recent Quinnipiac University poll.