A Philadelphia pool has been shut down for the summer after three females who refused to leave the pool over their unruly behavior taunted, threatened, then physically attacked staff — injuring five people — and even vandalized vehicles.
What are the details?
About 30 minutes prior to Thursday afternoon's incident, Philadelphia Parks and Recreation tweeted that teens could get lifeguard lessons that evening at the McVeigh Recreation Center pool in the city's Kensington neighborhood.
Around 4:25 p.m., police said pool staff tried to remove three females for apparent unruly behavior, and they refused to leave "while sitting at the end of the pool taunting and threatening the staff," WPVI-TV reported, citing a police department news release.
"Subsequently, the staff shut down the pool, and all other occupants of the pool exited the pool without issue," the station said, citing police.
Then things escalated.
Police told WPVI the females followed pool staffers into a recreation center building, and two of them began swinging their arms at staffers who tried to block them from entering the building.
Once staffers got the females outside the recreation center, police added to the station that the suspects vandalized three parked cars. Police told PhillyVoice the cars were left with dents and scratches; one car's windshield was broken.
"During this time, two unknown males gained access to the building and took a bag belonging to one of the employees, which was recovered," police added to WPVI.
The station noted that lifeguard stands were dumped into the pool as well: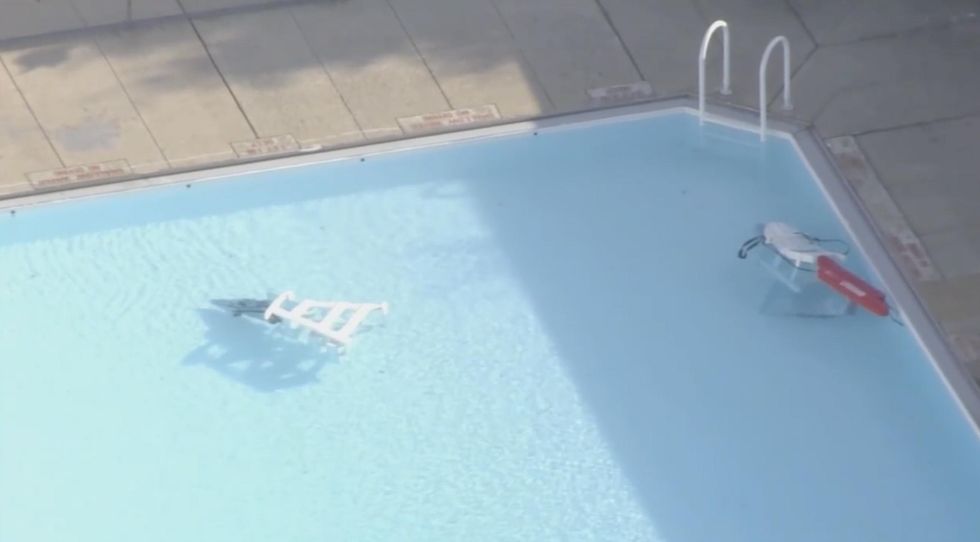 Image source: WPVI-TV video screenshot
The females fled the area, and no arrests have been made, the station said. PhillyVoice said authorities didn't provide ages or descriptions of the three females or say whether the males who entered the building were connected with them. Police believe the females are juveniles, WPVI said.
Police on Monday didn't immediately respond to questions from TheBlaze regarding whether descriptions of the females or surveillance video will be released.
Anyone with information can call police at 215-686-TIPS, WPVI said.
Anything else?
Five people, ages 17 to 63, suffered minor injuries in the incident, including leg and ankle pain, WPVI reported.
The city said the pool is now closed for the summer due to concerns for the safety of pool staff and visitors, the station said. The pool has been drained.
"We've had other incidents that have happened at McVeigh. In the evenings when pool is closed — almost every night since the pool ... opened [July 5] — people are breaking into the pool, jumping in the pool, vandalizing pool and pool equipment," Kathryn Ott Lovell of the Parks and Recreation Department told WPVI. "We have to make sure that the safety of our staff and the children and families is first and foremost."