A new Gallup telephone survey of 10,000 American adults reveals that the number of people who identify as "lesbian, gay, bisexual, transgender or something else," has more than doubled in 2022 as compared to 2012.
The new poll shows that 7.2% of those surveyed identified as LGBT in 2022; this number equates to 720 people out of 10,000 who were asked.
The number is a slight increase over 2021, increasing by just 0.1%.
It is also more than double the rate of those who identified as LGBT in 2012, which was 3.5%. 86% of respondents said they identify as "straight or heterosexual," and another 7% chose not to answer.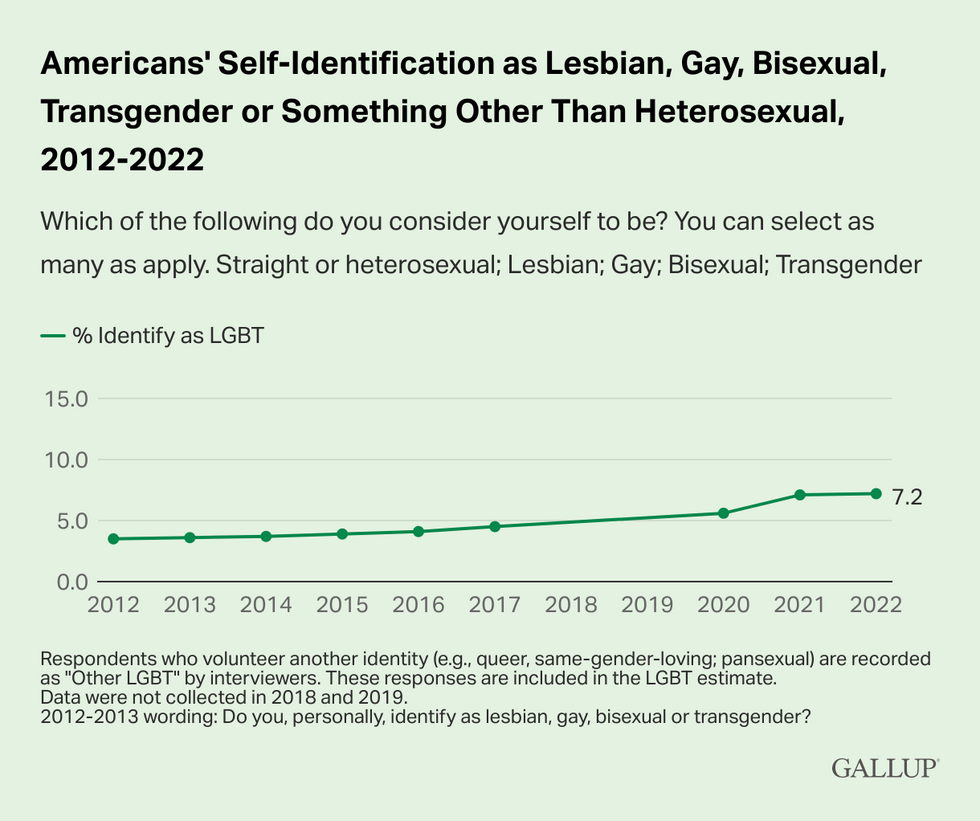 Image via news.gallup.com
The significant majority of those who are LGBT in 2022 identify as "bisexual" at a rate of 58.2%. The next highest category is "gay" at 20.2%, then "lesbian" at 13.4%, and "transgender" at 8.8%.
This equates to just 0.6% of the overall population identifying as transgender, a total of 60 respondents out of 10,000.
According to Gallup, it is "typical" that the majority of non-heterosexuals identify as "bisexual." Bisexuals represent 4.2% of the overall population.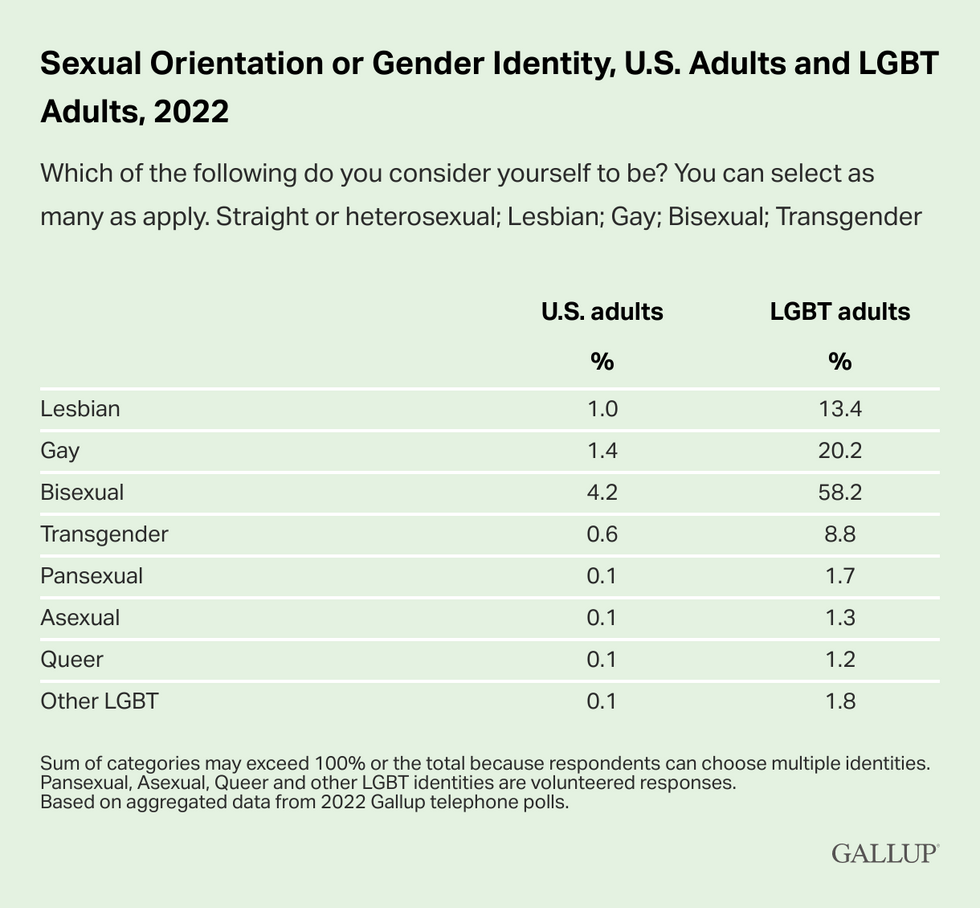 Image via news.gallup.com
The generational gap is significant as well. Each of the last three generations has seen an increase of approximately 8% in those identifying as something other than straight.
Note: Birth years for each generation: Generation Z (1997-2004), Millennials (1981-1996), Generation X (1965-1980), Baby Boomers (1946-1964).
While the difference in LGBT identification from Baby Boomers (2.7%) to Generation X (3.3%) is nearly half a percentile, the jump from Gen X to Millennial is a whopping 7.9%.
With the Millennial category at 11.2%, the jump to the next generation is even greater. Generation Z saw an 8.5% increase all the way to up to 19.7% LGBT identification, meaning nearly one in five in Generation Zs identify as something other than straight.
In all three generations, "bisexual" is the largest category, which has seen larger jumps than the other identifications. Transgenderism is at a rate of 1.9% with Gen Z, up from 1% of Millennials.
Within the LGBT population, only the "bisexual" category has seen significant jumps in the last three generations. This largely accounts for the increase of LGBT identification in the greater population, along with help from the "other" category.
From Gen X to Gen Z, identification as "bisexual" has increased from 48% of the LGBT population to 66%. In the same time period, "gay" identification dropped from 24% to 17% and "lesbian" 15% to 11%.
Transgenderism in the same time period has only increased slightly, from 9% to 10%.
Like Blaze News? Bypass the censors, sign up for our newsletters, and get stories like this direct to your inbox. Sign up here!