After a University of Oklahoma history professor prepared her class with a "trigger warning," she recited a "historical document" containing numerous N-word references, which she also read aloud, according to a letter to the OU community from interim President Joseph Harroz.
"We are all weary of racially charged incidents occurring within our university community," Harroz noted, adding that the professor "could have made the point without reciting the actual word, [but] she chose otherwise. Her issuance of a 'trigger warning' before her recitation does not lessen the pain caused by the use of the word. For students in the class, as well as members of our community, this was another painful experience. It is common sense to avoid uttering the most offensive word in the English language, especially in an environment where the speaker holds the power."
As a result of the incident, which took place Monday, the Norman Transcript reported — as well as another earlier this month when a journalism professor told his class that saying "OK, boomer" is akin to calling someone a "n*****" — Harroz said all faculty, staff, and administrators will undergo a "required diversity, equity, and inclusion training regimen" that will address "our implicit bias" and "force us to consider our words and actions."
Also coming is an "incident response protocol that quickly employs culturally restorative justice practices designed to create a pathway to reconciliation through education and the changing of behavior," Harroz added.
Letter from Interim President Harroz. 🔗 https://t.co/es07l5NKy2 https://t.co/tElmpKVN5S

— Univ. of Oklahoma (@Univ. of Oklahoma) 1582588165.0
Campus Reform said it asked OU for more details on the training and if the history professor had been reprimanded but received no response in time for publication.
Then what?
On Wednesday, more than 100 students, faculty, and staff staged a sit-in at Evans Hall, an administration building that's home to the president's office and the office of Provost Kyle Harper, the Transcript said.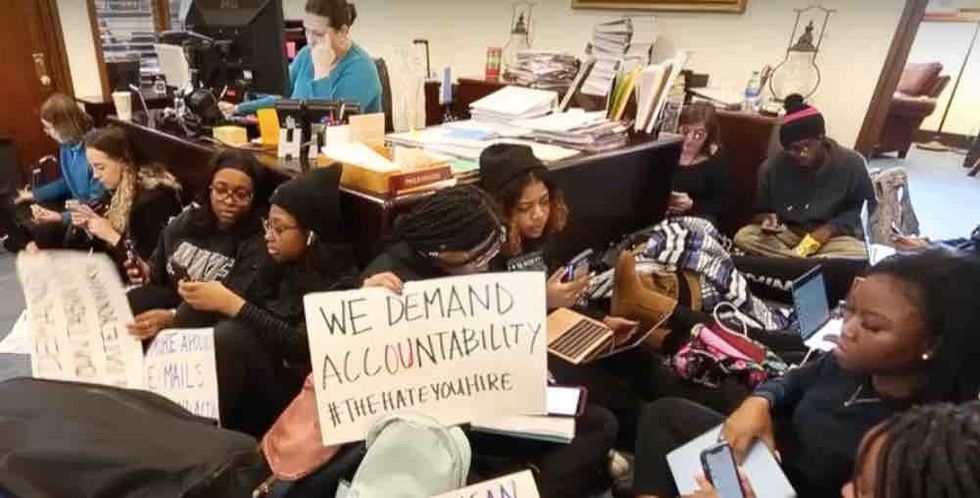 Image source: YouTube screenshot
Faculty from OU's offices of Student Affairs and Diversity and Inclusion stayed with students through Wednesday night, the paper said, adding that six executive members of OU's Black Emergency Response Team — which led the sit-in — are on a hunger strike and haven't eaten since at least 8 a.m. Wednesday.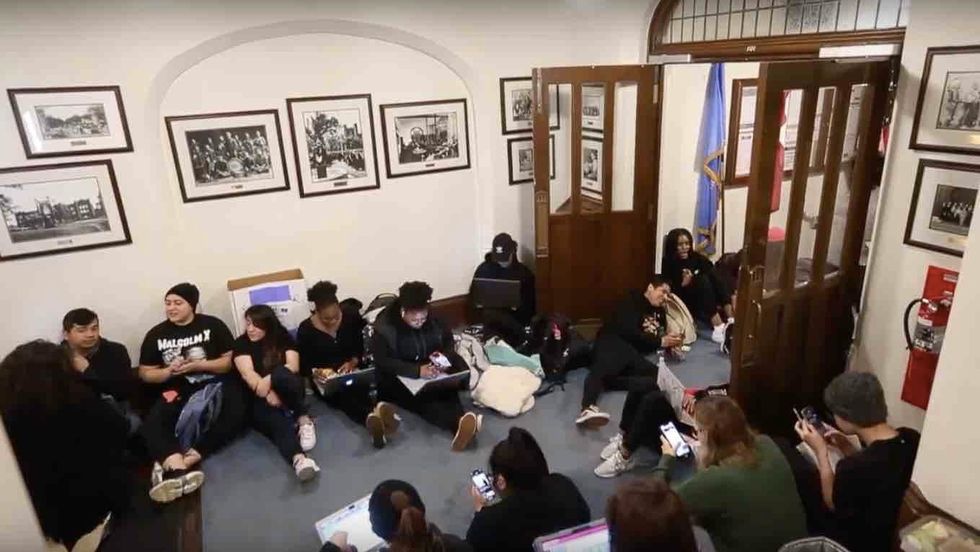 Image source: YouTube screenshot
"We are here today as Black students who are fed up," Miles Francisco, co-director of BERT, told the Transcript. "... We're tired of talking, we're tired of meeting, we're tired of sitting, we're tired of waiting."

Student demands
BERT issued demands to the administration in the wake of the two incidents, the paper said:
The provost's resignation
Mandatory equity training for all faculty (which Harroz announced in his Monday letter)
Mandatory semesterlong class for all incoming and transfer students that trains them in diversity
A multicultural student center for marginalized student groups with an office, study and meeting spaces, multimedia lab, computer lab, auditorium — and a Popeyes restaurant.
Significantly more black therapists and counselors to help students adequately process racism and trauma.
"We will not leave Evans Hall until we have a signed resignation letter from Provost Harper and a signed contract from President Harroz, VP [David] Surratt, and the interim provost affirming a specific timeline to get these demands met fully," BERT said in a statement, the Transcript said. "We will be sitting in Evans Hall permanently until these demands are met. To the upper administration: there will be no meetings, you either meet our demands or you starve us of our freedom. Join us."
The paper added that BERT representatives on Thursday were meeting in an undisclosed location with Harper.
In addition, the university released a statement Thursday morning saying it's working on some of BERT's demands and will create a semesterlong general education course for the student diversity training experience and expand mental health resources on campus, the Transcript said.
However, OU's statement doesn't address the demand that Harper resign, the demand for a multicultural center on campus, or the demand for more black counselors and therapists, the paper added.
In response, BERT said the sit-in will continue since not all of their demands have been met, the Transcript reported.