Christian entertainer Justin Bieber got candid on his decision to forego sex with his wife a year before they tied the knot.
The A-list performer added that he made the decision in honor of his personal relationship with Jesus Christ.
What did he say?
In the recent issue of Vogue, Bieber, now 24, gave a joint interview along with his wife, Hailey Bieber (née Baldwin).
The two married in 2018 after dating off and on for a couple of years.
During the interview, Bieber said that he previously had a "legitimate problem with sex" during a period when he was "super promiscuous."
Ashamed of his behaviors, the pop star said that he turned to drugs in order to cope with the fallout.
Bieber revealed that before reconnecting with his now-wife in May, he had been celibate for more than a year.
"[God] doesn't ask us not to have sex for him because he wants rules and stuff," Bieber said. "He's, like, 'I'm trying to protect you from hurt and pain.' I think sex can cause a lot of pain. Sometimes people have sex because they don't feel good enough. because they lack self-worth. Women do that, and guys do that."
He added that he made the decision to remain celibate until he and his wife married "because I really felt it was better for the condition of my soul."
"And," he noted, "I believe that God blessed me with Hailey as a result. There are perks. You get rewarded for good behavior."
Anything else?
The couple also discussed their dedication to making their marriage work.
Elsewhere in the interview, Bieber admitted to being "the emotionally unstable one."
"I struggle with finding peace," he explained. "I just feel like I care so much and I want things to be so good and I want people to like me."
"Hailey," Bieber described, "[is] very logical and structured, which I need. I've always wanted security — with my dad being gone sometimes when I was a kid, with being on the road. With the lifestyle I live, everything is so uncertain. I need one thing that's certain."
The couple also admitted that they attend therapy together in order to better their communication skills.
"Fighting is good," Bieber added. "Doesn't the Bible talk about righteous anger? We don't want to lose each other. We don't want to say the wrong thing, and so we've been struggling with not expressing our emotions, which has been driving me absolutely crazy because I just need to express myself, and it's been really difficult to get [Hailey] to say what she feels."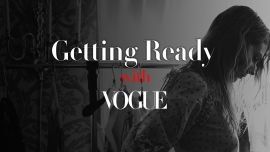 Hailey Bieber on Her Vogue Cover, How Justin Proposed, and Loving Shake Shack video.vogue.com