A local ABC News affiliate in Salt Lake City has gone silent and is refusing to comment as one of its reporters deleted tweets about his doxxing and harassing of a local paramedic over his tiny donation to Kyle Rittenhouse's legal defense fund.

What are the details?
The news outlet, KTVX-TV, as well as its reporter, Jason Nguyen, failed to respond to numerous requests for comment by phone and email on Monday. TheBlaze reached out to the parties to ascertain whether they stood by their reporting in the face of harsh criticism and what their intention was in contacting the paramedic's employer.
Both the outlet and Nguyen were skewered online over the weekend over their decision to run a negative story on the paramedic who donated $10 to a defense fund for Rittenhouse, a teenage boy from Illinois facing controversial murder charges for his actions in Kenosha, Wisconsin, last summer.
As part of their coverage, Nguyen and a news crew approached the paramedic's home and started filming as they knocked on the door, reportedly hoping to "get his side of things."
In a subsequent article, KTVX-TV disclosed the name of the paramedic and aired footage from outside his home. The news outlet also contacted West Valley Fire Department, where he works, prompting the department to respond by saying it had launched "an investigation" into the contribution.

To make matters worse, the outlet admitted it obtained the information about the paramedic's donation via a data breach at the crowdfunding website GiveSendGo, through which the donation was made. GiveSendGo describes itself as the "fastest-growing Christian crowdfunding site made by Christians for Christians."
What else?
Shortly after the story was published, commenters on social media blasted Nguyen and the news station for "stalking" and "harassing" a private citizen over his contribution.
Nguyen had posted a photo of him knocking on the paramedic's door on Twitter, but as of Tuesday morning, that tweet had been deleted, along with another tweet in which Nguyen reported that the paramedic's employer was conducting an investigation after he was "caught donating $10 ... using his government email."
@loganclarkhall @FollowWIN Or this https://t.co/j2OVQhZQD4

— American Greatness (@American Greatness) 1618883977.0
In their place, Nguyen, obviously distressed by the backlash, posted another tweet, saying, "Thank you all for your opinions. We hear you and appreciate each and everyone of you for reaching out."

Image Source: Twitter screenshot
But that didn't satisfy Nguyen's critics.

One commenter responded to Nguyen's tweet by saying, "You doxxed a private citizen, my dude. You're going to have to do much, much better than this."
Republican communicator Matt Whitlock added, "I do hope this isn't the last we'll hear about this episode from you and [KTVX-TV]. An apology/explanation would go a long way, it's just hard to see how this met any kind of editorial standards."
Bearing Arms editor Cam Edwards joined the conversation, writing, "You engaged in one of the worst pieces of trash TV that I've ever seen. Your apology and the resignations of everyone involved in this story's approval and promotion should lead tonight's newscast."
Anything else?
Shortly after this story was published, Nguyen posted another tweet indicating that he had "taken the advice of law enforcement" and would be "disconnecting from the social media world" because of threats he allegedly received.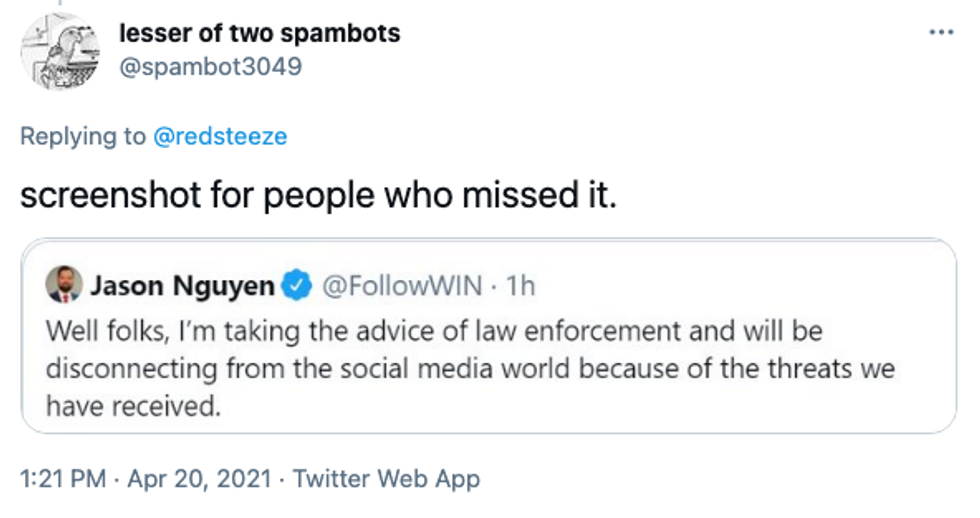 Image Source: Twitter screenshot
Editor's Note: Jason Nguyen has chosen to protect his Twitter account, restricting who can view his page. This article includes screenshots of tweets no longer able to be viewed on Nguyen's account.