Soon after conservative radio icon Rush Limbaugh announced on his Monday program that he has advanced lung cancer, leftists on social media — as we've come to expect — tore into Limbaugh with gusto.
Writer and comedian Nick Jack Pappas served up this take: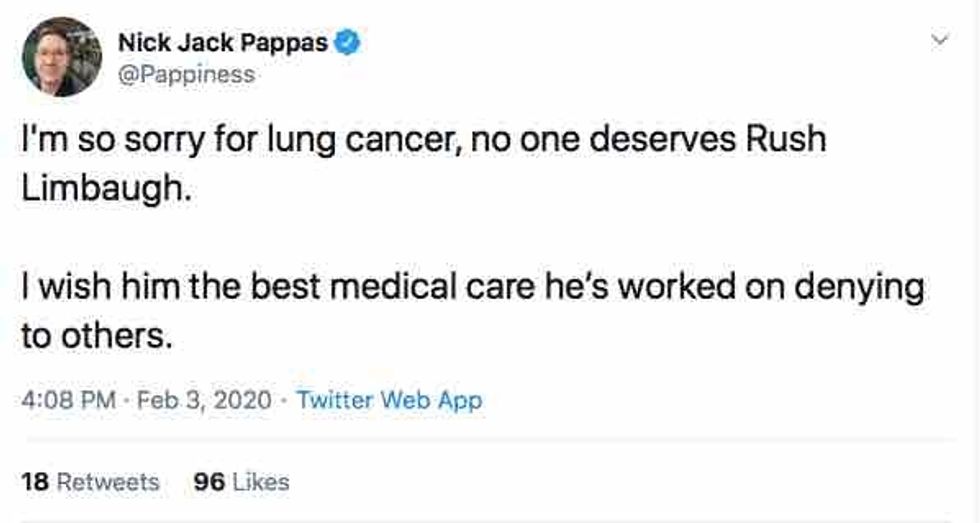 Image source: Twitter
The Rude Pundit, who boasts over 72,000 Twitter followers, let his F-flag fly:
Image source: Twitter, redacted
Another comedian, Nick Ciarelli, had the following to say to his nearly 24,000 followers: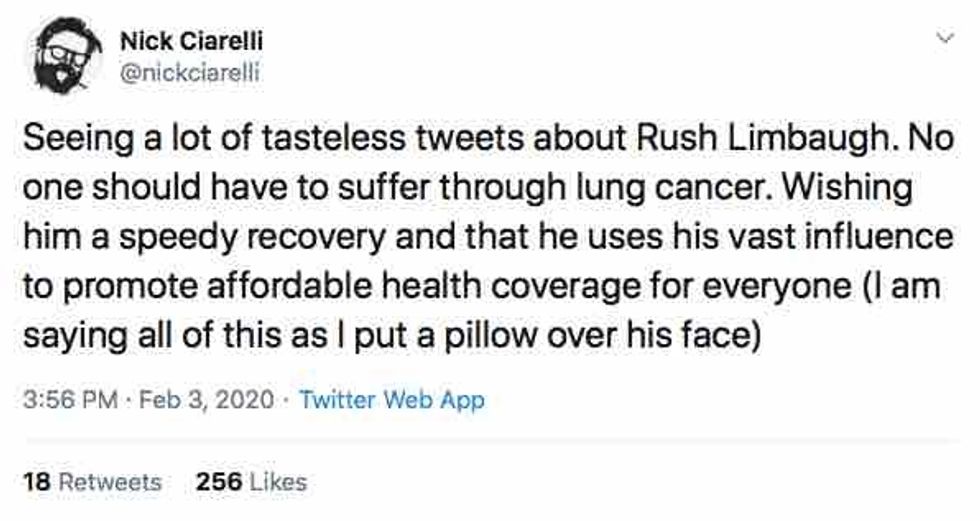 Image source: Twitter
Numerous commenters on CNN Brian Stelter's tweet regarding Limbaugh's cancer announcement were particularly brutal to the conservative radio host:

"He, literally, has encouraged right-wing politicians to harm people, deprive healthcare, imprison innocent children, and let people die. Lives will be saved when he is gone."
"Couldn't have happened to a better person. I guess since he is a cancer to society, life is imitating art here."
"Karma."
"God works in mysterious ways."
"Such a painful disease. The suffering he will experience. The anguish of facing death after his despicable life will be a burden so heavy, it will destroy his soul."
"I'm sorry anyone has cancer. I won't be sorry to have someone who lies off the airwaves."
"'I've never wished a man dead, but I have read some obituaries with great pleasure.' Your time has come you vicious racist POS."
"Does that mean he will stop spreading hatred towards minorities from now on? Then that's OK."
"...I wish I didn't have to laugh my ass off at this."
"Good riddance."