Vox Media's Liz Plank on Sunday told CNN's Brian Stelter that no "reputable" media outlets reported initial claims by TMZ that "Empire" actor Jussie Smollett's alleged attackers yelled "MAGA country" — a reference to President Donald Trump's 2016 campaign slogan "Make America Great Again."
"I remember reading about this story and looking for a real, reputable media outlet reporting on that, and I could not find one, right?" she told Stelter. "The people who were repeating that quote were not news outlets, were not media outlets. It was repeated by ... people who maybe had good intentions on wanting to spread the story and had empathy for what they thought was, you know, a real story. But we can't confuse celebrity tweets with the media and the press."
Stelter asked, "So you're saying actors and activists who were rushing to his side because they're friends with him and they support him and they're concerned about a possible hate crime are not the same as Chicago reporters who were trying to find out what happened." Plank answered "yes" several times.
Not so fast
First off, Plank may want to invest in a better search engine.
Several media outlets noted that initial "MAGA country" report from TMZ and spelled out its details, including Vanity Fair, Slate, People, and The Root's Grapevine. It isn't clear if Plank saw the aforementioned outlets' reports or considers them "reputable" or part of the "news" media, but they certainly weren't difficult to find that first day — and those reports most definitely don't qualify as "celebrity tweets" about the incident.
What's more, quite a few journalists hit Twitter after the initial reports of the alleged attack — which now, police sources say, appears to have been orchestrated by Smollett himself — and cited that TMZ report and spewed unsubstantiated claims, many noting that that "MAGA" supporters were behind it. Mediaite's Caleb Howe noted who they are:
CNN commentator Ana Navarro posted this now-deleted tweet: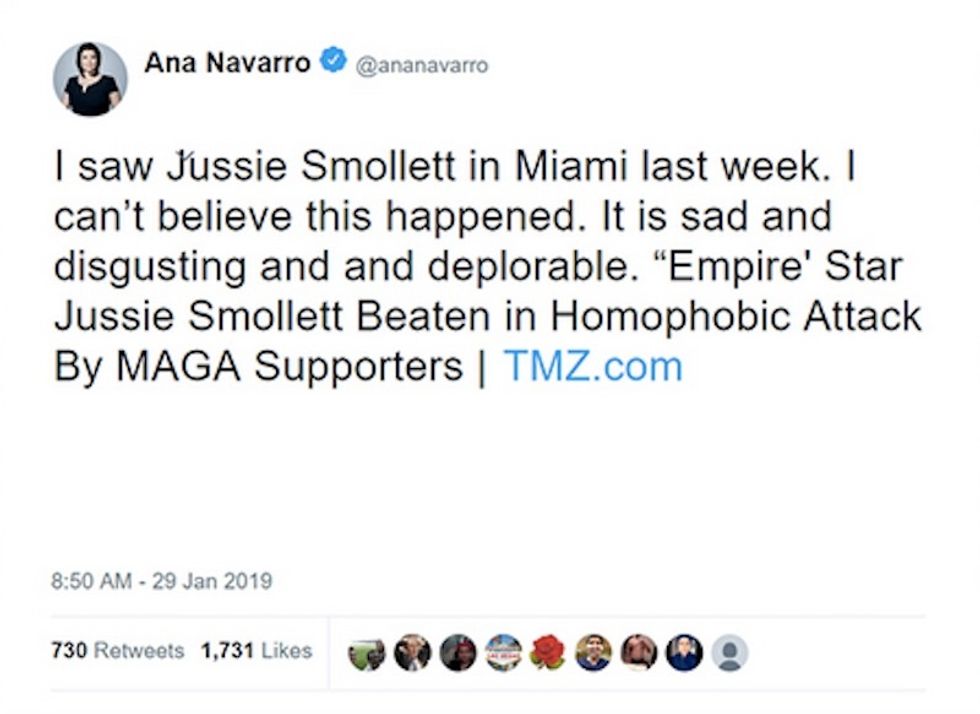 Image source: Twitter via Mediaite
From a Newsweek writer: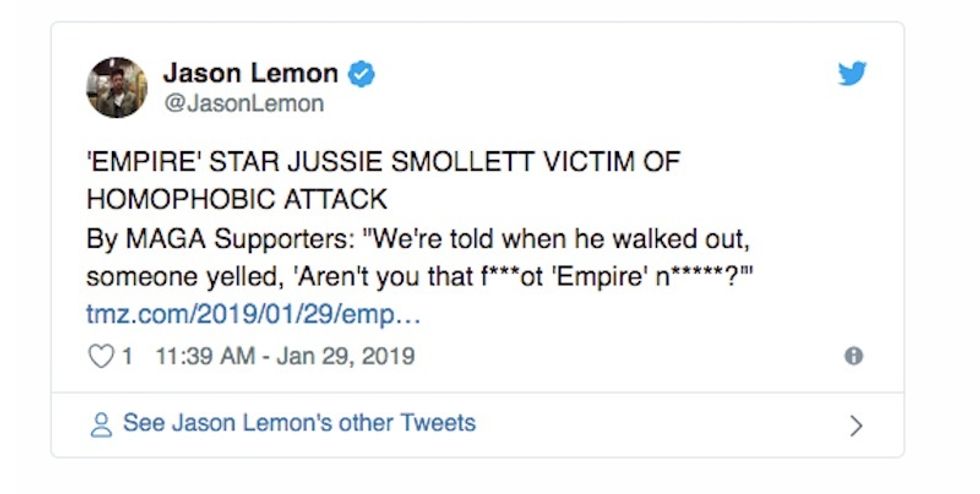 Image source: Twitter
From a Reuters reporter: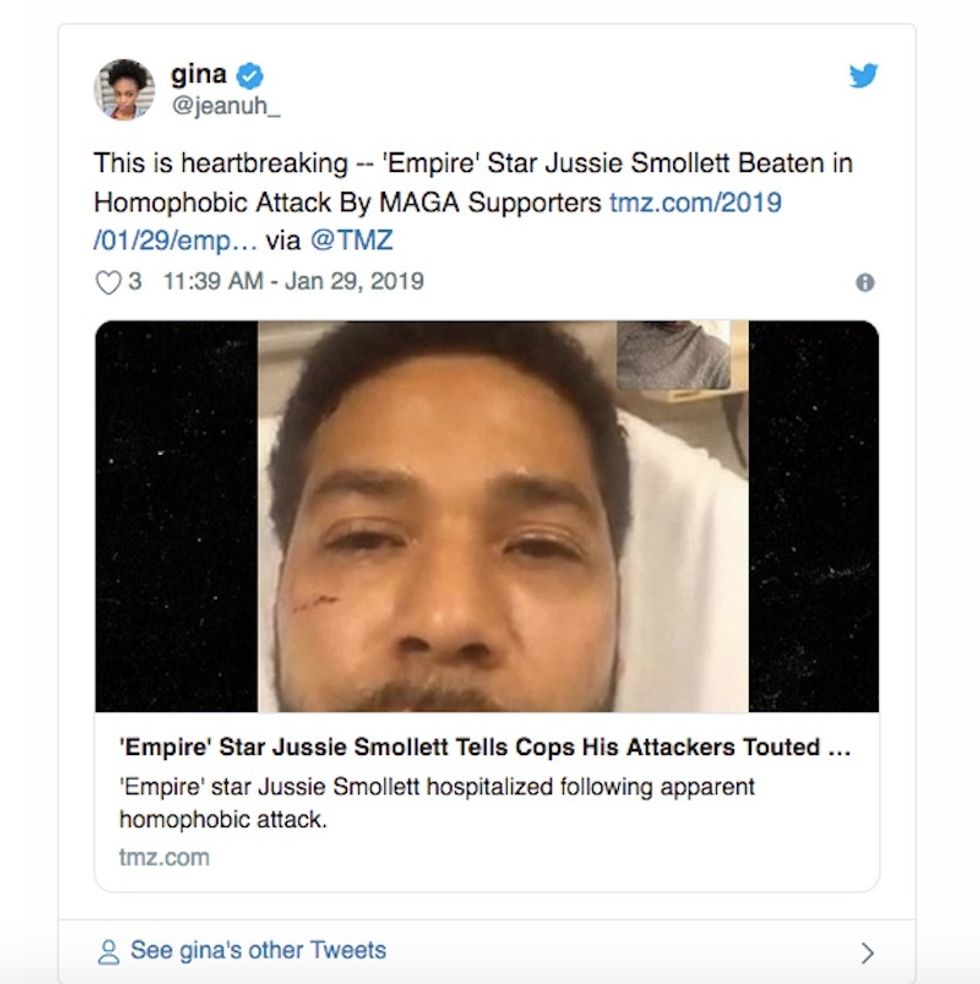 Image source: Twitter
A Nightline producer: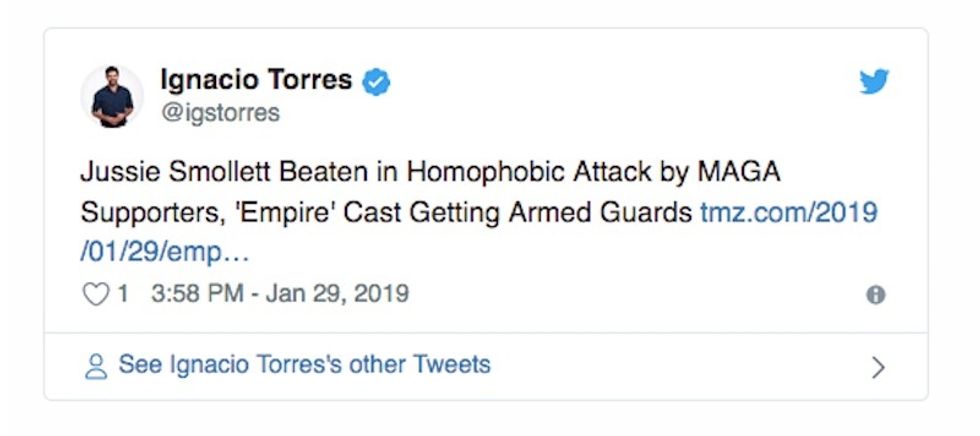 Image source: Twitter
Vibe Magazine: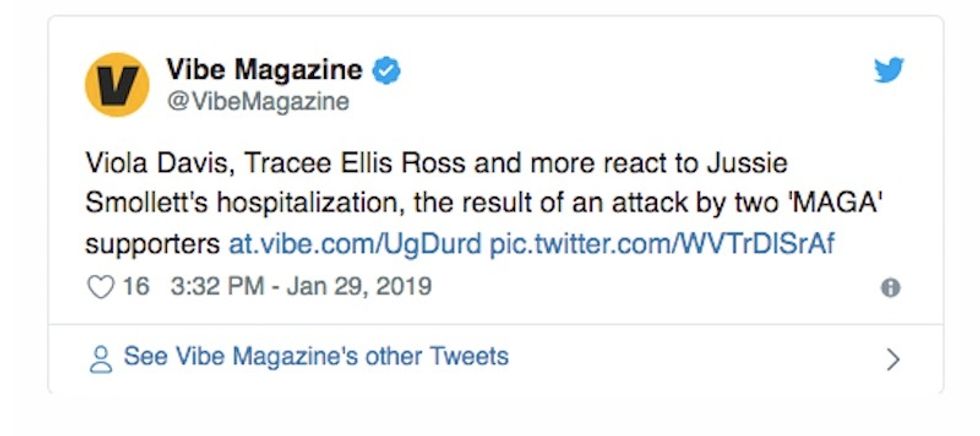 Image source: Twitter
A senior entertainment reporter for the Daily Beast incorrectly reported the alleged attackers were wearing "MAGA" hats and had a few other things to say: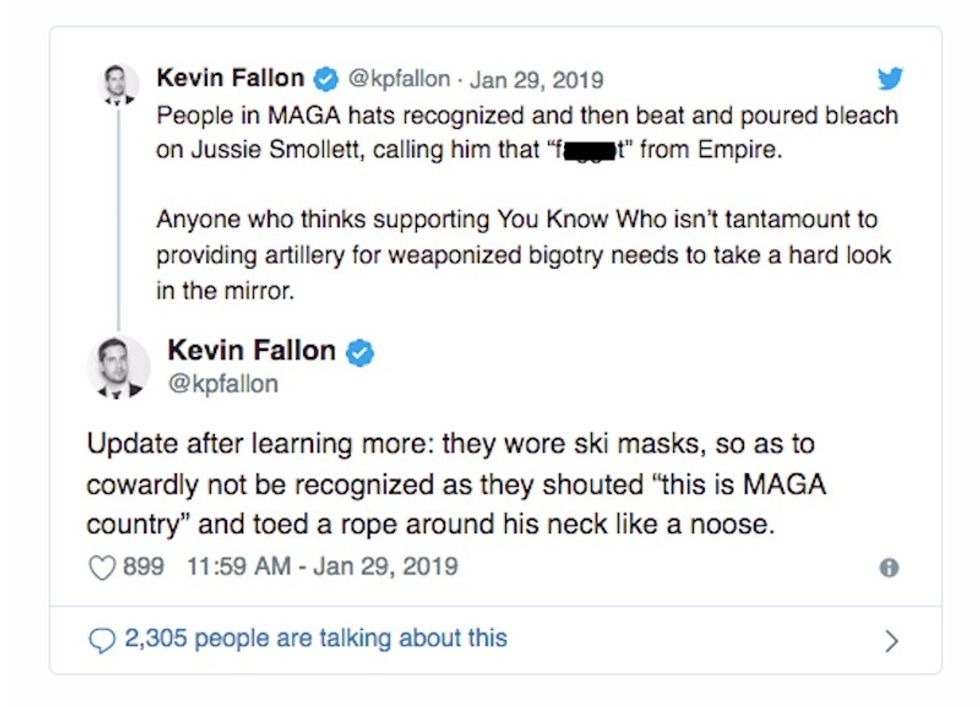 Image source: Twitter, redacted
Anything else?
It should be noted that Chicago police never mentioned anything about "MAGA" in initial statements. But after police noticed media outlets reporting that tidbit, they interviewed Smollett again, and that's when he added the "MAGA" claim.
And regarding Plank's reactions to the initial Smollett incident, she retweeted an unsubstantiated claim from Raquel Willis, the executive editor of Out Magazine, who implied that "white supremacy" fueled the alleged attack: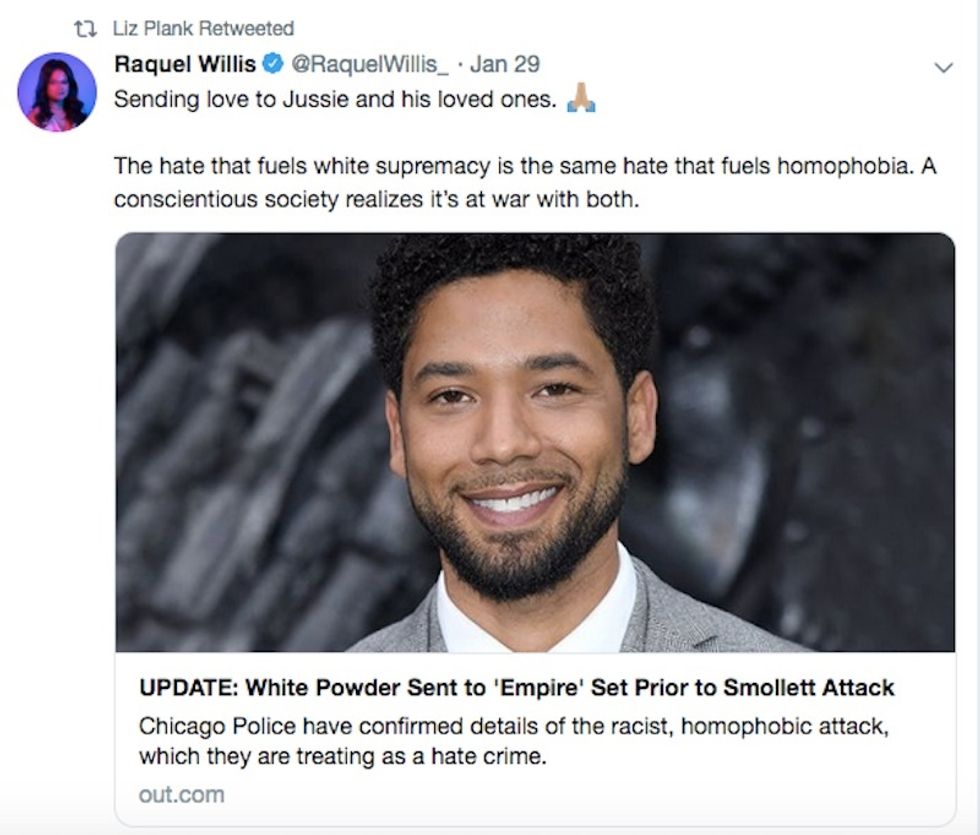 Image source: Twitter
Here's the clip of Plank speaking to Stelter. She also lectured fellow panelist Kmele Foster — who is black and far from a Smollett fan — about about hate crimes and FBI stats. It's not what you might call a very good look: