The lawyers — Paula Greisen and John McHugh — claim that "Masterpiece Cakeshop, at the direction of Phillips, refused to sell a birthday cake to Ms. Scardina because of her status as a transgender woman."
They further allege Phillips engaged in illegal trade practices because his shop "widely publicized that they would sell baked goods, including birthday cakes, to the public, including the LGBT community," but allegedly refused to provide Scardina with a cake only after learning that she is transgender.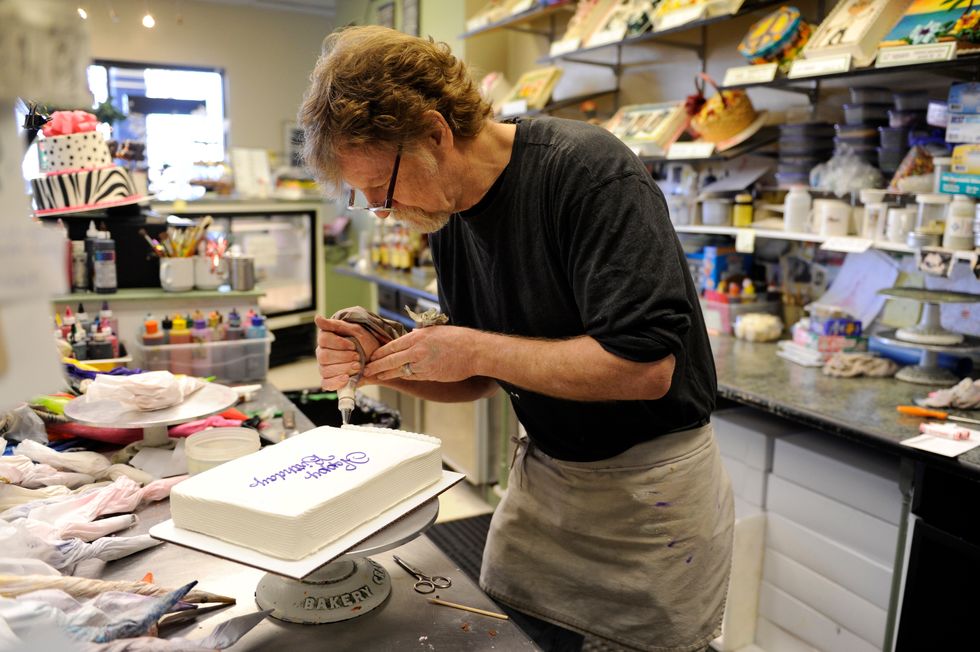 Jack Phillips Lindsay Pierce, The Denver Post
Scardina is the same person who has filed previous discrimination complaints against Phillips. In fact, the state dropped one complaint in March in which Phillips refused to bake a cake celebrating Scardina's gender transition. In exchange, Phillips also dropped a religious discrimination complaint against the state.

The cake in question now is a pink cake with blue frosting, a design Scardina told the cakeshop "had personal significance for her because it reflects her status as a transgender female."
Still, Scardina's motive is clear: She is removing the Civil Rights Commission from the equation in order to force the judicial system to determine whether Phillips violated Colorado law.
"By filing separately, we are taking the state out of the equation," Greisen told Colorado Public Radio. "I fully believe we will win in the state courts ... and I don't believe there is any First Amendment or religious implications that would allow them to discriminate."
"We simply want the law to be enforced," Greisen claimed. "Because if not, you allow a business to send a message: go ahead, refuse service to these people, it's OK, when the citizens of Colorado have said it's not."
Phillips believes Scardina has long targeted his shop with requests she knows violate his religious beliefs in order to harass him. She even once requested a cake to celebrate Satan that featured "a large figure of Satan, licking a 9" black Dildo."
How did Phillips respond?
Jim Campbell, senior counsel at Alliance Defending Freedom, the nonprofit Christian legal group that represents Phillips, called Scardina's latest actions "yet another desperate attempt to harass" Phillips.
"A new lawsuit has been filed against Masterpiece Cakeshop that appears to largely rehash old claims. The State of Colorado abandoned similar ones just a few months ago. So this latest attack by Autumn Scardina looks like yet another desperate attempt to harass cake artist Jack Phillips. And it stumbles over the one detail that matters most: Jack serves everyone; he just cannot express all messages through his custom cakes," he said.
Scardina is requesting a jury trial.