Explosive text messages published on Sunday show a top British official colluded to "frighten the pants off everyone" about COVID-19 variants to force compliance with pandemic restrictions.
Less than a week before the British government withdrew plans to relax restrictions for Christmas 2020, Matt Hancock, who at the time served as the British health secretary, asked an aide when they should "deploy the new variant."
On Dec. 13, 2020, Hancock and aide Damon Poole were discussing the possibility of London Mayor Sadiq Khan opposing a lockdown for London and how to encourage compliance with restrictions.
"Rather than doing too much forward signalling, we can roll pitch with the new strain," Poole told Hancock.
Hancock responded, "We frighten the pants of (sic) everyone with the new strain."
"Yep, that's what will get proper behaviour change," Poole agreed.
Shockingly, the health minister then asked, "When do we deploy the new variant."
Poole responded that he had "been thinking about this" and advised Hancock that they needed to be "more cautious," suggesting they keep "schools off paperwork/agenda," perhaps referring to not applying new restrictions to schools.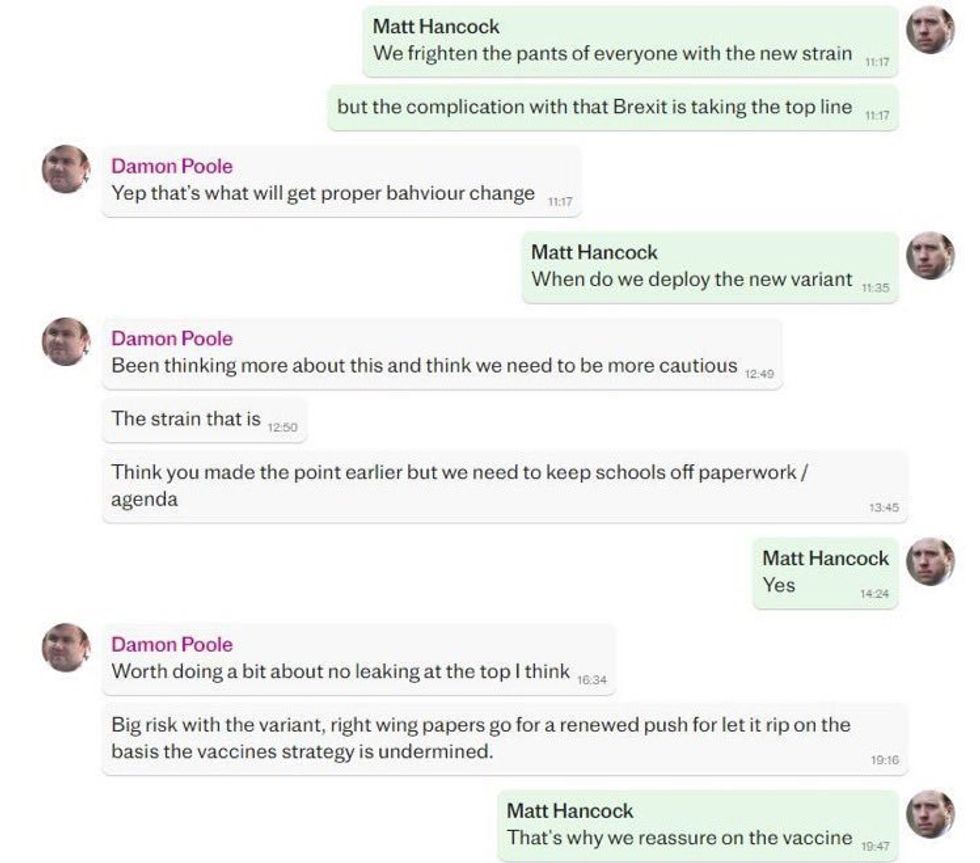 Image source: Twitter @MichaelPSenger
The day after those messages were exchanged, Hancock announced new lockdown measures justified by — you guessed it — a new alleged variant of COVID-19.
"This rise in transmission — as well as the new variant of COVID — should be a warning to us all that — even after such a difficult year — we must stay vigilant," Hancock said on Dec. 14, 2020.
The alarming messages were revealed in more than 100,000 WhatsApp messages obtained and published by The Telegraph.
How did Hancock respond?
Hancock, who remains a member of Parliament, denounced the leak of his messages.
"There is absolutely no public interest case for this huge breach," he said in response. "All the materials for the book have already been made available to the Inquiry, which is the right, and only, place for everything to be considered properly and the right lessons to be learned."
"As we have seen, releasing them in this way gives a partial, biased account to suit an anti-lockdown agenda," he complained.
Like Blaze News? Bypass the censors, sign up for our newsletters, and get stories like this direct to your inbox. Sign up here!