Megyn Kelly tore into Drew Barrymore on Wednesday after the Hollywood actress-turned daytime-talk-show host knelt before a transgender activist.
On Monday, Barrymore interviewed transgender activist Dylan Mulvaney, a biological man who became famous after documenting a gender transition on social media. Mulvaney even interviewed President Joe Biden last year.
At one point during the interview, Barrymore knelt before Mulvaney, began holding Mulvaney's hand, and confessed, "Do you wanna know, ironically, who dislikes me the most sometimes? Myself."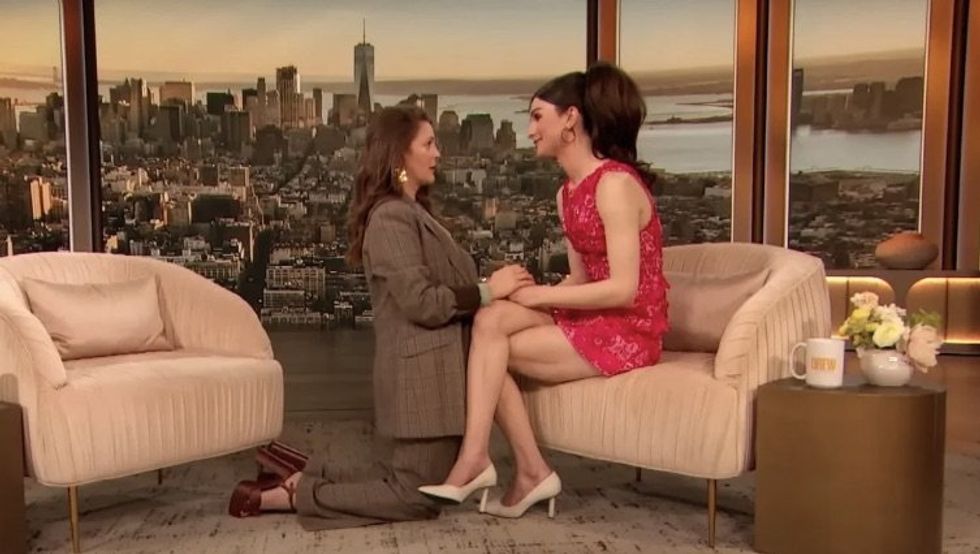 Image source: YouTube screenshot
Reacting to the viral incident on her SiriusXM radio show, Kelly condemned Barrymore, whom she described as a "woke, weak, white woman."
According to Kelly, Barrymore kneeling before Mulvaney "encapsulates a lot of what is driving actual biological women nuts about this whole evolution, which is trans women are coming into our locker rooms, in our sports, in our bathrooms, in our colleges, and so on and taking over."
"We as women are expected to take the knee and just be thankful and say, 'We appreciate what you're doing to us,' and anything else means you're a bigot," she added.
Drew Barrymore Kneels Before Trans Celeb Dylan Mulvaney, with Charles Cooke and Madeleine Kearnswww.youtube.com
The performance, Kelly went on to say, was exactly that: It was Barrymore, a trained actress, acting.
"It was so cringey," she said. "This is an actress. Drew Barrymore is acting. And what was she acting the part of? Woke, weak, white woman praying at the transgender altar. That's her part in this particular role."
"How weak is she? Where are the strong women? Give me a Nancy Pelosi any day over this pathetic display of, I don't know, what is it? False strength by showing every weakness coming out of your pores? And it may all be an affectation, which makes it even more insulting," she added.
Like Blaze News? Bypass the censors, sign up for our newsletters, and get stories like this direct to your inbox. Sign up here!