The mother of Desmond Is Amazing — a preteen drag queen who infamously danced in a gay nightclub last year as adults threw dollar bills at the boy — has been nothing if not completely behind her son's pursuits.
Wendy Napoles, along with her husband Andy, have let Desmond be featured in magazines and on websites, social media, and national television.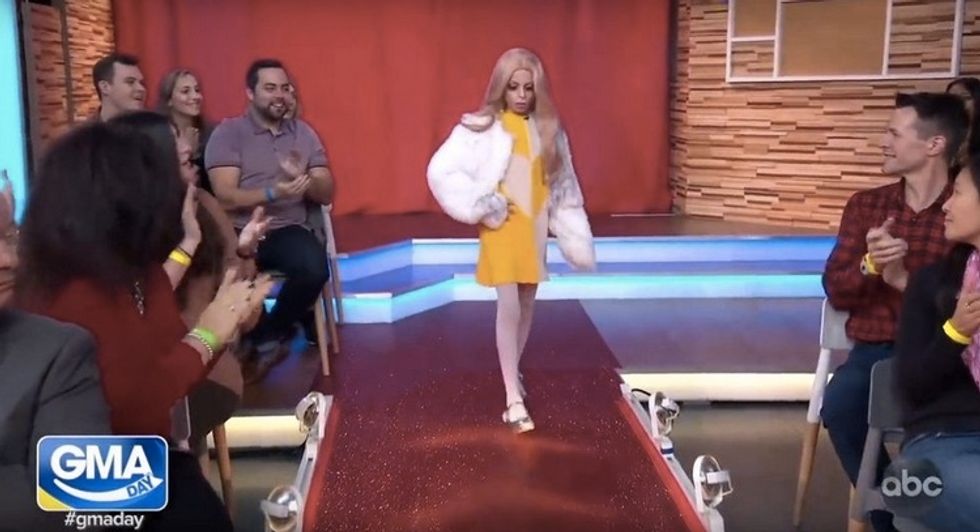 Image source: YouTube screenshot
Desmond is an "awarded LGBTQ advocate, outspoken gay youth, editorial and runway model, public speaker, performer, founder of his own drag house, the Haus of Amazing," according to his website. He also was a guest on ABC's "Good Morning America" last year.
The boy's age had been reported as 11 in recent stories, but he just turned a year older about a week ago:
Someone apparently took things too far
However, Desmond's mom — who administers her son's Instagram page — isn't happy about how one person is reacting to the boy.
On Tuesday, she complained about an "extremely disturbing" blog post by a "convicted pedophile" stating that "Desmond is hot & feels sexy performing."
"We do not approve of his statements & have written to @wordpressdotcom several times but they have yet to remove it," she added. "It is highly inappropriate to speak of minors in this manner." She also said that "if a pedophile wants to act on their urges, NO child is safe."
Here's the rest of the Instagram post from Desmond's mother:
Desmond does not move in a sexual manner or strip, at all. He has done costume reveals that reveal a fully covered costume underneath. He is never "scantily clad" or nearly naked & always is age appropriate. He does celebrity impersonations & does not choose to do sexy celebrities.

Desmond does not feel "sexy" in drag. What he has said is that at times in drag he "feels like a boy & a girl at the same time." This isn't to mean that Desmond is confused about his gender. He identifies as a boy & uses the pronouns he, him, his, even in drag. To Desmond, drag is dressing up into a character, performing, & expressing oneself through art. Desmond is also an actor & model. Desmond loves what he does & is never forced to do anything. He chooses everything from his costumes, makeup, songs, etc.

Desmond came out as gay when he was 11. Although, honestly we knew before then. He got same sex crushes that he would tell me about. Desmond knows the difference between a heterosexual & homosexual. Just because he identifies as gay does not mean he is sexually active or wants to be. He knows what sex is...he's in middle school and has had sex education class. Apparently, he said all the kids giggled through the whole course. Anyone discussing anything remotely sexual on Desmond's social media is immediately blocked & reported. We are just appalled at this whole situation.
Anything else?
Desmond donned a blonde wig, high heels, a girl's crop top, and full make-up while dancing provocatively to No Doubt's "Just a Girl" at the 3 Dollar Bill club in Brooklyn in December — and an outcry ensued after the performance was shared on social media.
According to the Brooklyn Paper, Wendy Napoles said "haters" filed more than 150 complaints with the city's Administration for Children's Services.
But Napoles said in March that child protective services ruled that accusations of child abuse were "unfounded."
Converse recently announced a partnership with Desmond and five other LGBTQ models to celebrate the 50th anniversary of Pride and features a new collection of footwear.
Here's the clip from Desomond's GMA appearance:
The 11-year-old trailblazing drag kid 'Desmond is Amazing'youtu.be
(H/T: Louder With Crowder)