Since the assault and robbery of journalist Andy Ngo in Portland went national over the weekend, many more photos and videos from the Antifa protest that took place in the streets of the city have come out.
This is only the latest of many such takeovers of the downtown area in Portland, events to which the mayor and even the police to large extent have turned an utterly blind eye. So committed is the mayor to allowing anarchy to rule, in fact, that Sen. Ted Cruz on Sunday called for an investigation and potential legal action against Democrat mayor Ted Wheeler.
Most of the new photos and videos that have been shared do not have an accompanying story, so the individuals involved, both attacker and attacked, are for the most part not known or identified.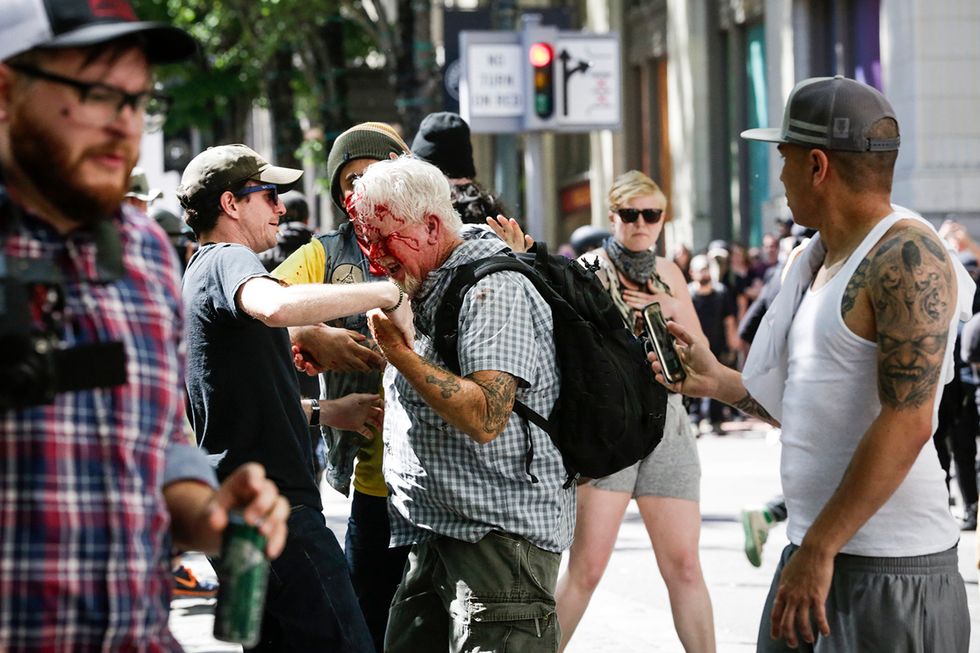 The Rose City Antifa brutally attacks an unidentified right aligning man at Pioneer Courthouse Square on June 29, 2019 in Portland, Oregon. Several groups from the left and right clashed after competing demonstrations at Pioneer Square, Chapman Square, and Waterfront Park spilled into the streets. According to police, medics treated eight people and three people were arrested during the demonstrations. (Photo by Moriah Ratner/Getty Images)
The caption from the photojournalists at Getty verifies the story told on Twitter, that an older man, seemingly from the right politically, was beaten bloody by Antifa. In the the footage, which speaks for itself when it comes to the question of chaos -- make that anarchy -- on the streets of this modern American city, shows the man being hit in the face with a crowbar. Other people are punching him, punching other people, stealing backpacks, as an utter riot atmospher grips the crowd.
It's just one of many scenes of violence as masked Antifa radicals faced off with the far right, so-called "Proud Boys."
Look at this madness (CONTENT WARNING):

Antifa Viciously Bloodied an Old man in Portland with crowbar
Here's another angle on the same crowbar attack.

There have been several other reports of violence, including those reported statistically by police -- hey at least they're even noticing -- throughout the weekend.
The left joked and laughed about "milkshakes" being thrown at people. The same people who consider mean tweets to be violence think getting a milkshake thrown in your face, or being spit on, is just good fun.
Of course, they weren't actually milkshakes.

Chemical burns. Crowbar wounds. Brain swelling. The results of just two days of Antifa on the streets of Portland.
Just how long until they take their act from downtown Portland to a D.C. area softball field?
Oh… right.