California Gov. Gavin Newsom stopped short on Monday of admitting that he made a mistake after he was caught, once again, not abiding by COVID-19 rules.
Instead, the Democratic governor defended himself and denied what photographic evidence clearly showed.
What is the background?
Newsom and Los Angeles Mayor Eric Garcetti (D) flouted COVID-19 mask rules while attending the NFC Championship Game at SoFi Stadium on Sunday.
By not wearing face coverings, the Democratic leaders violated a series of COVID restrictions, including California's universal indoor mask mandate (which was recently extended), Los Angeles County's mask guidelines, and those in place at SoFi Stadium.
Newsom's hypocrisy on COVID restrictions was exposed after NBA legend Magic Johnson posted a picture with Newsom on social media. In that photo, Newsom was not wearing a mask. Johnson also posted photos with Garcetti and San Francisco Mayor London Breed (D), neither of whom were wearing masks.
How did Newsom respond?
At a press conference, Newsom abdicated all responsibility for skirting COVID rules, instead saying he removed his mask only for the photo with Johnson.
"I was very judicious yesterday, very judicious," Newsom claimed.
"You'll see the photo that I did take, where Magic was kind enough, generous enough, to ask me for a photograph and in my left hand's the mask and I took the photo," he explained. "The rest of the time I wore it as we all should, um — not when I had a glass of water — and I encourage everybody else to do so. And, uh, that's it."
When one reporter asked Newsom if he should have "reconsidered" taking his mask off "given your history with this issue" — a clear reference to Newsom's serial hypocrisy on COVID restrictions — Newsom almost admitted that he had made a mistake, but stopped short of actually saying that.
"Yes, of course. I was trying to be gracious. I made a mis — I was trying to be gracious," he said. "I took the mask off for a brief second, but no, I encourage people to continue to wear them."
Is that true?
The Los Angeles Rams' "fan cam" caught Newsom without his mask on while sitting in his seat. At the time the picture was taken, it was not the "brief second" that he met with Johnson for the photograph.
Newsom's mask was down around his face, dangling from one ear. He was not eating or drinking. Interestingly, none of the people around him were wearing masks, either.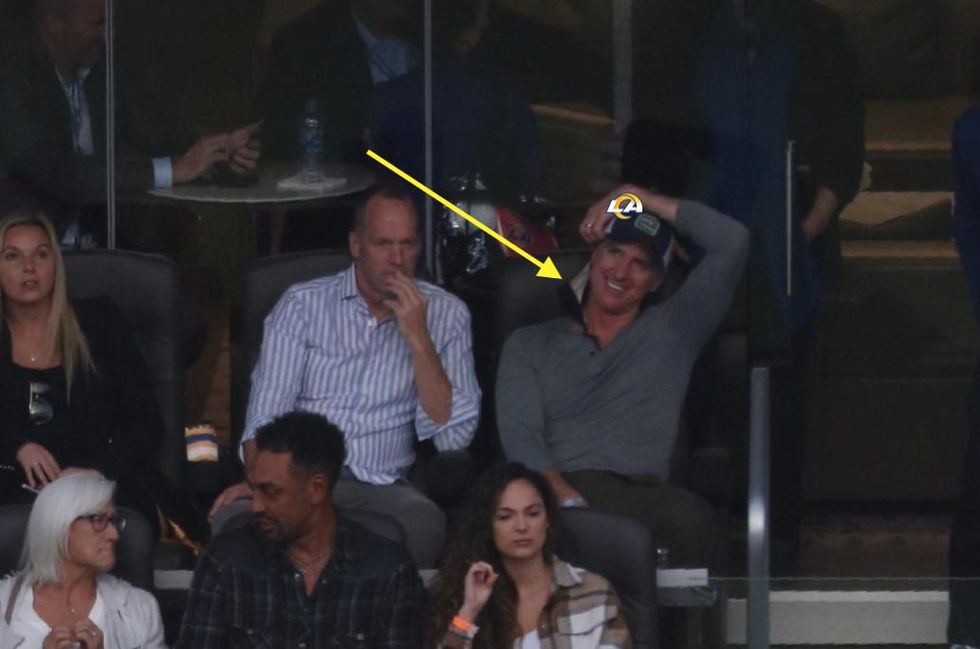 Gov. Newsom is sitting on the right with the face mask dangling from his ear. (Image source: LA Rams "fan cam" screenshot)