Top NFL prospect Nick Bosa of Ohio State University deleted a tweet praising President Donald Trump and another slamming former NFL quarterback Colin Kaepernick — as well as others that may be deemed politically incorrect — to diminish controversy as the league's draft approaches.
Bosa — a 6-foot-4, 266-pound defensive end who runs a 4.79-second 40-yard dash — was called the draft's "best prospect" in the headline of an ESPN profile. But that same piece also took time to discuss Bosa's sociopolitical stances.
"Last year he seemed to delight in posting political takes, including his support for President Trump, on Twitter and needling dissenters," the article by Kevin Van Valkenburg said. "(He also caused a minor social media stir by criticizing Beyoncé, Black Panther and Colin Kaepernick, all eventually deleted.) As the combine drew near, though, his online behavior grew increasingly bland."
Van Valkenburg asked Bosa why. His reply? "I had to. There is a chance I might end up in San Francisco," he said.
Sports Illustrated's mock draft projects the 49ers — Kaepernick's former team — will select Bosa as the second overall pick when the draft commences April 25. Kaepernick began kneeling during the national anthem to protest police brutality against minorities during the 2016 season, which launched a movement among other players and may have been the reason that year was seemingly his last.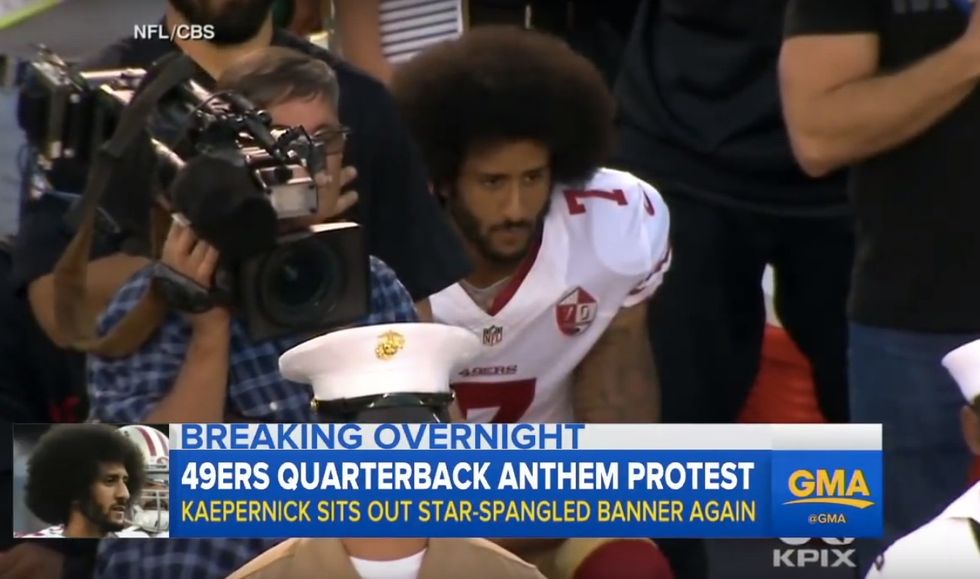 Image source: YouTube screenshot
What did Bosa tweet (and delete)?
One of Bosa's deleted tweets shows a photo of Trump standing with former President Ronald Reagan back in the day, and Bosa added a one-word comment: "Goats" — a reference to the acronym for "Greatest of all time":
Bosa also deleted a tweet calling Kaepernick a "clown":
Top NFL prospect Nick Bosa has deleted his pro-Trump tweets, as well as tweets criticizing Colin Kaepernick, Beyonc… https://t.co/Mqf0FwyqvC

— Sporting News (@Sporting News)1554922189.0
Bosa also deleted tweets calling the popular flick, "Black Panther," the "worst Marvel movie of all time" and the music of Beyoncé "complete trash."
Football analyst Shannon Sharpe on Thursday's episode of "Undisputed" said Bosa is entitled to his politics but said being vocal about them can get "sticky" in the locker room. He added that Bosa deleting the tweets is akin to saying, "I'm not sorry. But I just better remove [the tweets] because [the 49ers have] the second pick, and I don't want to give them any reason for them not to take me."