The April 25 issue of the New York Times International Edition ran an editorial cartoon based on, in their own words, anti-Semitic tropes, and the cartoon has since been deleted online. The Opinion department ran an editor's note online on Saturday that will appear in the print copies on Monday.
The image depicts President Donald Trump, hunched over and wearing a Jewish yarmulke, being led by a sinister-faced Prime Minister Benjamin Netanyahu as a dog wearing a Star of David collar. That description may sound unbelievable, but that is precisely what they ran and took two days to remove, and then only after a backlash.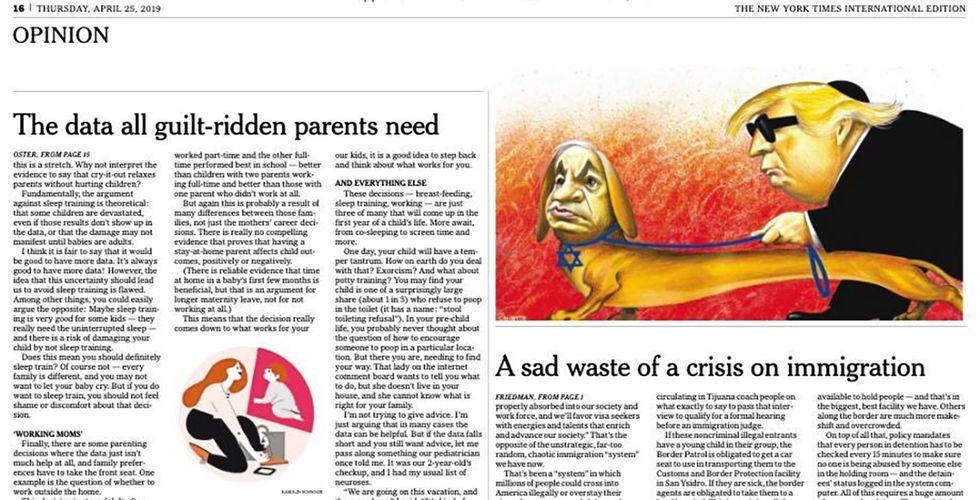 The opinion page, in their statement (below), blamed the New York Times News Service and Syndicate for the publication of the image.
The deletion and editor's note follow backlash the paper received both from social media users and other publications, including the Jerusalem Post.
In the NYTimes international: Bibi Netanyahu characterized as a dog leading a blind, Jewish Trump. When did the… https://t.co/Bt9LsHOdbB

— Harry Khachatrian (@Harry Khachatrian) 1556374227.0
Shame on the NYT for this. How hard is in a time of increasing #antisemitism not to publish an anti-semitic cartoon… https://t.co/pKPfKkBI6L

— Seth Frantzman (@Seth Frantzman) 1556376143.0
The the editor's note, which some are referring to as an apology but which includes no expression of regret, says the image 'was offensive" and that it was 'an error of judgment" to publish it.
"A political cartoon in the international print edition of The New York Times on Thursday included anti-Semitic tropes, depicting the prime minister of Israel as a guide dog with a Star of David collar leading the president of the United States, shown wearing a skullcap. The image was offensive, and it was an error of judgment to publish it. It was provided by The New York Times News Service and Syndicate, which has since deleted it."
One of the more widely retweeted and stronger objections was from an Australian Imam and Muslim peace advocate, who said the image served an "ISIS agenda" and is the type of photo the terror group's leader Abu Bakr al-Baghdadi "would hang on his wall."

Serving an ISIS Agenda If you're wondering what type of photo ISIS' Al-Baghdadi would hang on his wall, look no fu… https://t.co/6BvYVZ6exY

— Imam Mohamad Tawhidi (@Imam Mohamad Tawhidi) 1556317917.0
At the Jerusalem Post, Frantzman was not impressed with the editor's note.
This is what The New York Times thinks of us Israelis. Even if they subsequently said it was an error, they thought it was okay to print a cartoon showing the US president being blindly led by the "Jewish dog"?

And not only that, those who watched as it went to print thought it was fine to put a Jewish skullcap on the US president. Dual loyalty? No need to even wrestle with that question.

It used to be that we were told that Trump was fostering "Trump antisemitism" and driving a new wave of antisemitism in the US. But the cartoon depicts him as a Jew. Well, which is it? Is he fostering antisemitism, or is he now a closet Jew being led by Israel, depicted as a Jewish dog? We used to say that images "conjured up memories" of 1930s antisemitism. This didn't conjure it up; this showed us exactly what it looked like.

The Nazis also depicted us as animals. They also put Stars of David on us. Antisemites have compared us to dogs, pigs and monkeys before. It used to be that it was on the far-Right that Jews were depicted as controlling the world, like an octopus or a spider.

But now we see how mainstream it has become to blame the Jews and Israel for the world's problems.
There is much more to the article that is well worth reading. Frantzman notes that blaming syndication doesn't fly, as multiple people, editors, would see it and have the opportunity to remove it prior to using it in their paper. None, apparently, found any problem with the cartoon.
Washington correspondent for the United Arab Emirates publication The National adds that this isn't an isolated incident.

Here is the cartoon in question. The NYTimes must address the gap between its US and International editions. Not th… https://t.co/posinW3J5q

— Joyce Karam (@Joyce Karam) 1556380246.0
It is worth nothing that the Times characterization of the offensive image as having "included anti-Semitic tropes" is the same language that Democratic leadership used to describe tweets from Rep. Ilhan Omar that also faced backlash. When not writing about their own publication, or Democrat members of Congress, the New York Times more typically uses words like "slur" or "hate" over the more anti-septic "tropes."