Avowed democratic socialist and newly minted U.S. Rep. Alexandria Ocasio-Cortez (D-N.Y.) was asked by MSNBC's Chris Matthews what she thought of President Donald Trump citing Venezuela's economic disaster as a way of denouncing socialism — particularly socialism in America — in his State of the Union address Tuesday night.
A smiling Matthews even gave the 29-year-old congresswoman some help as part of his question, calling Trump's words about Venezuela and socialism "aggressive" and "pretty truculent" when the president declared that "tonight, we renew our resolve that America will never be a socialist country."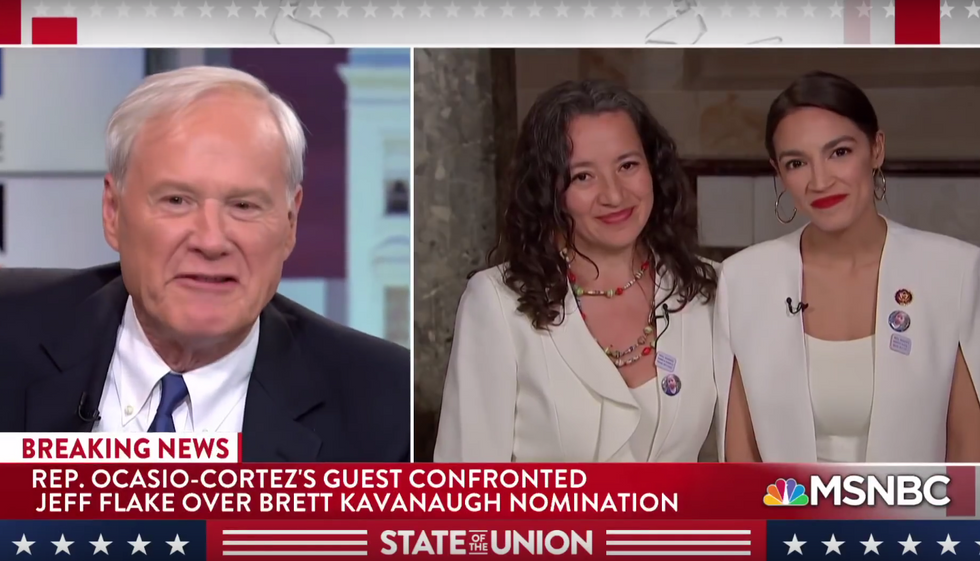 Image source: YouTube screenshot
Ocasio-Cortez offered her usual mass of words in response, but none of them actually addressed Matthews' query.
What did she say?
"He feels himself losing on the issues," Ocasio-Cortez told Matthews. "Every single policy proposal that we have adopted and presented to the American public has been overwhelmingly popular, even some with a majority of Republican voters supporting what we're talking about."
Standing with Ana Maria Archila — the woman seen on video confronting former GOP Sen. Jeff Flake in a Capitol Hill elevator during the Brett Kavanaugh confirmation hearings last fall — Ocasio-Cortez then rattled off leftist talking points.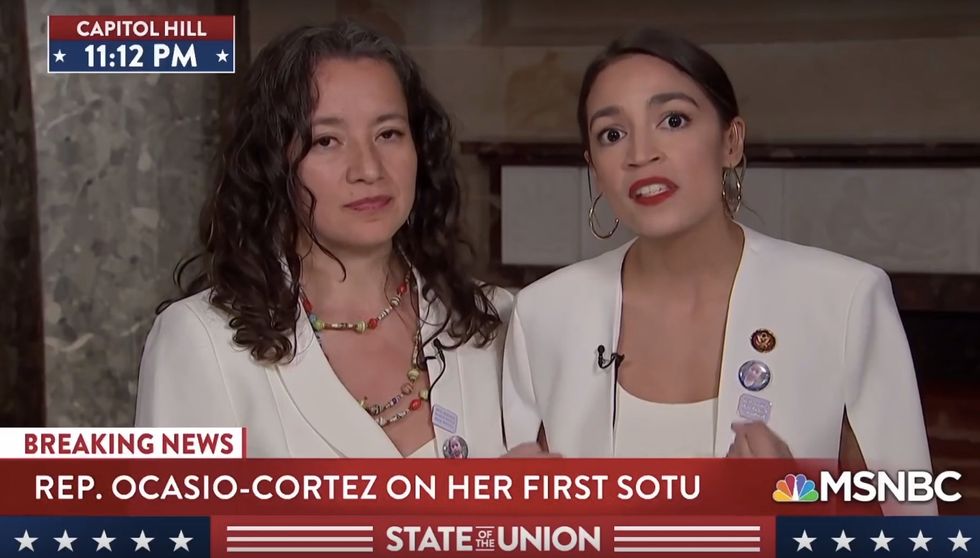 Image source: YouTube screenshot
She said 60 percent of Americans approve of a 70 percent marginal tax rate on incomes over $10 million, 70 percent of Americans believe in "Medicare for all," and a "very large amount" of U.S. citizens "believe that we need to do something about climate change," calling it "an existential threat to ourselves and to our children."

"And so I think [Trump] sees himself losing on the issues," Ocasio-Cortez repeated. "He sees himself losing on the wall in the southern border, and he needs to grasp at an ad hominem attack, and this is his way of doing it."
She added that the U.S. is facing "an issue of authoritarian regime versus democracy, and in order for him to try to, you know, dissuade or throw people off the scent of the trail, he has to really make and confuse the public. And I think that that's exactly what he's trying to do."
Here's the clip. The relevant portion begins just before the 4-minute mark:
(H/T: Louder With Crowder)