Jacob Pope, a high school football player from North Carolina, was walking to practice recently when the national anthem began playing at a nearby girls' softball game, WGHP-TV reported.
Pope, a junior at South Davidson High School in Denton, was in the middle of a parking lot at the time — and stopped walking and put his hand over his heart while the anthem played.
"No one was there," Pope told the station. "I just stopped because it was the right thing to do."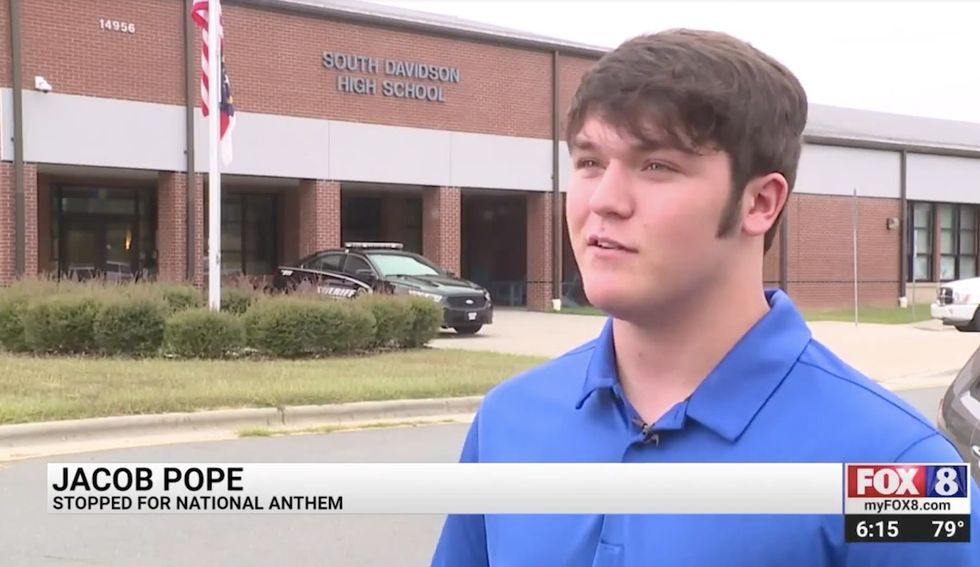 Image source: WGHP-TV video screenshot
Except there was someone there — not that he noticed.
A retired teacher's assistant, Angie Gallimore, was attending her grandchildren's tennis match and softball game at the school, Yahoo Lifestyle reported.
"I just happened to look over to the parking lot — there was no one else out there, and there he stood," Gallimore added to the outlet. "His helmet was off, and his hand was over his heart. I just thought that was amazing."
Gallimore — with the permission of Pope's mother, Yahoo Lifestyle said — shared the photo on Facebook:
"She wanted to point out what a proud moment and how special he was for doing something like that when no one was looking," Lauren Pope told WGHP.
She added to the station that the school and surrounding community have been supportive.
"It makes me tear up quite often just reading some of the positive things people have said about his character," Lauren Pope told WGHP.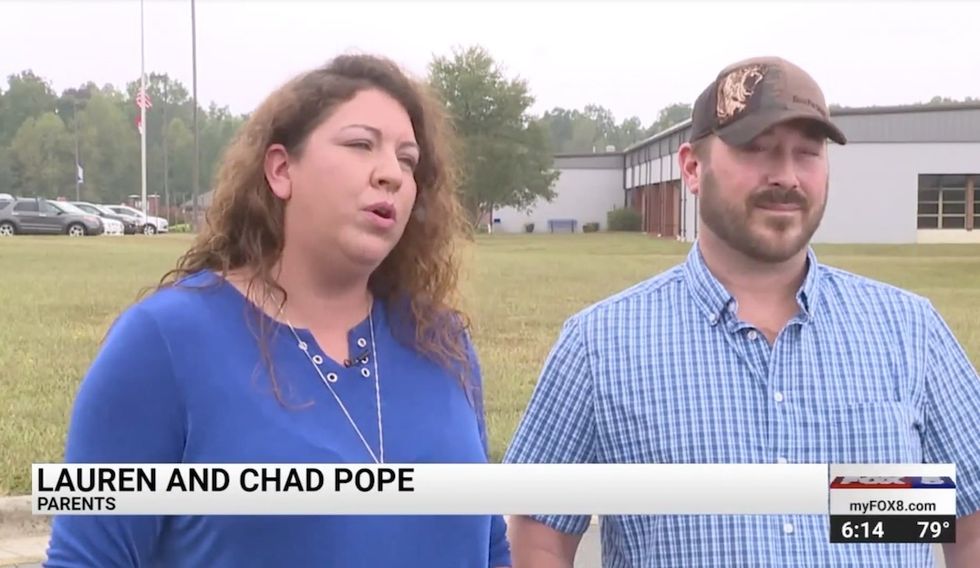 Image source: WGHP-TV video screenshot
Some of the Facebook comments include:
"That boy is being raised right!!"
"What an example for these younger generations."
"Good for him! It shows what a wonderful young man he is! Very respectful!"
"Character is what you do when no one is looking."
Jacob told the station "not in a million years" did he ever think something like this would happen to him: "I'm really shocked about it."