© 2023 Blaze Media LLC. All rights reserved.
Pride flag may soon be banned from all city property in a Detroit-area city after unanimous vote by city council: Everyone 'is already represented by' the American flag
One Michigan city may soon ban the Pride flag and other flags representing particular racial or religious groups from all government buildings and city property after a resolution passed unanimously by the city council.
On Tuesday evening, area residents lined up outside the door to attend a city council meeting in Hamtramck, Michigan, a city almost entirely surrounded by the city of Detroit. Local interest in this meeting was so elevated because of a resolution introduced by Council Member and Mayor Pro-Tem Muhammad Hassan, which would prohibit all "religious, ethnic, racial, political, or sexual orientation group flags" from being flown on city property. Only "the American flag, the flag of the State of Michigan, the Hamtramck Flag, the Prisoner of War flag and the nations' flags that represent the international character of our City shall be flown," the resolution stated.
The meeting lasted for more than three hours, as members of the public spoke either in favor of or against the resolution. "Pride Month, don't put it down our throats," said Hassan Aoun, a resident of Dearborn, another Detroit-area city with a significant Muslim population. "You can be gay by yourself. ... Do not put [the Pride flag] on city property."
Council Member Nayeem Choudhury argued that all groups are already represented by the American flag. Gay people "are welcome. ... [But] why do you have to have the flag shown on government property to be represented? You're already represented," he said. Choudhury's statement echoed a portion of the resolution, which affirmed that "each religious, ethnic, racial, political, or sexually oriented group is already represented by the country it belongs to."

Still others vehemently opposed the measure. "The LGBTQ community is the life blood of our organization," claimed Darren Shelton, executive director of Planet Ant Theatre. "I don't think sexuality is a political issue."
Another woman who opposed the bill wore a clown nose and said that the city should change its slogan to Hamtramck "welcomes you if you're straight." She even used some of her time at the podium to kiss the woman standing beside her.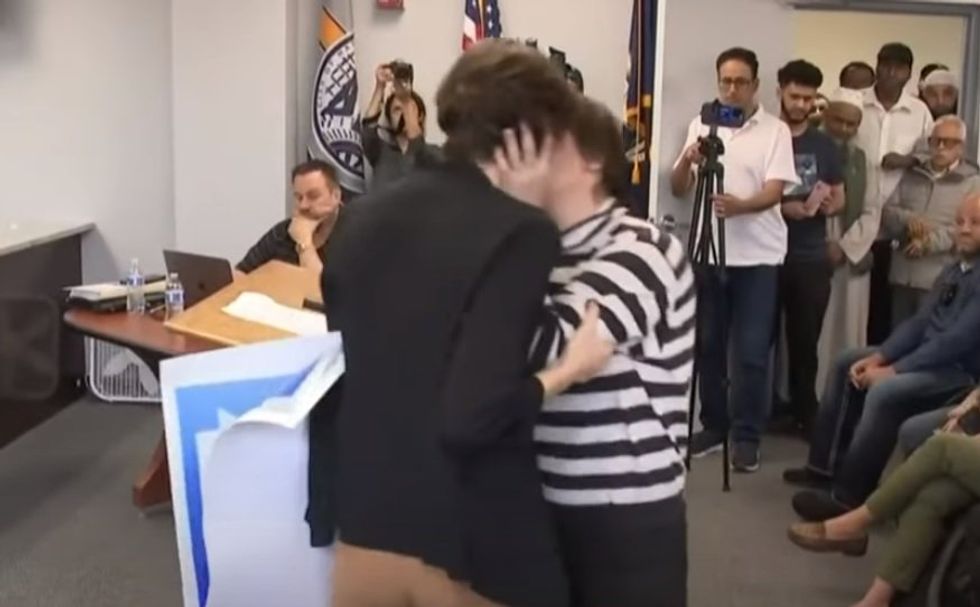 Two unidentified women embrace during the meetingScreenshot of WDIV-TV YouTube video
Hayley Cain told the council that the resolution, which she called "a clear message of discrimination, caused her to reconsider her choice to move there. "I relocated from California to Hamtramck, which is really far away because I thought it was a diverse community," she said. "I'm questioning whether it is. ... I don't want to live in a place like this."
Cain is correct that the city has a long history of traditional diversity. In the early 20th century, it quickly became a haven for Polish immigrants who had just entered the country, and it now has the highest percentage of immigrants of any city in Michigan. In the last few decades, many Muslim residents moved to the city, and Hamtramck is now the only city in the U.S. in which the mayor's office and all city council seats are occupied by a Muslim.
It seems that the high Muslim population may have affected the vote, as city leaders spoke openly about their desire to respect religious liberties and their frustration with accusations of bigotry. "You guys are the ones making problems," Council Member Hassan told the LGBTQ crowd.
"I'm the elected official. ... I'm working for the people, what the majority of the people like."
Hamtramck Mayor Amer Ghalib — who was elected to office in 2021, defeating incumbent Mayor Karen Majewski, who notably flew the Pride flag outside City Hall earlier that year — also voiced his support for the bill and hinted that the LGBTQ community and other such groups would no longer receive special treatment from the city. "We serve everybody equally with no discrimination, but without favoritism," he said.
As the city council voted unanimously to approve the measure and Ghalib has already expressed his support for it, the bill is likely to become law. However, when the measure would take effect is unclear.
Like Blaze News? Bypass the censors, sign up for our newsletters, and get stories like this direct to your inbox. Sign up here!
Want to leave a tip?
We answer to you. Help keep our content free of advertisers and big tech censorship by leaving a tip today.
Sr. Editor, News
Cortney Weil is a senior editor for Blaze News.
cortneyweil
more stories
Sign up for the Blaze newsletter
By signing up, you agree to our
Privacy Policy
and
Terms of Use
, and agree to receive content that may sometimes include advertisements. You may opt out at any time.