Milwaukee Public Schools placed a teacher on leave after he tweeted that conservative radio host Rush Limbaugh "absolutely should have to suffer from cancer. it's awesome that he's dying, and hopefully it is as quick as it is painful," WITI-TV reported.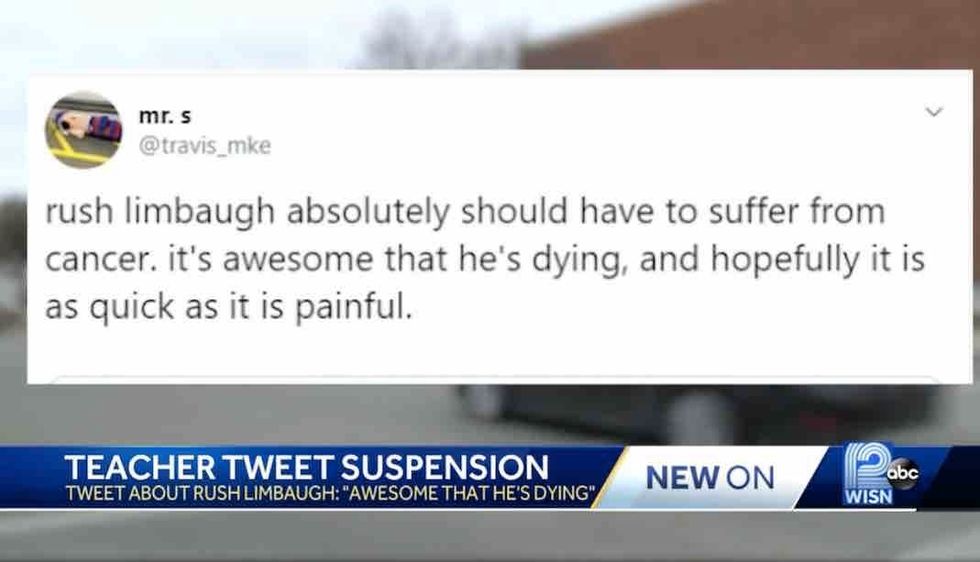 Image source: WISN-TV video screenshot
Limbaugh, 69, announced Monday that he's been diagnosed with advanced lung cancer.

What are the details?
Milwaukee School of the Arts teacher Travis Sarandos posted the tweet, WITI reported, citing a statement from Milwaukee Alderman Bob Donovan. Sarandos teaches English, the Milwaukee Journal Sentinel said.
Donovan — who ran twice as a Republican for state assembly in the 1980s — wants Sarandos disciplined, WISN reported.
"It would be easy enough to dismiss ill-written, juvenile nonsense like this were it not for his role in teaching our city's young people," Donovan said in a news release, WISN said. "He is supposed to be an example of the inclusive, tolerant, and respectful spirit of the Milwaukee Public Schools. He is clearly nothing of the sort."
Donovan also told WISN on camera, "Let's just say that some right winger was attacking some liberal. And let's just say this same right winger was attacking Muslims. This guy would've been gone in a heartbeat. But it seems to be OK to attack conservatives."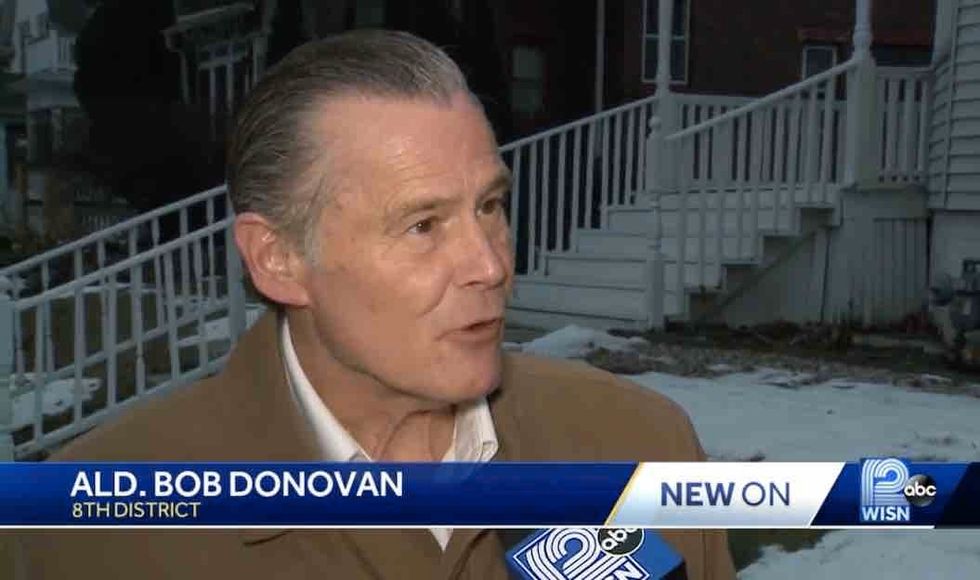 Image source: WISN-TV video screenshot
WITI said it obtained a screenshot of another Sarandos tweet that read: "I was in the room when my grandpa died of lung cancer, and my grandma nearly lost her house paying for his end-of-life costs because of people like Rush Limbaugh, who thinks being poor should be a death sentence. You can [redacted] all the way off."
Donovan also said in his statement that Sarandos suggested the extinction of Christian conservative voters could foster a better future — and asked "maybe we poison the communion wine?" WITI noted.
Sarandos' Twitter account was down Thursday morning.
What did the teacher have to say?
"I regret the statements," Sarandos told WITI. "It was meant as a joke, but it was in very poor taste. I do not have any further comment."
What did the school district have to say?
"We are aware of Mr. Sarandos' actions and can confirm that he was not speaking on behalf of any students or staff of Milwaukee High School of the Arts or Milwaukee Public Schools," district spokeswoman Shahree Douglas said in a statement to WISN. "The district is following policy and procedures related to personnel matters."
Anything else?

As TheBlaze previously reported, the left immediately attacked Limbaugh on social media upon hearing the news about his cancer diagnosis.
Leftist commentator Reza Aslan noted the following:
Ask yourself this simple question: is the world a better place or a worse place with Rush Limbaugh in it?

— Reza Aslan (@Reza Aslan)1580772076.0
In addition, left-wing U.S. Rep. Alexandria Ocasio-Cortez (D-N.Y.) went so far as to call Limbaugh a "virulent racist" after President Donald Trump awarded him the Presidential Medal of Freedom during Tuesday's State of the Union address.