Former Democratic Vice President Joe Biden said there's no one in America better suited that him for the nation's highest office.
"I think I'm the most qualified person in the country to be president," he told a crowd Monday night in Missoula, Montana, during his "American Promise Tour," the Missoula Current reported. "The issues that we face as a country today are the issues that I've worked on my whole life — the plight of the middle class and foreign policy."
But will Biden make a 2020 run for the White House? He noted that the decision isn't his alone, the paper said.
"My family and I need to decide as a unit whether we're ready — we do everything as a family," he said.
New York Times columnist Bruce Feiler sat with Biden during the event, the Current said — which took place on the campus of the University of Montana — and included excerpts from his 2017 book, "Promise Me, Dad: A Year of Hope, Hardship, and Purpose."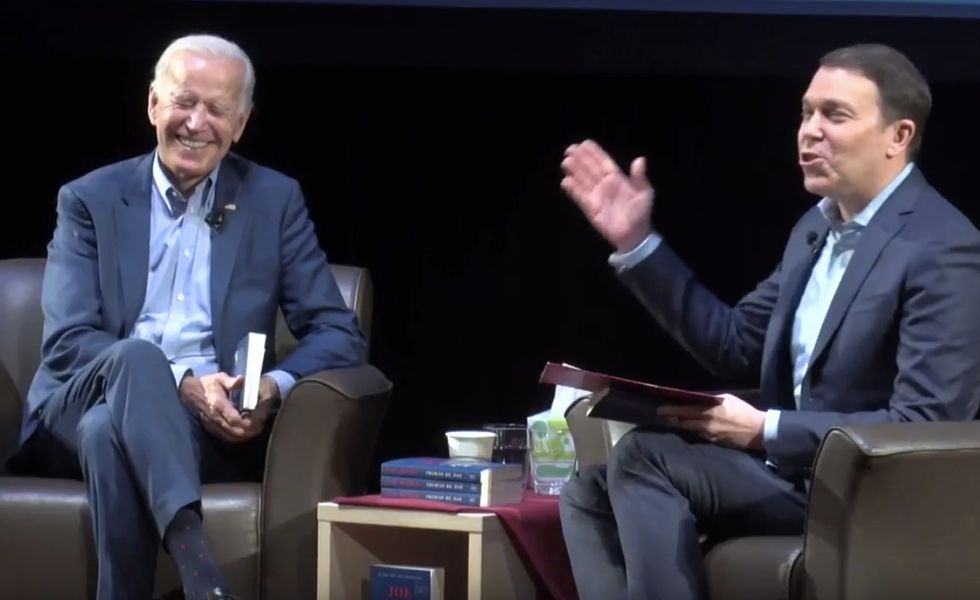 Former Vice President Joe Biden with New York Times columnist Bruce Feiler during an event at the University of Montana on Monday.(Image source: YouTube screenshot)
Feiler noted to Biden why others might not want him to run for president — such as he's too old, there's too much money to raise, he co-sponsored a bad crime bill, and he's a "gaffe machine," the paper said.
But the former vice president — who turned 76 last month — fired off retorts for each one, the Current noted.
"I may be a gaffe machine, but my God, what a wonderful thing compared to a guy who can't tell the truth," Biden said, according to the paper, in a thinly veiled reference to President Donald Trump.
"No one doubts what I say; the problem is I sometimes say all that I mean," he added, the Current said. "The question is, 'What kind of nation are we becoming?' We can't have four more years."