The administration of Reading, Pennsylvania, has been accused of discrimination after Mayor Wally Scott canceled a gay pride flag-raising ceremony at city hall on Monday, WFMZ-TV reported.
Scott told the station he has nothing against the LGBTQ community but that displaying the Pride flag at city hall would be supporting a "political movement" — and no flags for political movements should fly at city hall.
"People don't realize how many people come here looking to put up flags for movements and stuff, and I'm just not part of that, and I don't think we should be," the Democrat added to WPVI-TV.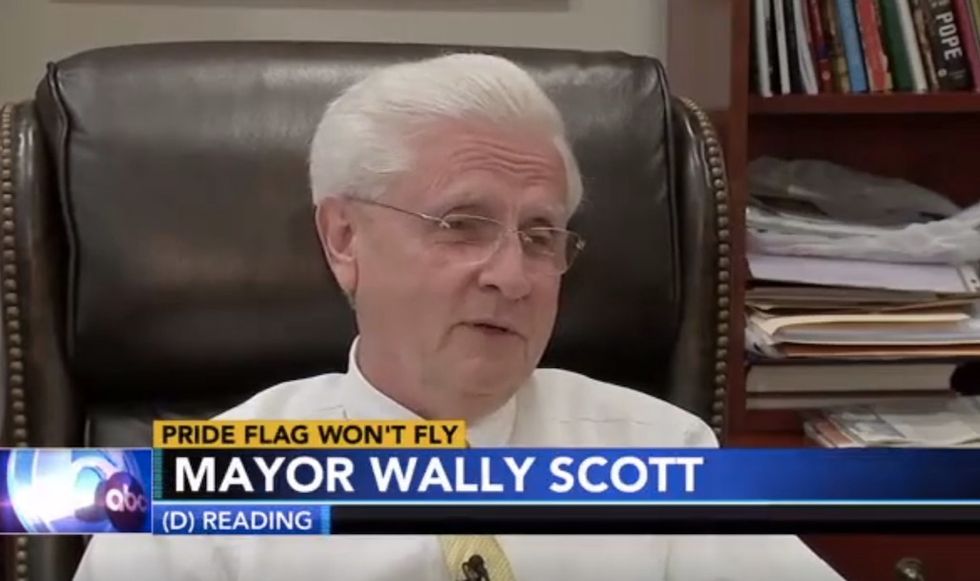 Image source: WPVI-TV video screenshot
What did the LGBTQ community have to say?

The LGBT Center of Greater Reading issued a statement saying "what was supposed to be a proud and historical moment" turned into "a show of blatant, unacceptable discrimination."
"We are not a cause," the statement added. "We are human beings protected by an anti-discrimination ordinance in the City of Reading."
Berks Weekly posted video of spirited local reaction to the decision:
Reading Mayor Wally Scott Cancels City Hall Pride Flag Raising Ceremony at Last Minuteyoutu.be
What else did the mayor have to say?
Scott said he didn't know about the ceremony until moments before start time, which is why it was canceled at the last minute, WPVI reported.

The station also said Scott lost this year's Democratic primary and won't serve a second term.

Local LGBTQ leaders told WPVI they plan to file a complaint with the city's Human Relations Commission.