Wall Street executives told Bloomberg Business that with the advent of #MeToo, they're protecting themselves against sexual harassment allegations by keeping a safe distance from female colleagues — as in no more one-on-one dinners or meetings, no more sitting next to them on flights, and no more hotel rooms on the same floors.
A wealth adviser told the outlet that even hiring a woman these days carries "an unknown risk" — as in, what if she takes something he said the wrong way?
The Pence Effect
Remember when Vice President Mike Pence took a beating for acknowledging that he never has dinner alone with a woman other than his wife? It's also known as the " Billy Graham rule" — named for the late Christian evangelist who famously took such steps to protect his marriage and himself against false accusations.
Now the "Pence Effect" seems to be taking root on Wall Street, Bloomberg said, referencing interviews with more than 30 senior executives navigating their way through the #MeToo landscape.
"It's creating a sense of walking on eggshells," David Bahnsen, a former managing director at Morgan Stanley who's now an independent adviser, told the outlet.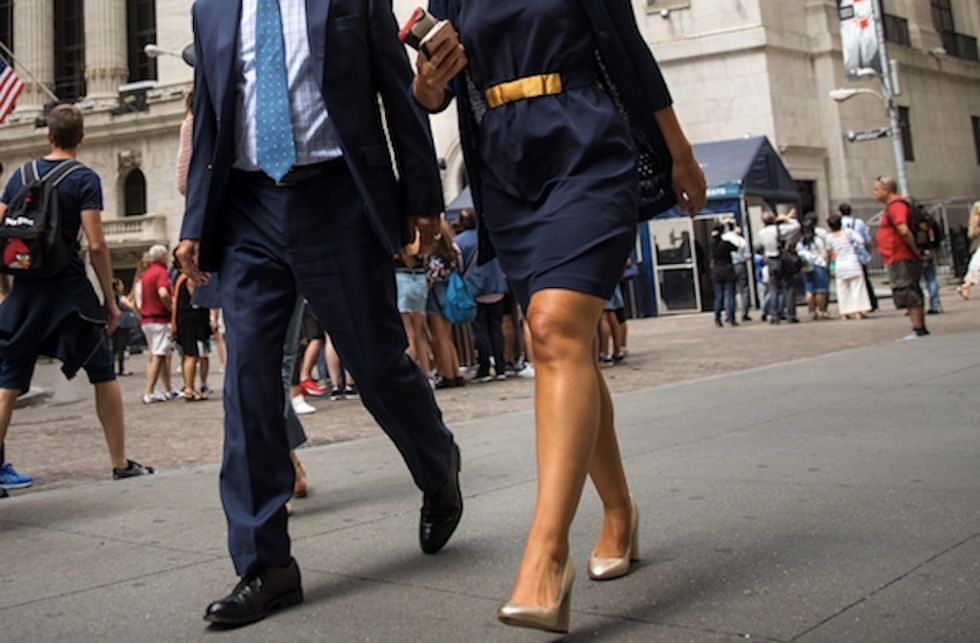 A man and woman walk past the New York Stock Exchange(Photo by Drew Angerer/Getty Images)
Keeping their distance

Many of those interviewed for the Bloomberg piece declined to be named, the outlet said, but noted that they work for hedge funds, law firms, banks, private equity firms, and investment-management firms.
But they told Bloomberg privately that they're uncomfortable now "being alone with female colleagues, particularly youthful or attractive ones, fearful of the rumor mill or of, as one put it, the potential liability."
More from the outlet:
A manager in infrastructure investing said he won't meet with female employees in rooms without windows anymore; he also keeps his distance in elevators. A late-40-something in private equity said he has a new rule, established on the advice of his wife, an attorney: no business dinner with a woman 35 or younger.
"Some men have voiced concerns to me that a false accusation is what they fear," Stephen Zweig, an employment attorney with FordHarrison.Zweig, told Bloomberg. "These men fear what they cannot control."
Although not every exec went that route. One investment adviser who manages about 100 employees told the outlet he reconsidered having one-on-one meetings with junior women and leaving his office door open and inviting a third person into the room but then decided, "Just try not to be an asshole."
But it's actually hurting women

The upshot from such protective moves appears to be hurting women in regard to their chances for advancement in the workplace — and includes everything from mentoring opportunities all the way down to not being included in after-work drinks, Bloomberg said.
"Women are grasping for ideas on how to deal with it, because it is affecting our careers," Karen Elinski, president of the Financial Women's Association and a senior vice president at Wells Fargo & Co, told the outlet. "It's a real loss."
Lisa Kaufman, chief executive officer of LaSalle Securities, told Bloomberg that men have to step up and "not let fear be a barrier."
"There aren't enough women in senior positions to bring along the next generation all by themselves," she added to outlet. "Advancement typically requires that someone at a senior level knows your work, gives you opportunities, and is willing to champion you within the firm. It's hard for a relationship like that to develop if the senior person is unwilling to spend one-on-one time with a more junior person."
And it could backfire on men as well.
"If men avoid working or traveling with women alone, or stop mentoring women for fear of being accused of sexual harassment," Zweig added to Bloomberg, "those men are going to back out of a sexual harassment complaint and right into a sex discrimination complaint."