A reporter was assumed dead by his family after Canada's state broadcaster, the Canadian Broadcasting Corporation, pictured him alongside a headline about a man who died after crossing the U.S./Canada border.
CBC paired the photo with a story about a deceased illegal immigrant from Mexico. The attached image has since been changed to a photo of the border crossing location.
In addition, the Canadian press also falsely labeled the reporter, Abdusselam Bezirgan, as a man waiting for "transportation" at the border.
Recent reports state that migrants have been bused to the border to enter Canada from the United States, after which the illegal immigrants are typically transported to hotels or holding facilities by border authorities in Canada.
Perhaps ironically, Bezirgan was filming a documentary about illegal immigration at the U.S./Canada border at the time of the photo.
"CanadianPress you are fake news. I'm not waiting [sic] transportation. Just because I look a certain way doesn't mean I've crossed the border illegally. I was there recording a documentary. I was not waiting for transportation. I am not an illegal migrant," said Bezirgan, who is both a Turkish and a Canadian citizen.
"And I'm not dead," Bezirgan added regarding CBC's framing.
According to the Counter Signal, the CBC posted Bezirgan's image along with the title "Man dies after encountering patrol agents at Canada-U.S. border."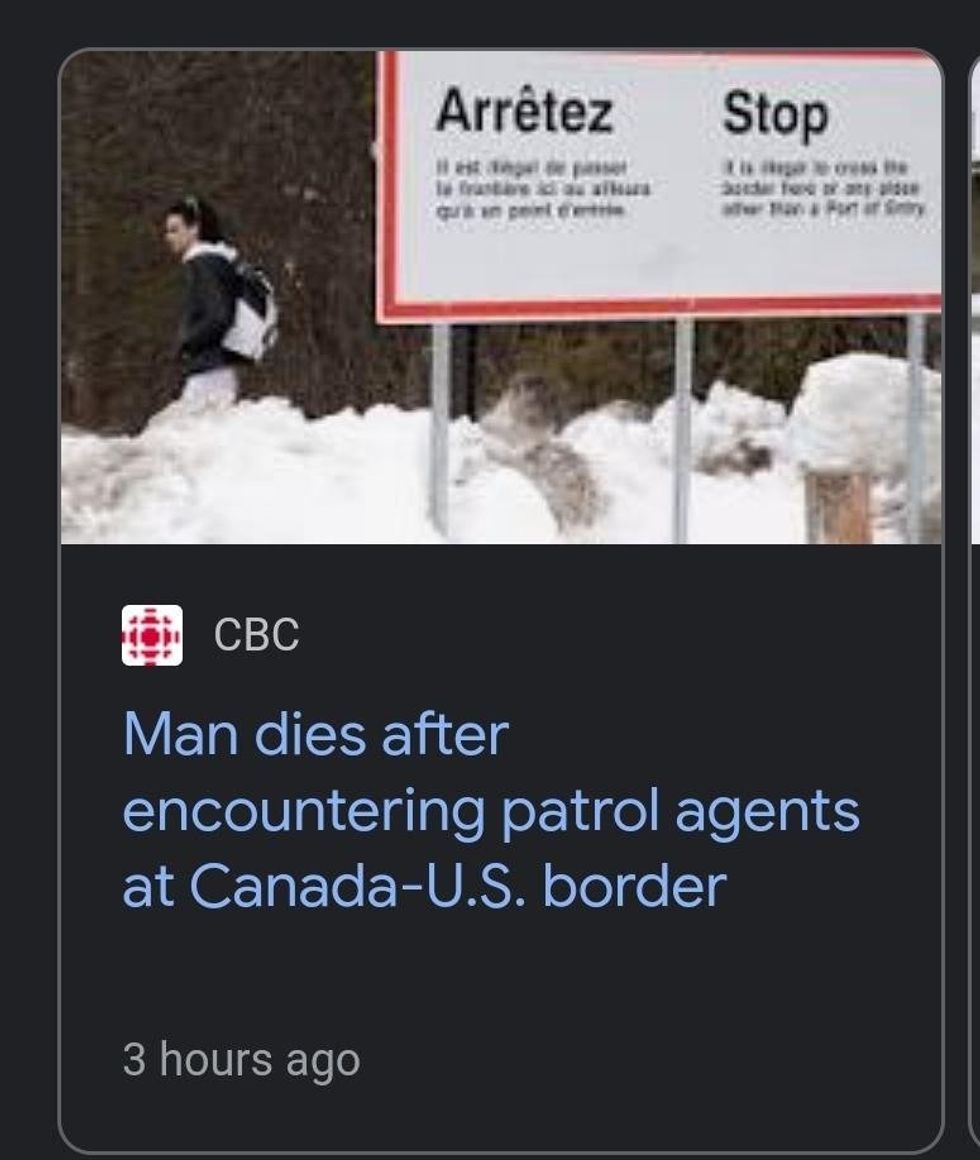 Image courtesy The Counter Signal
The reporter's parents told the outlet that they quickly began receiving calls from friends after the story was published:
"My friend called me asking if my son was okay, saying that he saw a news story about his death. Until the time I called my son my heart was racing to hear back from him," said the reporter's father, Erol Bezirgan.

"They [CBC] need to be more careful with their reporting; his mother from Turkey also panicked when she heard the claims," he added.
"Could they not find a different picture to report a death? What is this? Are they calling you an illegal?" the father asked.

Bezirgan's editor in chief, Keean Bexte, released the following statement: "I am happy to report that our cameraman, [Abdusselam Bezirgan], who was on the ground covering the story of record-high illegal border crossings at Roxham Road, has not been killed," Bexte announced.
According to government statistics, Canada saw 9,231 "irregular border crossings" in 2022, with more than 23,000 other cases pending.
Canada expects approximately 465,000 legal immigrants for 2023, with a planned increase to 500,000 by 2025.