© 2023 Blaze Media LLC. All rights reserved.
Republican truck driver Edward Durr defeats powerful Democratic NJ state Senate president; historic victory called 'stunning and shocking'
Edward Durr — an unheralded 58-year-old Republican who drives a truck for a furniture store and has never held political office — defeated longtime Democratic New Jersey state Senate President Steve Sweeney in a massive election upset, the Associated Press reported Thursday.
Image source: Twitter video screenshot via @edwarddurr1
What are the details?
Sweeney has helmed the state Senate for a dozen years and is the second most powerful official in New Jersey government, Politico said.
Image source: YouTube screenshot
"It is stunning and shocking and I cannot figure it out," Senate Majority Leader Loretta Weinberg said in an interview, the AP said.
It's also been widely reported that Durr spent only $153 on his campaign in the 3rd legislative district — even by the AP, which cited Election Law Enforcement Commission documents concerning the $153.31 figure in its Durr victory story. But Durr told Brietbart the $153 was "the amount I spent prior to the primary" — and that he spent between $8,000 and $9,000 total, mostly on literature, yard signs, and campaign video:
@nj1015 @1210WPHT @BillSpadea @MattRooneyNJ @GlouCoGOPpic.twitter.com/ESiikNLwJ9

— Edward Durr (@Edward Durr) 1632242155
"I kept telling myself and telling people I was going to do it, but in the back of my mind I was like, 'You know, how am I going to beat the Senate president?'" the grandfather of six told Politico.
How did it happen?
Prior to Durr's victory, NJ.com said should he prevail it would prove "one of the most unthinkable upsets in New Jersey political history."
And here we are. But the question is, "How did we get here?"
Politico said for this election there was a high turnout in districts with large blue-collar populations, and they pulled the levers for Republicans like mad.
"I've said this before: I'm as blue-collar as you're ever going to find," Durr added to WTXF-TV.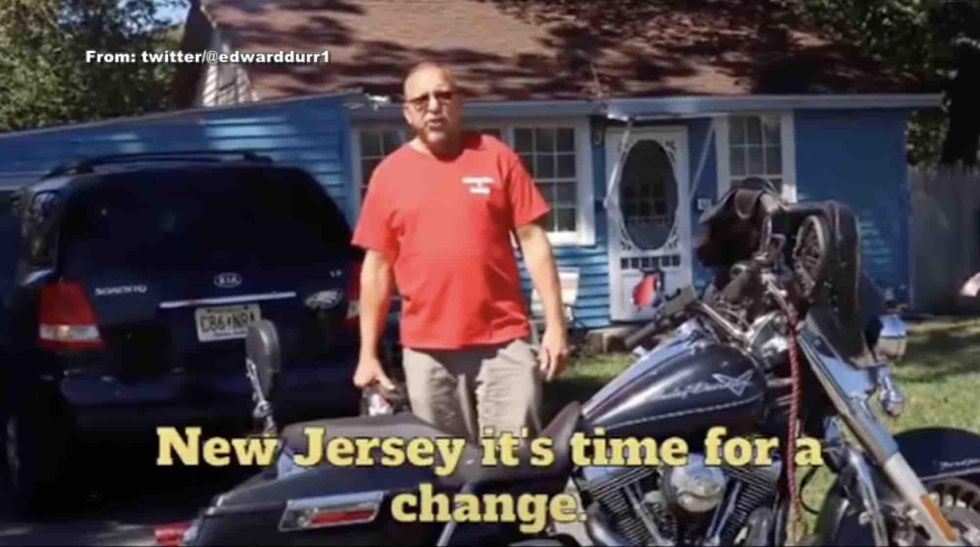 Image source: YouTube screenshot
He also pointed out to Politico the problems he's seen with the current regime.
"You have the debacle of unemployment. The masking of the kids in school. You have Senator Sweeney trying to take away people's medical freedom rights," Durr added to Politico. "I think the perfect storm was that he stepped into a pile of you-know-what and couldn't get out of it because he didn't know which way to turn. I just tapped into the right focus."
He also told the outlet he views himself as a "constitutional conservative" who favors cutting taxes (income, corporate, and other state taxes) to help "businesses to grow" and reducing property taxes. Durr also wants abortion stopped and favors a law that would outlaw it if a fetal heartbeat is detected, Politico added.
Plus, he's a big Second Amendment backer who said in a recent YouTube interview that running into roadblocks getting a concealed carry permit spurred him to run for office, the outlet reported.
More from the AP:
It's unclear who will become the next Senate president. If Democrats maintain control of the chamber, as incomplete results show they could do, then Democratic senators will meet to choose their next leader.

The 3rd Legislative District covers parts of Cumberland, Gloucester and Salem counties.

Coming into Election Day, Democrats had controlled the state Assembly with 52 seats to Republicans' 28. In the state Senate, Democrats had 25 seats to the Republicans' 15.

New Jersey's Legislature consists of 40 districts, which each send one senator and two Assembly members to Trenton. Assembly members serve two-year terms, while senators serve four-year terms except for the first election after the census, which comes this year, when they serve two-year terms.
The following news report aired prior to the AP calling Durr's victory Thursday:
Edward Durr, GOP truck driver, upsets longtime New Jersey Democrat Steve Sweeneyyoutu.be
Want to leave a tip?
We answer to you. Help keep our content free of advertisers and big tech censorship by leaving a tip today.
Sr. Editor, News
Dave Urbanski is a senior editor for Blaze News.
DaveVUrbanski
more stories
Sign up for the Blaze newsletter
By signing up, you agree to our
Privacy Policy
and
Terms of Use
, and agree to receive content that may sometimes include advertisements. You may opt out at any time.