Paul Engram owns a barbershop in Raleigh, North Carolina, near the scene of a police-involved shooting Tuesday evening and told WRAL-TV that "rumors were flying around that it was a child that might have gotten shot" and that "we all need to know the truth."
Cops indeed shot somebody, but the truth is that it wasn't a "child." Rather, it was a 26-year-old man, and police said he was flashing a gun in public.
But, alas, with the rumor fresh in their heads that a cop shot an unarmed 16-year-old in the back, as WRAL's Joe Fisher noted, protesters got proactive and participated in "violence & damage to property."
"Almost every protester I spoke w/ showed up b/c they heard an officer shot an unarmed 16yo in the back," Fisher tweeted. "This misinformation spread on social media, not news media & rumors fueled turnout, violence & damage to property. Let's do better."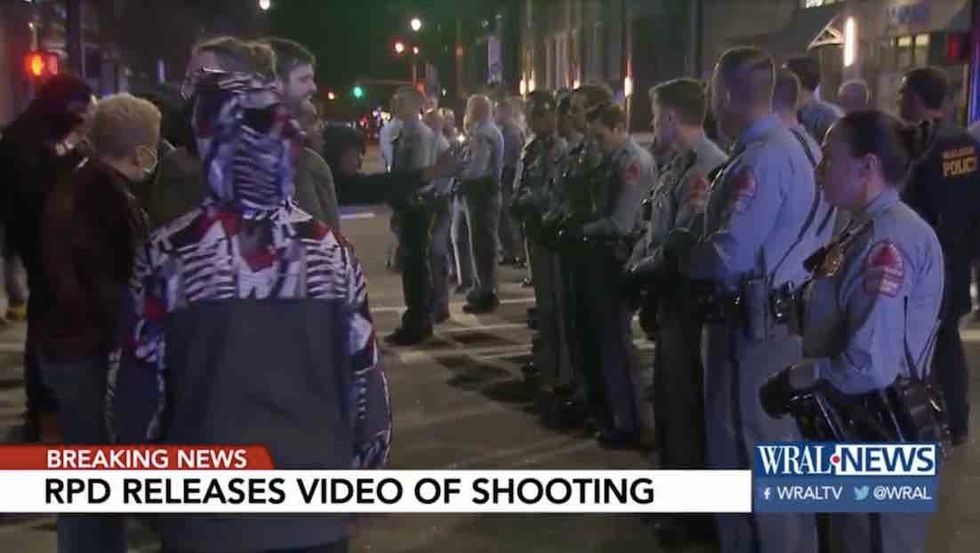 Image source: WNCN-TV video screenshot
What did the protesters do?
Just before midnight Tuesday, protesters gathered on Fayetteville Street and chanted "RPD is the KKK!" and "Whose streets? Our streets!" WRAL reported.
Protesters even marched to the mansion of Democratic Gov. Roy Cooper and took flags off poles and burned them, a Raleigh police officer told the station around 1 a.m. Wednesday.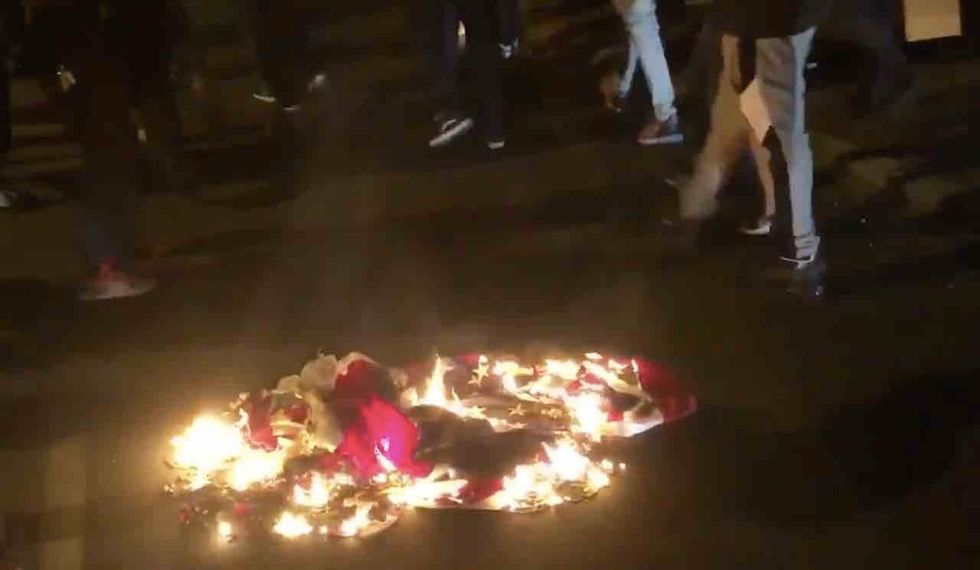 Image source: WNCN-TV video screenshot
Other protesters approached police vehicles around 2 a.m., after which officers activated their lights and sirens and then moved the protesters to the sidewalks, WRAL said, adding that protesters chanted, "No justice, no peace!"
Jonathan Taylor Canfield, 23, was charged with simple assault during the protest, police told the station, which added that a WTVD-TV photographer was assaulted during the protest but was not seriously injured.
Protesters also marched to the home of Raleigh Police Chief Cassandra Deck-Brown, WNCN-TV reported.
Deck-Brown said in a news conference that she wanted the public to see what really happened during the police-involved shooting and asked for the release of body-camera video to counter misinformation spreading online, WRAL said.
"As a result of the reckless and false information that has been spread on social media, a number of spontaneous protests occurred during the night, which resulted in minor damage to property in and around the downtown area," the chief said to reporters.
Deck-Brown added that the public has the right to protest, but that injuring others and damaging property "is not protected under the First Amendment." She urged citizens to instead protest "without destroying our city."
"What happened last night was wrong on a lot of levels."
She also urged the media to provide "accurate and timely information."
What actually happened?
Police said they responded to call about a man with a gun about 6:40 p.m.
"He's flashing it around," a person who called 911 said, according to WRAL. "Not sure he's using the gun, but he's flashing."
In a later 911 call, a person said a man had threatened the caller at a restaurant by saying, "I know your family. It's done. It's a wrap. You're done," the station added.
Upon arriving at the scene, police noticed "an individual who matched the description given by the 911 caller."
The suspect, Javier Torres, ran from police, and a foot chase ensued. Police said they repeatedly ordered Torres to stop and drop the gun. During the chase, Torres was shot once by an officer. After he fell, Torres can be heard yelling, "I swear I'm unarmed," WRAL said.
A handgun — as described by the 911 caller — was located at the scene of the shooting, police said, adding that no officers were injured during the incident.
Torres was taken to a hospital, where he was reported in stable condition, the station said, adding that he'll face criminal charges, including going armed to the terror of the public.
Here's the bodycam video:
(H/T: Blue Lives Matter)