Jay Boone, owner of Emerald City Guitars in Seattle, has had it.
The Pioneer Square businessman told KCPQ-TV he's long past tired of criminals repeatedly targeting his store.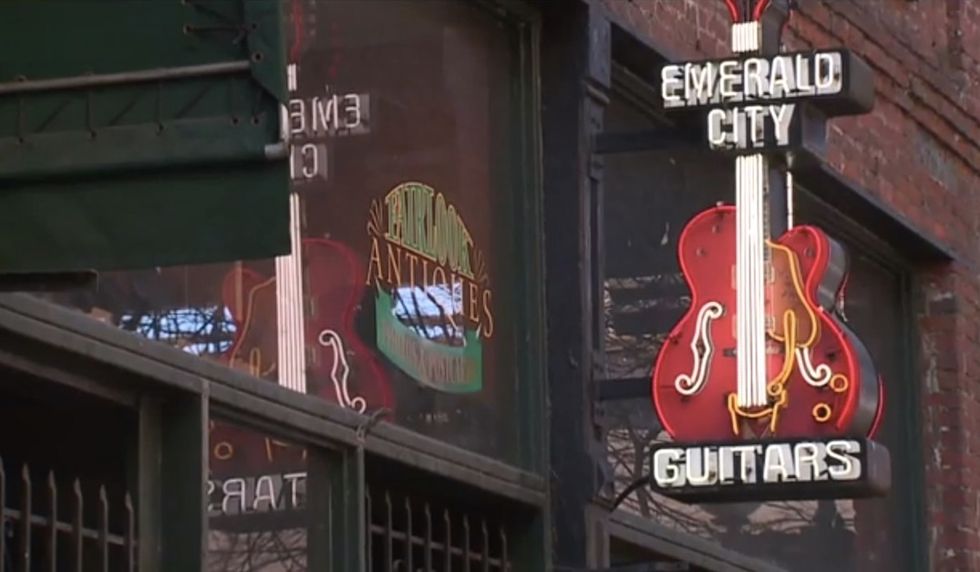 Image source: KCPQ-TV video screenshot
"We talked about how many times we've called 911 in the last year, a hundred; we feel like fools calling them up so many times," Boone noted to the station.
And on top of that is the mounting debris and human waste just outside his door and on the streets and sidewalks. "I am appalled, I am angry, I am frustrated over what's going on down here and in our city in general," he noted to KCPQ.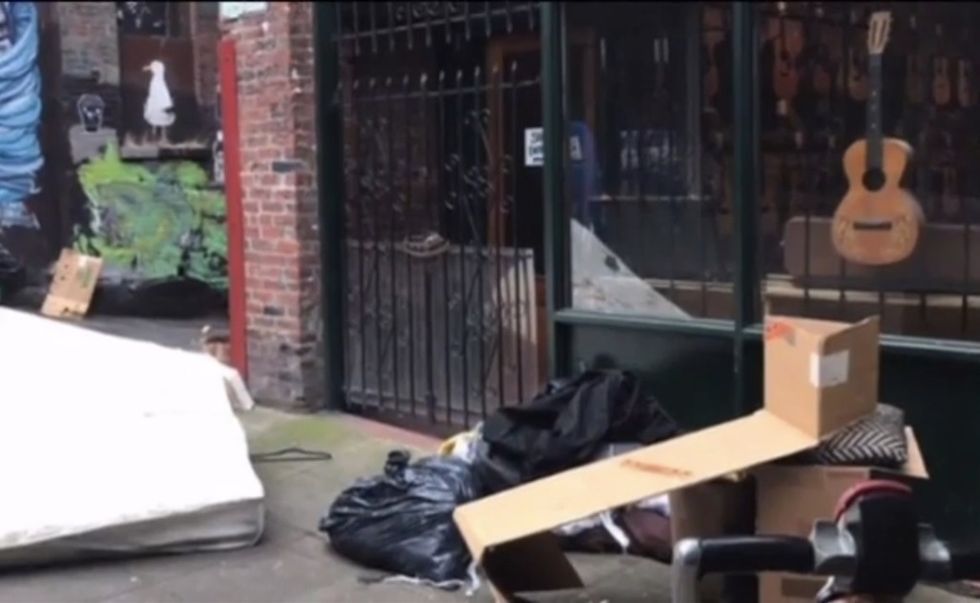 Image source: KCPQ-TV video screenshot
Can it get worse? Oh, yes it can.
On Friday, believe it or not, the frustration ante was upped.
Boone told the station an employee got hold of him and said a man believed to have ripped off a guitar worth over $3,000 last week was actually back in the store.
The employees were 100 percent certain it was the same guy because he was caught in the act on camera, KCPQ said, so Boone confronted the man about the theft.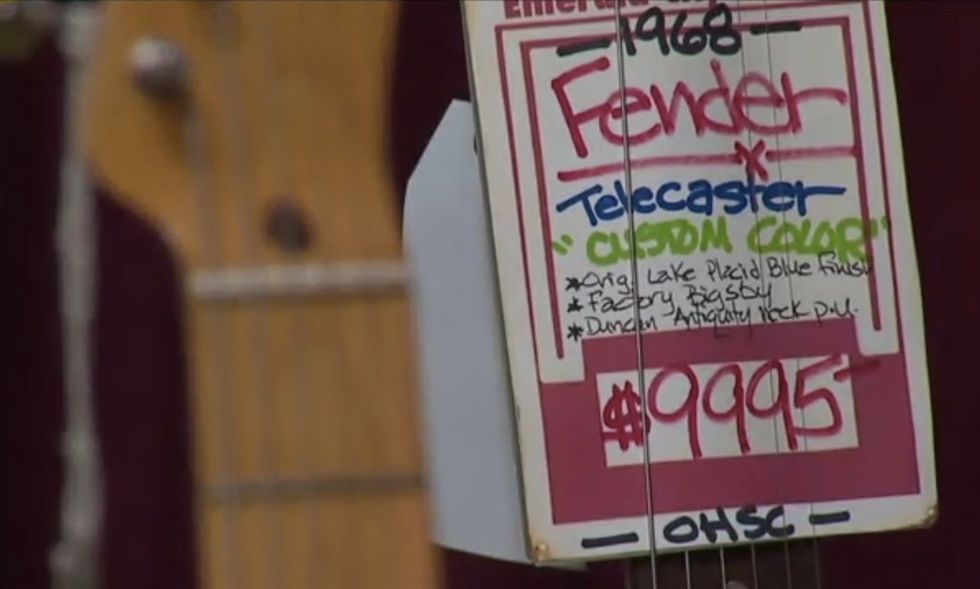 Image source: KCPQ-TV video screenshot
"He tries to make flight toward that door at which point I grabbed the back of his coat, took him to the counter back here, and forced him to sit down," Boone recalled to the station.
Boone and his employees surrounded the man and called 911, KCPQ reported — but the visitor had other plans.
"He jumps up, pulls a gun out of his pocket, starts waving it at us," Boone told the station, adding that the guy then headed for the door.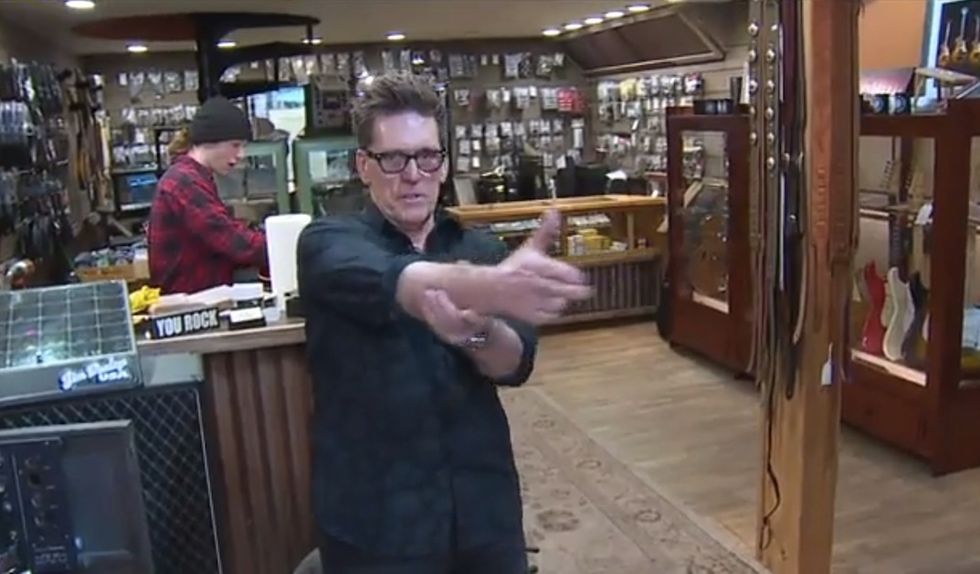 Image source: KCPQ-TV video screenshot
"One of my employees hit him at the entrance with some bear mace over here, and then I gave chase to him," Boone recalled to KCPQ.
Brawl in an alley

Boone told the station he tackled the man, and the pair commenced brawling in an alley.
"I'm on top of the guy, he's face down, he's got the gun in his right hand, and he`s trying to bring it around to my body," he recalled to the station, adding that his adversary bit his finger.
Then Boone said the man fired the gun.

"He brings the gun up around my head around here and then fires a shot," he noted to KCPQ, pointing to a hole in a nearby window.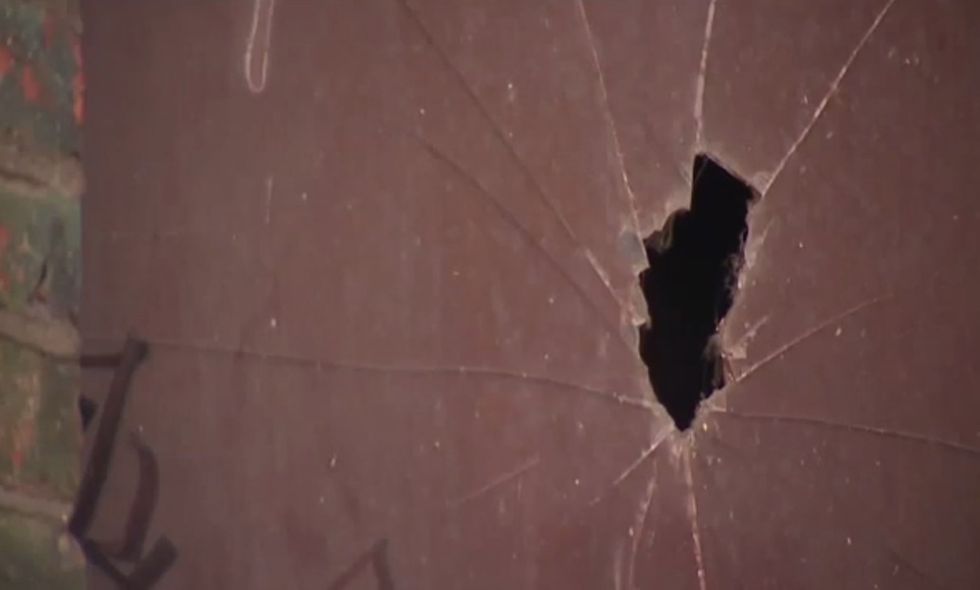 Image source: KCPQ-TV video screenshot
"At that point I just jumped away," Boone told the station.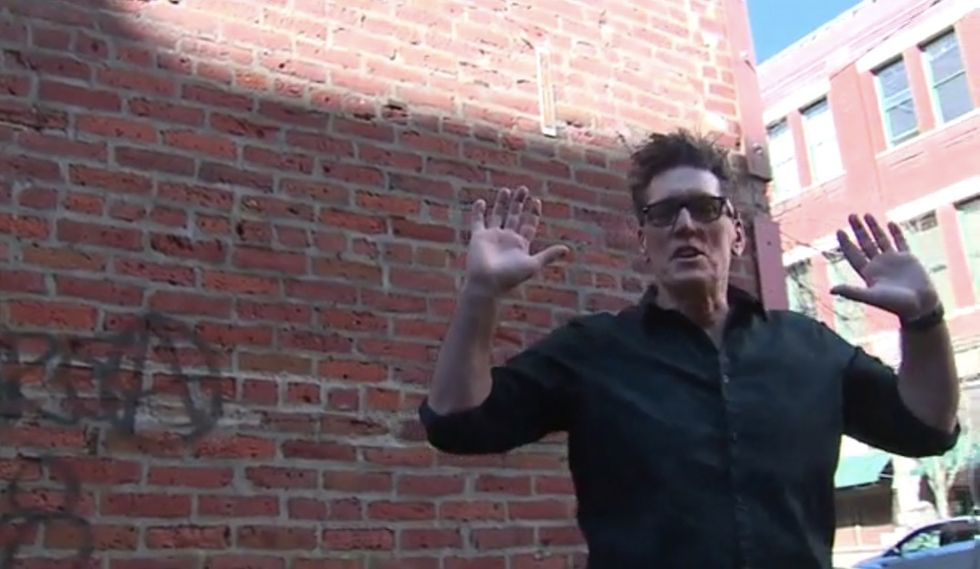 Image source: KCPQ-TV video screenshot
What happened next?

While the gunman got away initially, KCPQ reported that cops caught up to him, and he's now behind bars. The station said it wasn't releasing his name because he hadn't yet been charged, but detectives said they believe he's the same man who pulled a gun in gas station store — also on Friday.
KCPQ said in that incident the clerk tried to run away, but the suspect grabbed and dragged the clerk back to the cash register and took off with cash.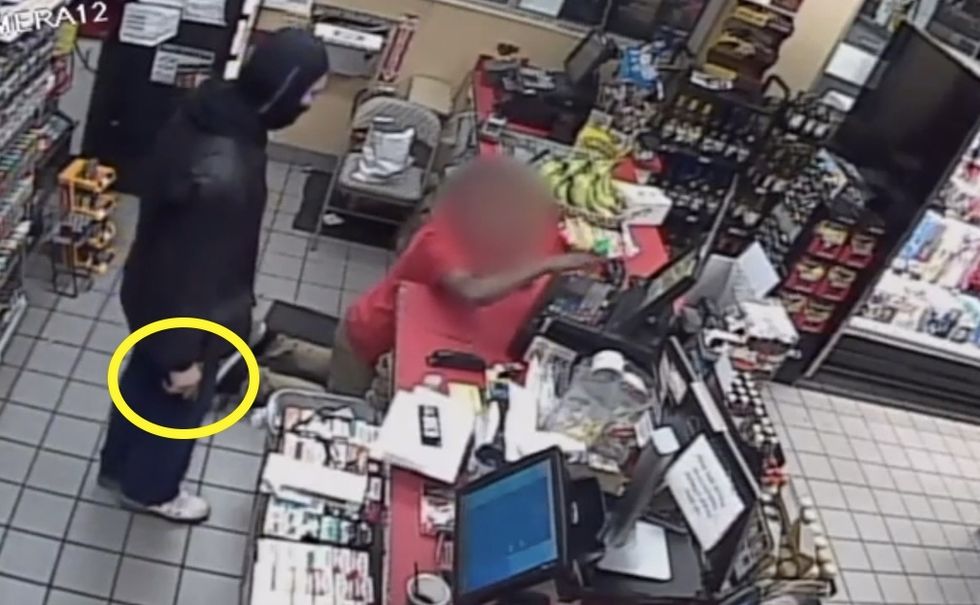 Image source: KCPQ-TV video screenshot
What else?

The station interviewed Boone's son Trevor in February about a report called System Failure, which KCPQ said was commissioned by organizations representing Seattle businesses that highlighted criminal justice that was sorely lacking. The station said the report examined 100 prolific repeat offenders and found that many are addicted to drugs and severely mentally ill.
More from KCPQ:
Business owners say they are at their wit's end dealing with the same people who come back to target and harass their employees and their customers. Business owners say they can call police and get someone arrested, but many times they are back again the next day.

It's a cry for help that Boone says isn't being heard.
"There doesn't seem to be anything happening in any leadership role from the governor to the mayor to the city council ... to change anything," Boone told the station. "I mean, it's getting worse. They keep talking about throwing money into this, money into this. And it's absolutely getting worse."
KCPQ said it reached out to the mayor and council member Sally Bagshaw who represents Pioneer Square regarding Boone's concerns — and neither responded Monday.
Speaking of Seattle City Council
TheBlaze on Wednesday highlighted a private citizen who took Seattle City Council to task during the public comment period at its meeting last week, chastising council members for not having the courtesy to even "look up off of your computers and give attention" to him.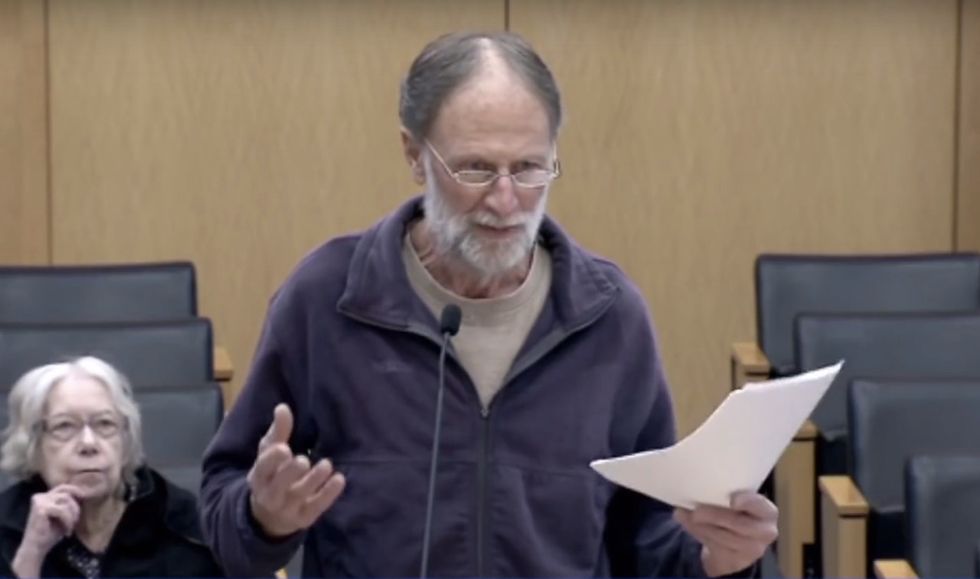 Image source: YouTube screenshot
"It's real discouraging to come up here and see all the heads down," he said, later adding that "it's all on tape, and I think it's a pretty sad commentary."
'Seattle Is Dying'
KOMO-TV ran a special report last week titled, "Seattle Is Dying," which addresses similar issues that Boone discussed with KCPQ — and more.
"It's about citizens who don't feel safe taking their families into downtown Seattle," KOMO's Eric Johnson wrote. "It's about parents who won't take their children into the public parks they pay for. It's about filth and degradation all around us. And theft and crime. It's about people who don't feel protected anymore, who don't feel like their voices are being heard."
Check out KOMO's extensive video report: