The premier of Ontario declared a state of emergency Friday as the Canadian truckers' convoy protesting COVID-19 restrictions continues to clog roads and bridges in Ottawa and at the U.S. border.
What are the details?
Premier Doug Ford said he will convene the provincial cabinet Saturday to enact orders making it "crystal clear" that it's illegal to block critical infrastructure, the Associated Press reported: "Let me be as clear as I can: there will be consequences for these actions, and they will be severe. This is a pivotal, pivotal moment for our nation."
Ford said violators will face up to a year in prison and a maximum fine of $100,000, the AP noted, adding that the orders also make it possible to take away "the personal and commercial licenses of anyone who doesn't comply."
He added that the trucker protest is a "siege" of downtown Ottawa and the Ambassador Bridge, which connects the United States and Canada from Detroit to Windsor, NBC News reported.
"It's an illegal occupation," Ford also told reporters, the network noted. "This is no longer a protest."
While Ford told protesters to go home, NBC News said he isn't at the point where he'll order police to clear the streets.
"We make the laws. The police enforce the laws," he also said, according the network. "But again we cannot ... have people occupying cities, holding them hostage, holding millions and millions of people hostage to go to their jobs and tens and tens and tens of thousands of people [who] cannot go do their job."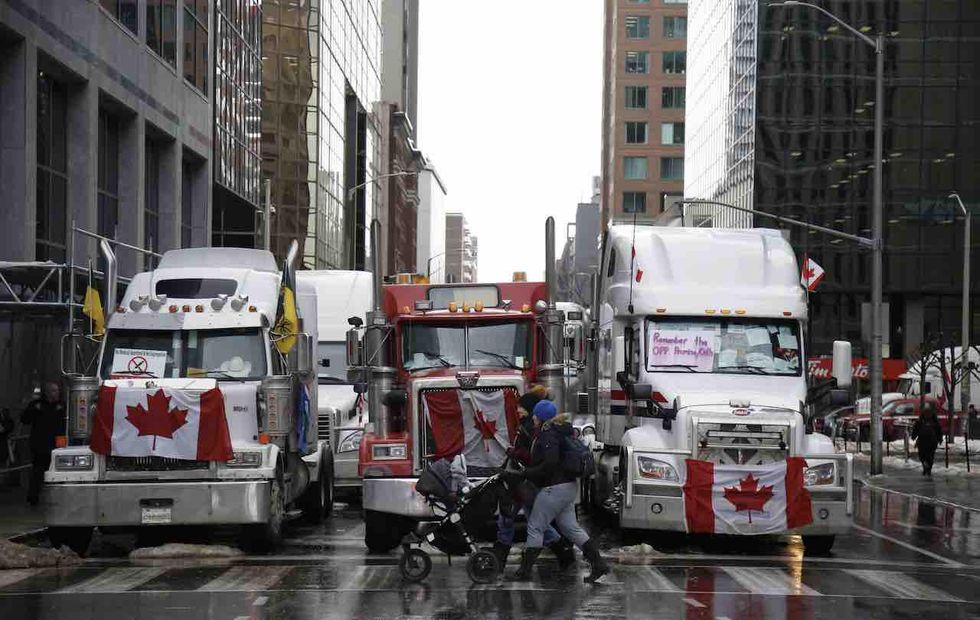 Photographer: David Kawai/Bloomberg via Getty Images
"This is an unprecedented demonstration. It has significant levels of fundraising, coordination and communication," Ottawa Police Chief Peter Sloly said, according to the AP. "They have command centers established here and across the country and beyond this country."
The protest also has led to shortages of auto parts and forced Ford, General Motors, Toyota, and Honda to close auto plants or cancel shifts, the AP said, adding that Drew Dilkens — the mayor of Windsor who warned earlier this week that some truckers are "willing to die" — planned to ask for an injunction Friday afternoon to attempt to break up the bridge blockade.
Besides the Ambassador Bridge, protesters also have closed two other border crossings: at Coutts, Alberta, which faces Montana; and at Emerson, Manitoba, across from North Dakota, the outlet said.
The protests are impacting other countries far and near. The U.S. Department of Homeland Security said truck protests could be coming this weekend to southern California — just in time for the Super Bowl. And protesters in France drove to Paris on Friday to blockade the city, despite a police ban against such actions.
Anything else?
Sides are being chosen in regard to the protest, and things are getting extreme: