After the victim falls to the sidewalk, the suspect is seen walking away — but then returning and appearing to yell at and stomp on the victim, the cable network said.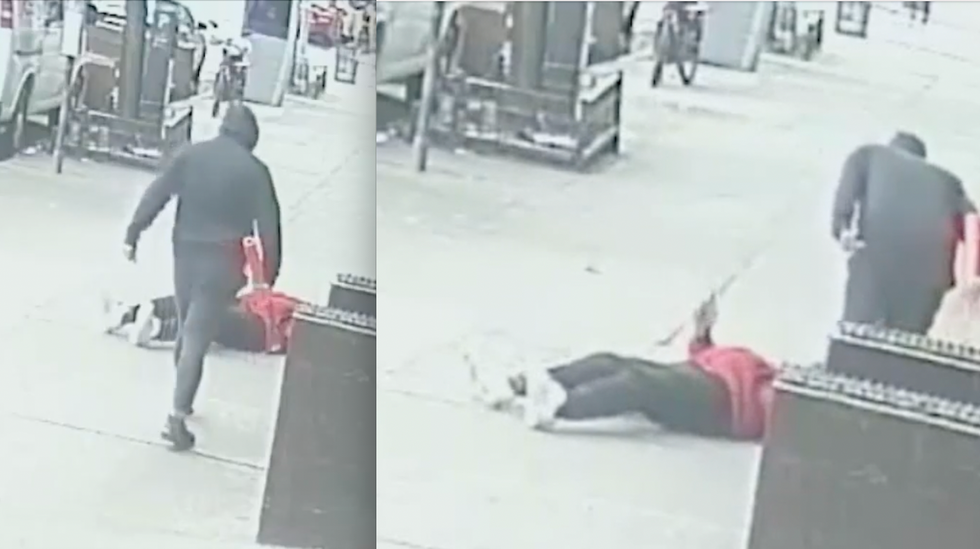 Image source: Fox News video screenshot, composite
The victim was taken to a hospital and was in stable condition, Fox News said, adding that police said the victim suffered multiple injuries, including bleeding on the face and head, swelling on the back of the head, a facial cut, and a laceration about the front of head.
While authorities haven't disclosed a motive for the attack, Fox News — citing the New York Post, citing police sources — said the suspect and victim were verbally arguing just before the attack.
What happened to the suspect?
Karim Azizi, 36, was arrested Wednesday morning in connection with the attack and charged with assault, attempted assault, and criminal possession of a weapon, the cable network said.
However, Azizi's attorney told Fox News his client was arraigned Wednesday afternoon and then released from jail early Thursday morning after Azizi's girlfriend made bail.
While prosecutors asked the court to set Azizi's bail at $40,000 because of the violent nature of the attack, the cable network — citing the Manhattan District Attorney's Office — said the court instead set bail at $7,500.
The suspect has no prior criminal history, but Fox News said prosecutors characterized him as a "flight risk" after allegedly leaving the scene of the Nov. 29 baseball bat crime, which they said demonstrated "a likeliness to evade prosecution."
Azizi's next court appearance is scheduled for Monday, the cable network said.