© 2023 Blaze Media LLC. All rights reserved.
The Satanic Temple has been removed from Fox News' internal list of charities eligible for donation matches following TheBlaze's exposé, says insider
Following TheBlaze's recent report detailing Fox News' apparent willingness to match employees' charitable donations to radical leftist organizations, it appears the nominally conservative company has stealthily made a change.
TheBlaze previously reported that the company would match donations up to $1,000 to the Satanic Temple, the Trevor Project, Planned Parenthood (and local Planned Parenthood branches), and the Southern Poverty Law Center on its "Fox Giving" app.
Two current Fox News employees and one former Fox News producer spoke to TheBlaze on the condition of anonymity. One source provided screenshots confirming the allegations, and the other two provided corroborating testimony.
A Fox employee also took Rikki Ratliff-Fellman, director of programming at Blaze Media, through the company portal and showed her some of the donation matches she had seen in the screenshots, demonstrating the accuracy of the insiders' claims.
The prospect that Fox News subscribers might be made complicit in the company's subsidy of anti-Christian libertines, social constructivists, abortionists, and/or leftist smear merchants prompted significant backlash online, which the cofounder of the Satanic Temple characterized as a "Right-wing purity spiral."
Fox has since quietly dropped the Satanic Temple from its roster of eligible charities, according to a current Fox News employee.
The Satanic Temple is an atheistic leftist organization that has distributed satanic literature to children; publicly performed "unbaptisms"; sought to ensure that women can legally have their unborn children killed by way of their "religious abortion ritual"; held a demonization ceremony in protest of the canonization of the Catholic Spanish priest Junípero Serra; and erected statues of Baphomet on government property.
Late last week, the cause profile for the Satanic Temple on Fox's charity app still marked the radical group as eligible and indicated the company was willing to match offers with a rate of 100%.

As of Monday, the so-called charity was marked as an "ineligible cause."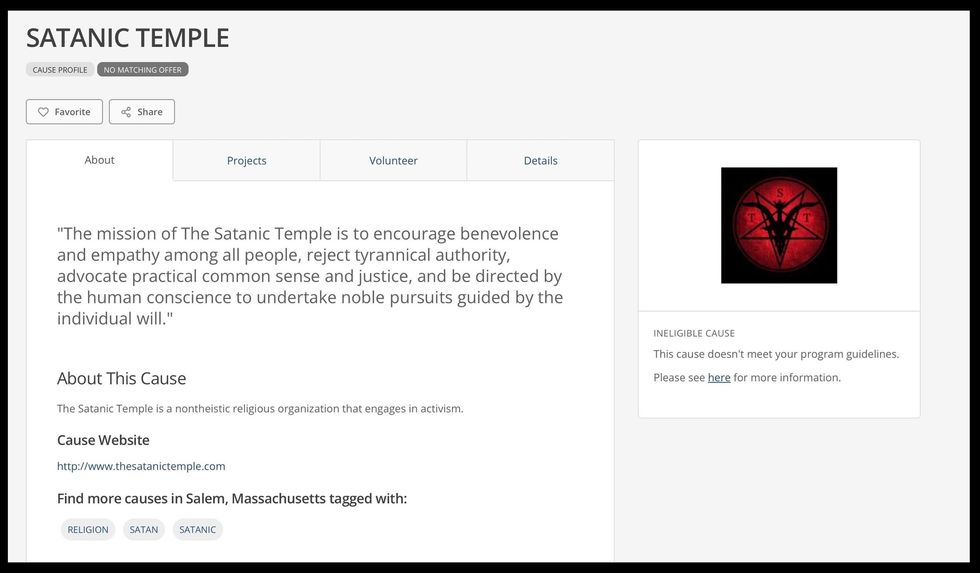 According to the Fox News employee, this change means employees can no longer donate to the Satanic Temple through the portal either.
"The whole point of the portal is for Fox to match, so if they can't match, there is no option for donating," said the insider.
TheBlaze reached out to Fox for comment about both the initial revelations and this recent alleged change but has not yet received a reply.
Nationally syndicated radio host and co-founder of Blaze Media Glenn Beck recently noted on "The Glenn Beck Program" that there was some indication "that groups like the Satanic Temple are not auto-loaded, it seems, into the 'Fox Giving' portal by third party apps."
Beck, who previously suggested Fox News had "gone the way of the woke," referenced on air how Ratliff-Fellman had been confronted with seeming evidence from a Fox insider that the Billy Graham Evangelistic Association, unlike the Satanic Temple or Planned Parenthood, had not been an eligible charity as of Wednesday night — a status that allegedly also changed following TheBlaze's exposé.
"We can't confirm the little mystery because they never got back to us," said Beck.
What's not a mystery is why some Americans might be averse to feeding money to an organization that would blithely match donations to groups antipathetic to everything they stand for and respect.
"I have what's called a discriminating taste. You know, it used to be a good thing. ... It's my money. I want to put it to the right place," said Beck. "Let me think about it and use some discrimination to say: Satan [or] God? I'm going to go with God."
Like Blaze News? Bypass the censors, sign up for our newsletters, and get stories like this direct to your inbox. Sign up here!
Want to leave a tip?
We answer to you. Help keep our content free of advertisers and big tech censorship by leaving a tip today.
Joseph MacKinnon is a staff writer for Blaze News.
HeadlinesInGIFs
more stories
Sign up for the Blaze newsletter
By signing up, you agree to our
Privacy Policy
and
Terms of Use
, and agree to receive content that may sometimes include advertisements. You may opt out at any time.