Officials have tried a number of tactics to stem the tide of knife attacks: Replacing knives with blunt-tipped cutlery in the kitchens of domestic abuse victims; collecting knives through "surrender" boxes (one of which was broken into and cleaned out); a member of Parliament even suggested placing GPS trackers in the handles of every knife sold.
And much mockery ensued.
A new idea

But now the U.K.'s Home Office — the lead immigration agency there — is trying something new: Placing "knife free" messages on chicken boxes.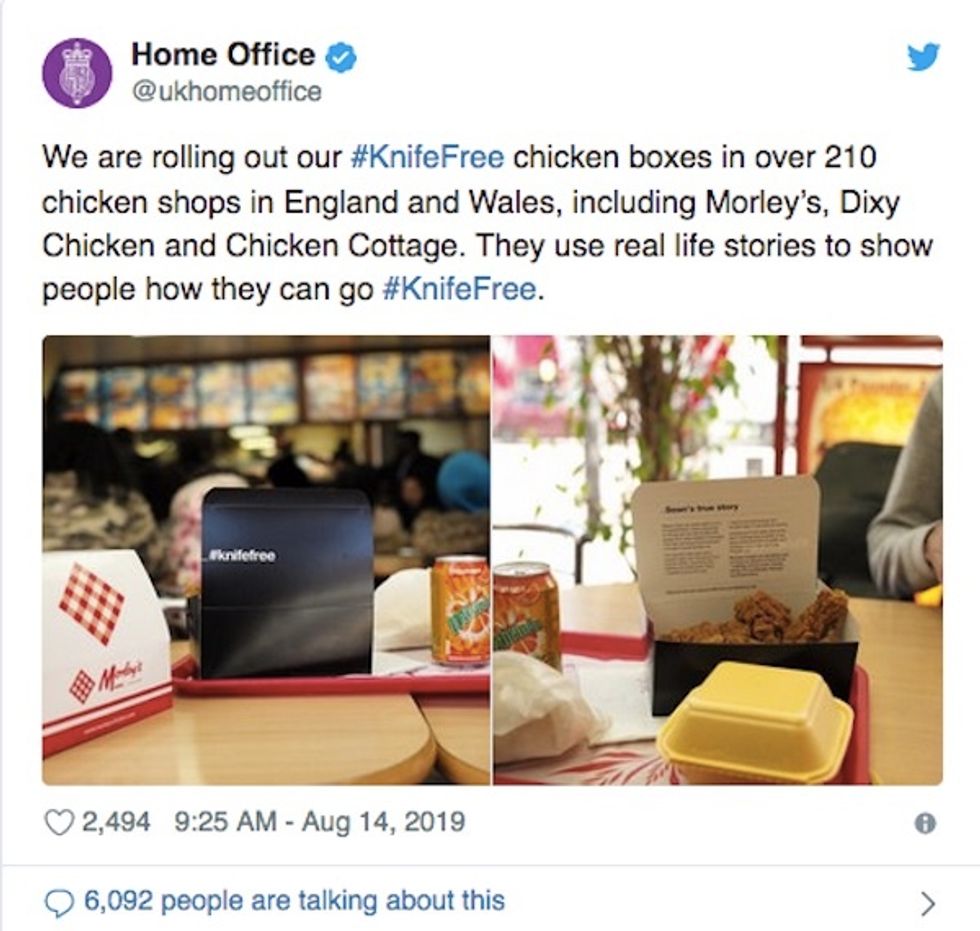 Image source: Twitter
That's right. Over 321,000 chicken boxes with the government's #knifefree campaign have been distributed to over 210 outlets in England and Wales, according to PA Media, which added that the insides of the boxes include young people's real life stories about choosing to pursue positive activities instead of carrying knives.
"These chicken boxes will bring home to thousands of young people the tragic consequences of carrying a knife and challenge the idea that it makes you safer," Policing Minister Kit Malthouse added to the PA Media.
But the mockery seemed worse this time, as some said the campaign is racist.
'What's next, #KnifeFree watermelons?'
"Is this some kind of joke?! Why have you chosen chicken shops? What's next, #KnifeFree watermelons?" Labor member of Parliament David Lammy tweeted.
He added to The Guardian that the Home Office "is pushing the stereotype that black people love fried chicken. This ridiculous stunt is either explicitly racist or, at best, unfathomably stupid."
Shadow Home Secretary Diane Abbot tweeted, "Instead of investing in a public health approach to violent crime, the Home Office have opted for yet another crude, offensive and probably expensive campaign. They would do better to invest in our communities not demonize them," the Guardian said.
Others on Twitter offered more cutting reactions:
"When a civilization dies."
"Remember when you guys ruled the world? Now look at you."
"Wow. Clowned right out. This is top dumb."
"The UK is a f***ing Monty Python skit."
"The greatest generation weeps in shame at what you've become."
"This is the stupidest s**t I've ever seen."
"Honest to god if the best idea you have to tackle knife crime is to write stuff on fried chicken you should quit power forever in embarrassment, not tweet it out proudly like you've just solved world hunger you ridiculous sack of used d***s."
(H/T: Louder With Crowder)