Cellphone video captured the chaos that erupted inside the Iowa Capitol on Thursday as state troopers arrested an 18-year-old protester for allegedly assaulting a police officer.
What are the details?
Members of the Des Moines Black Liberation Movement Collective were inside the Capitol building demonstrating against "racist and dangerous" bills, We Are Iowa reported. The proposed legislation would increase immunity for police and increase penalties for some protest-related offenses, the Des Moines Register reported.
According to a criminal complaint the Register said it reviewed, Iowa State Patrol Trooper Dylan Hernandez stated that Josie Mulvihill asked him and Trooper Dalton Grell for their names and badge numbers. The paper added that Hernandez also stated in the complaint that while he and Grell were about to leave for another assignment, Mulvihill "pushed my arm in an attempt to gain my attention."
Video shows what transpired next. Content warning: profanity:
BLM Protesters Stormed Iowa State Capitol to Try to "kill" Legislative Bills They Opposedyoutu.be
As soon as Mulvihill was arrested, video shows numerous protesters interfering and even charging toward troopers who pushed them back in response. One of the protesters is heard shouting, "She's a f***in' kid, bro!"
Mulvihill was charged with assaulting a police officer, which the Register characterized as "a serious misdemeanor."

The paper said Mulvihill declined to comment on her arrest before she spoke to an attorney — but she was the source of the criminal complaint the Register reviewed.
Another video of the melee shows Mulvihill approaching the troopers — and it does appear she makes physical contact with one of them. That trooper than began to handcuff Mulvihill: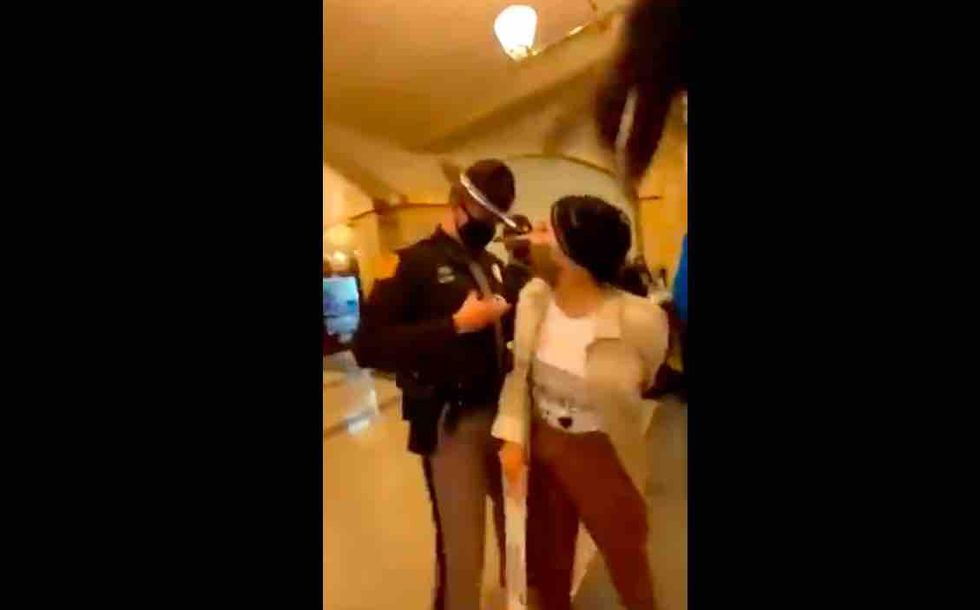 Image source: Twitter video screenshot via @TisiaMuzinga
Mulvihill eventually was forced to the floor.
Here's the clip in question; it contains no audio:

I just spoke to Ashley Dorelus. She tells me there was an arrest during what was suppose to be a peaceful protest… https://t.co/H0D2o5fXs5

— Tisia F. Muzinga (@Tisia F. Muzinga) 1617909530.0
Ashley Dorelus, 26, a protester who was next to Mulvihill when she was arrested, told the Register she didn't see Mulvihill assault the officer "whatsoever."
More from the paper:
Mulvihill, who is Black, has been fighting for months against racism, harassment, and bullying in the Norwalk Community School District, where she's a student. She had just addressed Norwalk's school board this week demanding the district change how it addresses discriminatory bullying, harassment, and more.