© 2023 Blaze Media LLC. All rights reserved.
Video: Fugitive hiding under mattress opens fire on cops who were searching for him. It doesn't end well for suspect.
Oklahoma City police bodycam video caught the terrifying moment when a fugitive who was hiding under a mattress in a travel trailer opened fire on officers who were searching for him. Police released video of the Nov. 15 incident Monday.
What are the details?
Police said they were notified around 10:25 a.m. that a man with an out-of-state felony warrant was in a travel trailer on Iron Road. KOKH-TV said it was a burglary warrant.
Officers learned the suspect, Timothy Johnson, had been seen entering the trailer, and officers were told he had not come out.
Police told the station that Jennifer Garner let three officers into her trailer to search for Johnson.
"This is the police department," Officer Elisa McCoy is heard saying, according to KOKH. "If you are in here, you need to make yourself known."
Amid their search, officers lifted a mattress that covered a storage area — and they saw Johnson with a gun hiding in the space under the mattress.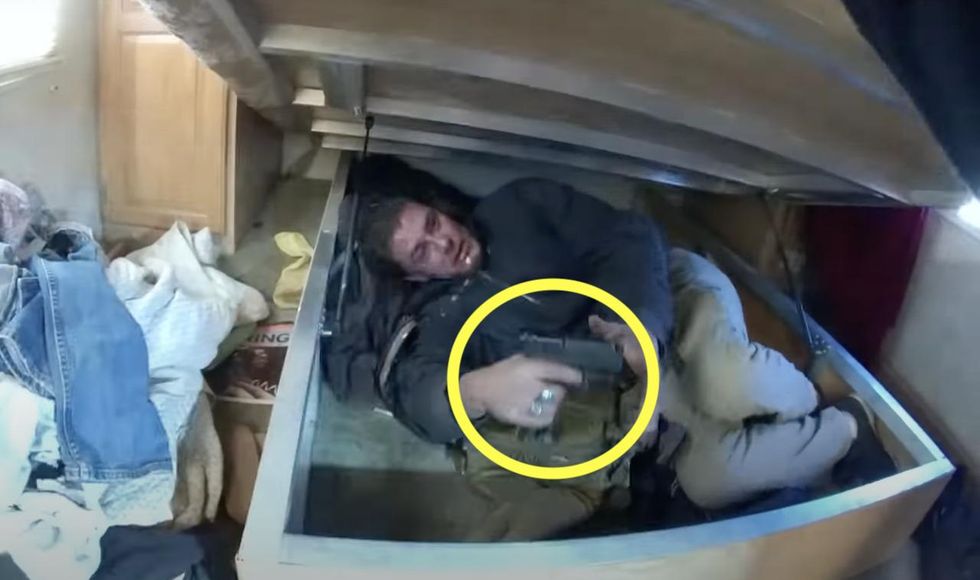 Image source: YouTube screenshot
With that, Johnson opened fire on the officers, all of whom returned fire; video shows that two of the three officers got out of the trailer while one stayed inside.
Moments later the two officers went back inside the trailer and ordered Johnson — who was hollering, presumably in pain — to come out with his hands up.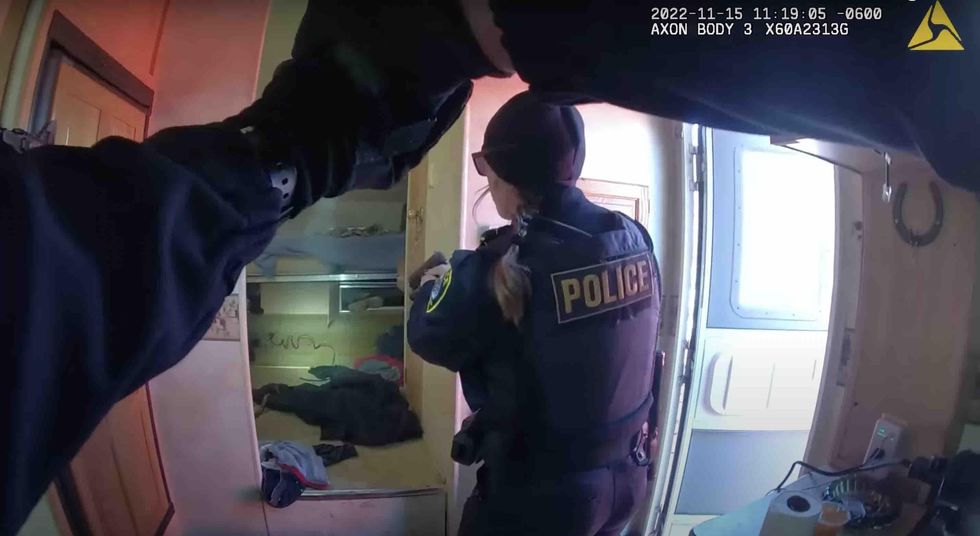 Image source: YouTube screenshot
Suddenly more gunfire erupted, and officers again returned fire — and one of them announced to the other two, "I'm hit! I'm hit!"
The officers again told Johnson to give himself up, but there was no response. With that, all of the officers got out of the trailer.
OKCPD Community Incident Briefing: Officer-Involved Shooting 11-15-22youtu.be
What happened next?
Police said the department's Tactical Unit was activated and responded to the scene.
After attempts to contact Johnson were unsuccessful, police said the Tactical Unit entered the trailer and found Johnson dead. KOKH said it wasn't released if Johnson's death was self-inflicted.
The officer who said earlier he was hit was struck in the face by flying debris during the exchange of gunfire, police said, adding that the officer was treated at an area hospital and released.
All three officers were placed on routine administrative leave pending the outcome of an investigation, police said.
KOKH noted that it's unclear how Johnson and Garner knew each other, but Garner was arrested for harboring a fugitive. Police said that Garner was aware that Johnson was hiding in the trailer with a gun.
(H/T: The Police Tribune)
Want to leave a tip?
We answer to you. Help keep our content free of advertisers and big tech censorship by leaving a tip today.
Sr. Editor, News
Dave Urbanski is a senior editor for Blaze News.
DaveVUrbanski
more stories
Sign up for the Blaze newsletter
By signing up, you agree to our
Privacy Policy
and
Terms of Use
, and agree to receive content that may sometimes include advertisements. You may opt out at any time.