Imagine having an 80-14 majority in a red-state legislature a week after Democrats were defeated in a blue state, and you are considering legislation on Biden's unprecedented injection mandate at a time when he likely has a 20% approval rating in the state. One would expect the GOP legislators to easily take "yes" for an answer from their constituents and categorically ban all COVID fascism. Instead, they listened to the special interests that are in cahoots with the federal government, rejected a popular bill that would have tackled the problem, and instead passed a bill that explicitly greenlights the mandate.
Last night, the North Dakota House passed HB 1511, a bill that essentially does nothing to protect North Dakotans. Sure, it bans state government mandates, but those were never really a threat. The issue at hand is that the federal government is threatening businesses that they must require injection passports for their workers. The only way to combat that mandate, and yes, restore the pre-COVID free market, is to ban (with the threat of legal action and/or fines) the imposition of such a mandate on employees.
So, what is in HB 1511? It never even attempts to ban the vaccine mandates, but only stipulates that employers must allow for exemptions, which include religious/philosophical objections, medical concerns, prior infection, and a testing opt-out. That might sound like a reasonable compromise that is worth passing, as other states have done, and if written properly, it would effectively protect anyone who wants out of the needle rape. The problem is that the final section of the bill voids even the religious exemptions to the extent that they conflict with the federal regulations. Thus, just like the Wyoming House did (with overwhelming GOP majorities), the North Dakota GOP opposed the federal mandate, unless the feds actually enforce it!
Even the rest of the bill is weak, and worse, it downright greenlights discrimination. The bill does bar any denial of service to customers based on vaccination status, but then places an exception for health care. Thus, at a time when we need a bill doing just the opposite – to ban hospitals from mistreating or denying surgeries and organ transplants to those without the unsafe and ineffective injections (as another draft bill that was rejected purported to do) – this bill explicitly blesses such immoral and illogical discrimination. This bill makes current law worse by explicitly blessing the requirement that someone gets a shot in order to obtain medical care, something that cannot be done under current state and federal anti-discrimination law.
Also, even the ban on vaccine mandates among state institutions was given a carve-out for all state colleges, which are now allowed to deny admission or employment based on someone's injection status. The bill supporters hang their hats on the fact that the bill bans vaccine passports, but the issue is not a specific piece of paper. Students and others will still be required to show some proof of the shot.
There was a better bill that would have categorically banned most vaccine mandates and confronted the feds directly. HB 1510 was drafted similarly to the Montana bill, which was the first in the country to bar mandates. Even that bill had a compromise carve-out for health care. Shockingly, only 38 Republicans out of 80 voted for it!
Here is the target list for the upcoming elections:
Adams; Anderson, B.; Anderson, D.; Anderson, P.; Beltz; Boe; Boschee; Brandenburg; Buffalo; Cory; Damschen; Devlin; Dobervich; Dockter; Guggisberg; Hager; Hagert; Hanson; Hatlestad; Heinert; Ista; Johnson, D.; Johnson, M.; Karls; Kiefert; Klemin; Kreidt; Louser; Martinson; Mitskog; Mock; Monson; Nathe; Nelson, J.; Nelson, M.; O'Brien; Ostlie; Pollert; Porter; Pyle; Richter; Roers Jones; Sanford; Schauer; Schmidt; Schneider; Schobinger; Schreiber-Beck; Stemen; Strinden; Vigesaa; Weisz; Westlind; Zubke.
The watered-down bill that did pass the House passed the Senate 33-14 on Friday. Ironically, even this bill, which in many ways makes current law worse, was too conservative for a handful of Republicans (there are only seven Democrats in the chamber).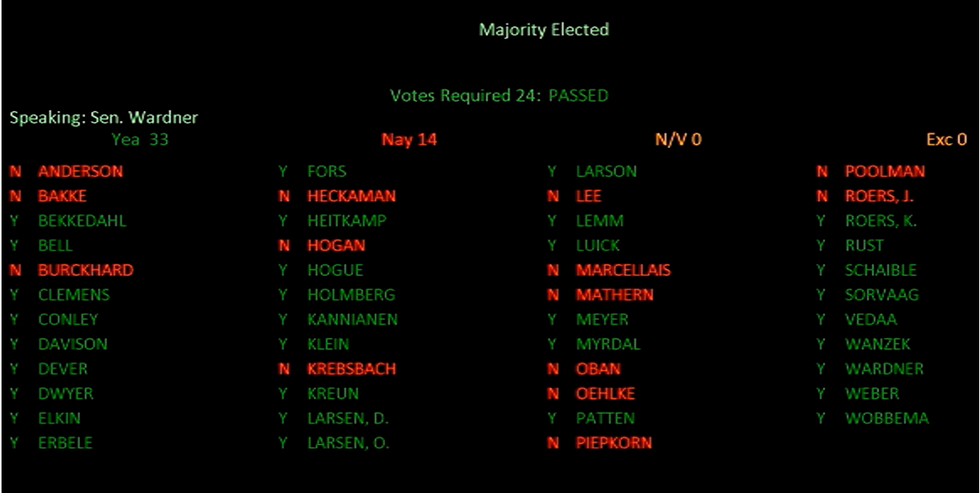 The seven Republicans who thought somehow that even this bill was too compassionate for their constituents were:
Howard Anderson, District 8
Randy Burckhard, District 5
Karen Krebsbach, District 40
Judy Lee, District 13
Dave Oehlke, District 15
Nicole Poolman, District 7
Jim Roers, District 46
Watching the Senate debate this morning, I heard one Republican after another suggest, "There's still people dying in the hospital," "We're all in this together," and "We have responsibilities, not just rights." Ironically, these are all arguments against the failed status quo that has gotten us to a point where things are worse than they were before the injections, yet North Dakota Republicans are now to the left of even what Bill Gates and others are now conceding about the failures of the shots.
Why is it that conservatives have to be made to feel like we are asking from our legislatures a trip to the moon? We are not asking to reform our entire government and end the Great Society. We are simply asking them to completely erase the now-discredited approach to COVID that has killed so many people without saving a single life. What is so hard? These are the types of bills you would pass when you have divided government, not when you have supermajorities at a time when Democrats are on the ropes and lives are on the line.
On a positive note, the House did pass HB 1514, a bill that bans the medical board from taking action against doctors or nurse practitioners who prescribe ivermectin and against pharmacists who fill the prescriptions. But the original proposal also stopped pharmacists from denying prescriptions, which is the bigger problem on the street. It also had a provision to allow patients in the hospitals the right to try ivermectin and barred any discrimination of care against those without the shots.
"Well, take what you can get, Daniel."
But why should any of these provisions be removed from the bill? How could anyone – Republican or Democrat – be opposed to these ideas? Again, all these tactics are evil, are unscientific, and reek of medical fascism. The GOP's reluctance to take a categorical stand is incomprehensible from a policy standpoint, as well as from a moral and even electoral standpoint.
And remember, at least North Dakota was willing to go this far. We have numerous other deep red states that won't even get into session and haven't passed a single meaningful bill in 19 months to push back against the greatest threats against our liberties, bodies, and well-being. The science is now 100% clear that all these measures are causing harm, making the virus worse, and blocking our ability to properly treat people. Ideally, if states would actually follow the law, science, and the Nuremberg Code, they would ban the administration of these shots altogether and completely reorient our approach to this virus. So what we are asking for, to begin with, is a compromise.
There's a time to compromise on the will of the people, and there is a time to fully embrace the will of the people. When it comes to countering "Faucism" in red states, it is the wrong time, the wrong place, and the wrong issue to embrace compromise – especially one that actually makes current law worse.

Expressing the sentiments of RINO legislators across the country, Ohio Speaker Bob Cupp recently suggested it's time for us to move on from fighting COVID fascism. "They are reflecting what they hear in their district, but it's, it's clearly time to move on," Cupp recently
said
of efforts from his rank-and-file Republican members to fight for medical freedom. Well, if Democrat districts can get representation for their tyrannical views, why can't our districts get representation for liberty and medical freedom? We will move on from fighting COVID fascism when the RINOs and Democrats move on from imposing it upon us.