© 2023 Blaze Media LLC. All rights reserved.
The city of Baltimore is in trouble
Pat Gray and Keith Malinak shared a video on "Pat Gray Unleashed" of a woman giving a tour of Baltimore that showed abandoned homes, garbage-filled lots, and even a building that had been abandoned for so long that a tree grew through the floor and exceeded the height of the roof.
In this clip Monday, Pat explained that the high crime rate in Baltimore combined with the dilapidated building structures only reinforced comments made by President Donald Trump over the weekend.
Click here for the full episode.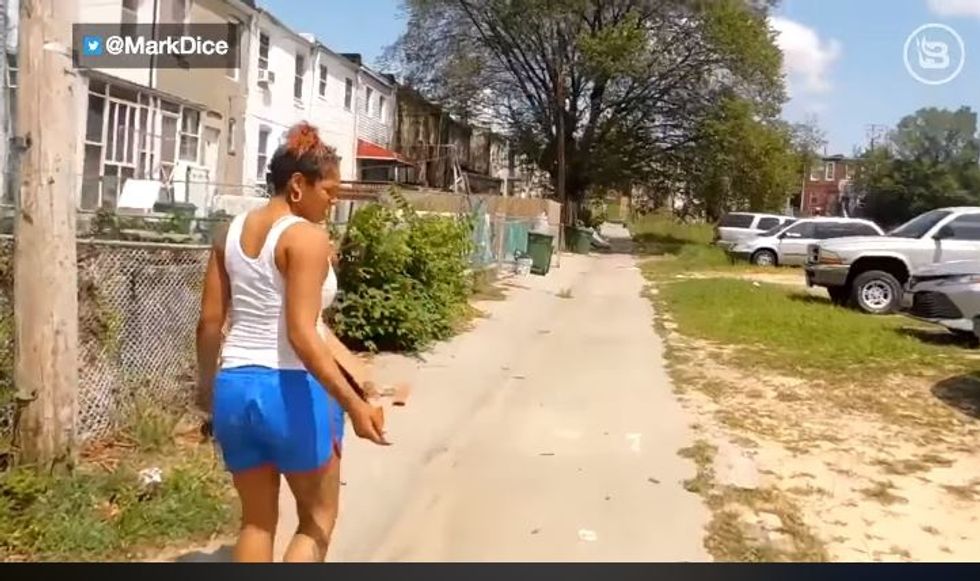 A tour of West Baltimore shows a woman giving a tour of garbage-filled lots and abandoned apartment homes.Image source: BlazeTV screenshot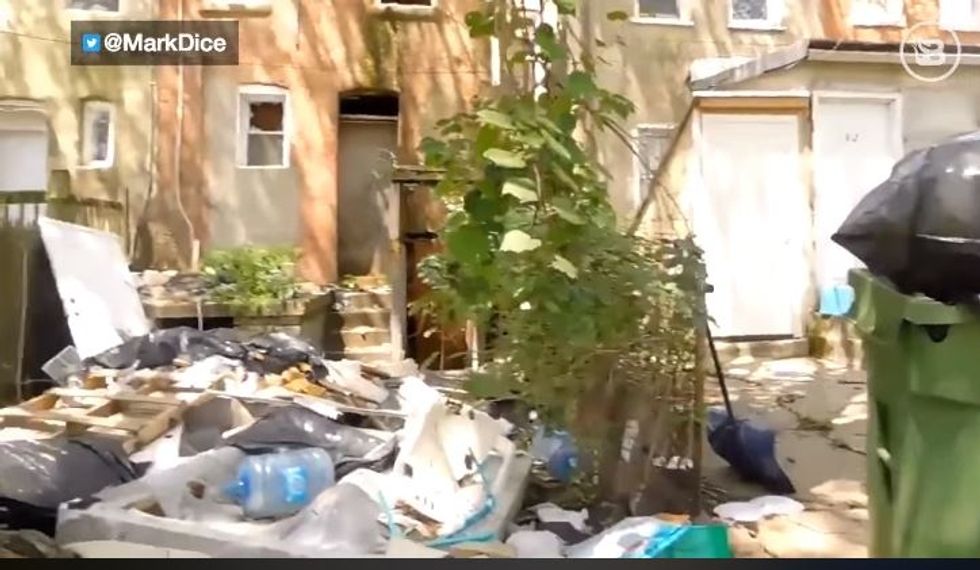 An abandoned residence that now appeared to serve as a garbage dump.Image source: BlazeTV screenshot
In addition to the garbage and abandoned homes, Pat reported that Baltimore's crime rate had exceeded Detroit and Chicago.
You can hear the woman filming the video saying, "Meanwhile, they are worried about kids at the border."
According to Democrats, Trump was a racist for commenting on the rat infestation and high crime rates that were known all too well to the residents in this area of Baltimore, a district that Rep. Elijah Cummings represents in the House of Representatives.
A social media firestorm ensued after Trump called out Cummings for the obvious state of disrepair in his district. Trump suggested that Cummings spend more time in his district and clean up the city that he represented.
Pat and Keith agreed that the video only confirmed what Trump said.
"Don't tell me that Trump is a racist. Maybe Elijah Cummings should be more focused on his own city," Pat said.
Watch the video below for more.
Use promo code PAT and save $10 on a whole year of BlazeTV.
Want more from Pat Gray?
To enjoy more of Pat's biting analysis and signature wit as he restores common sense to a senseless world, subscribe to BlazeTV — the largest multi-platform network of voices who love America, defend the Constitution and live the American dream.
Want to leave a tip?
We answer to you. Help keep our content free of advertisers and big tech censorship by leaving a tip today.
News, opinion, and entertainment for people who love the American way of life.
BlazeTV
more stories
Sign up for the Blaze newsletter
By signing up, you agree to our
Privacy Policy
and
Terms of Use
, and agree to receive content that may sometimes include advertisements. You may opt out at any time.