© 2023 Blaze Media LLC. All rights reserved.
WATCH: Elon Musk just went to the border and FILMED the chaos for all to see
Elon Musk is one of a kind. Not only is he "saving free speech on Twitter," but he's also "sending us to Mars and building Teslas," says Dave Rubin.
And now the billionaire entrepreneur has set his sights on the Texas-Mexico border.
Why? To show the nation what the Biden administration has allowed to take place.
Dave plays a clip of Musk recording himself on his phone while visiting Eagle Pass, a Texas city that borders Piedras Negras, Coahuila, Mexico.
"We're going to be meeting with ... the major officials and law enforcement who are responsible for the water and just hear it directly from them," Musk says.
"So basically we're seeing all-time highs and increasing [illegal immigration]," Musk says to one official.
"And spreading," the official responds. "It's not in just one area" or "one city or one town, not even one state anymore."
"There's all these other places where it's just spreading," places like New York, Chicago, Denver, and L.A., he tells Musk.
Dave is impressed and thankful that someone as important as Elon Musk would take the time to "shed light on this."
He then displays a photo of Musk donning a cowboy hat standing next to the official he spoke with in the video. Behind them sit likely hundreds of illegal immigrants just waiting to cross the border.
And the most upsetting part is "they're basically all going to get in," says Dave.
This is a stark contrast to what immigration looked like during Trump's presidency. Although Trump may not have succeeded in building the wall, illegal immigration was far less of an issue when he was in office.
And if you don't believe us, check out the graphic below that shows what illegal immigration looked like during Trump's presidency, from 2017 to 2020, compared to Biden's presidency.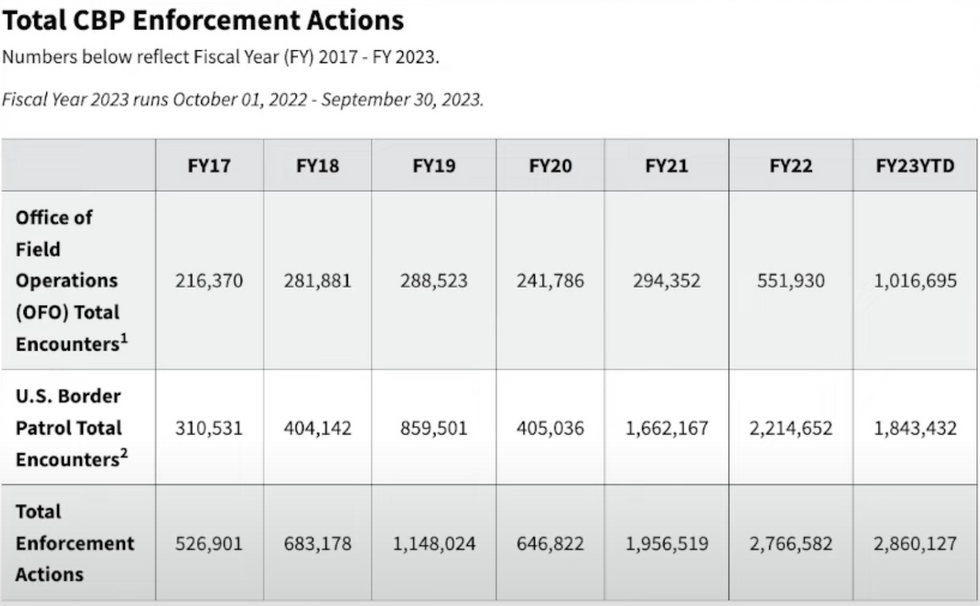 "Whether the border was porous or not, just by Trump saying, 'Hey, you can't come in,' less people came; then Biden becomes president, and look what happens to the numbers," says Dave.
"1.66 million in Biden's first year, 2.21 million in Biden's second year ... this year, 1.8 million," and "we will obviously eclipse last year's numbers," Dave explains.
Want more from Dave Rubin?
To enjoy more honest conversations, free speech, and big ideas with Dave Rubin, subscribe to BlazeTV — the largest multi-platform network of voices who love America, defend the Constitution and live the American dream.
Want to leave a tip?
We answer to you. Help keep our content free of advertisers and big tech censorship by leaving a tip today.
News, opinion, and entertainment for people who love the American way of life.
BlazeTV
more stories
Sign up for the Blaze newsletter
By signing up, you agree to our
Privacy Policy
and
Terms of Use
, and agree to receive content that may sometimes include advertisements. You may opt out at any time.