© 2023 Blaze Media LLC. All rights reserved.
Stop with the fake outrage
On Monday, Jon Miller opened his program with the latest bout of fake outrage from the left. This time, leftists had branded Trump as a racist, again, for saying that Baltimore is rat-infested and that Rep. Cummings should spend more time in his district.
'Baltimore is a total s***hole, and everybody knows it. Why are we trying to pretend like it is a beautiful place," Miller asked?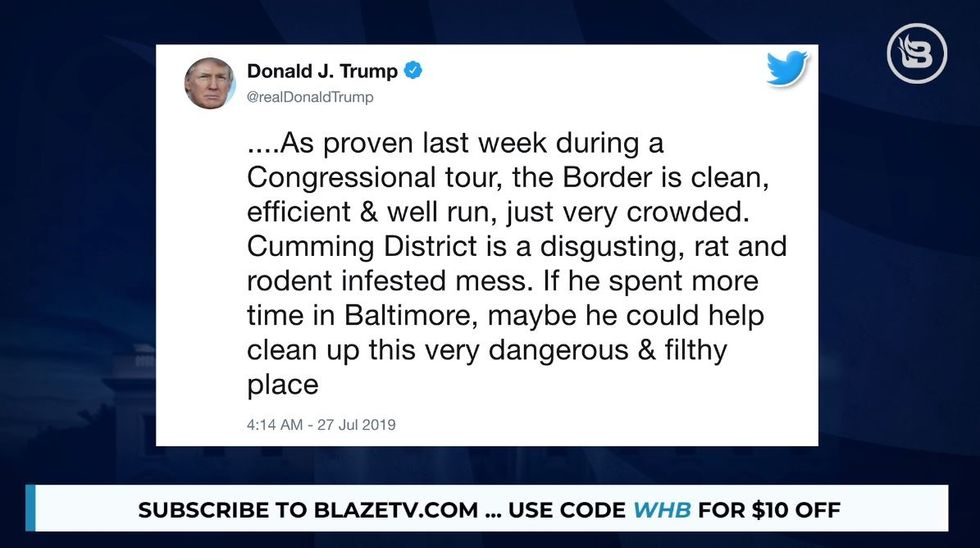 Miller presented video evidence that showed Bernie Sanders taking a tour through the City of Baltimore when he likened it to a third world country without a single charge of being a racist.
Download the podcast here.
Use code WHB and save $10 on your subscription.
Want more from Jon Miller?
To enjoy more of Jon's take on what's happening at the White House that the mainstream media isn't telling you, subscribe to BlazeTV — the largest multi-platform network of voices who love America, defend the Constitution and live the American dream.
Want to leave a tip?
We answer to you. Help keep our content free of advertisers and big tech censorship by leaving a tip today.
News, opinion, and entertainment for people who love the American way of life.
BlazeTV
more stories
Sign up for the Blaze newsletter
By signing up, you agree to our
Privacy Policy
and
Terms of Use
, and agree to receive content that may sometimes include advertisements. You may opt out at any time.