New York Times writer, Adam Goldman, started a storm of ill-informed outrage last Friday when he posted, "The NRA just threatened to 'fist' the NYT. Not Kidding. Watch this advertisement," on Twitter.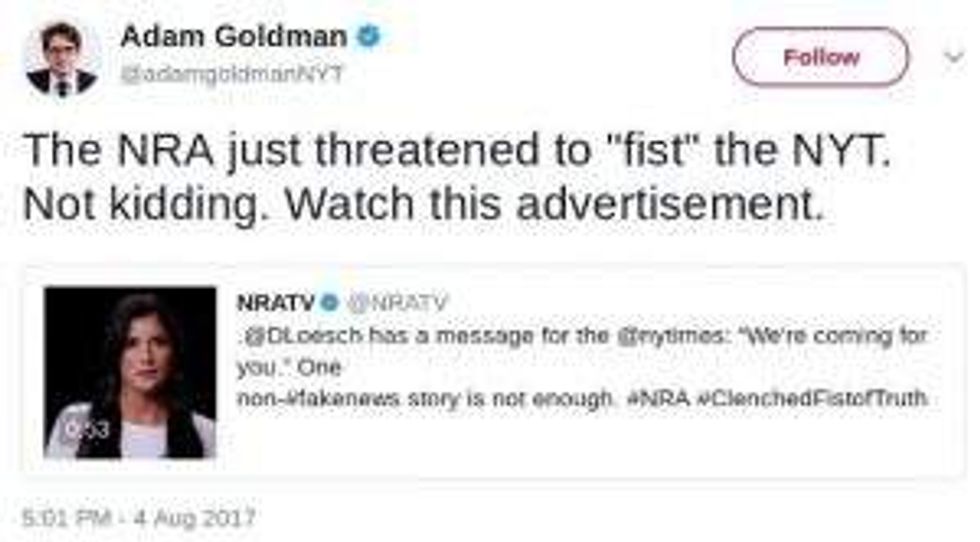 Goldman was referencing the latest National Rifle Association ad in which Dana Loesch called for a thorough debunking of agenda-driven reporting by saying, "We the people have had it. We've had it with your narratives, your propaganda, your fake news. … We're going to fisk the New York Times and find out just what deep, rich means to this old gray hag, this untrustworthy, dishonest rag. … We're going to laser focus on your so-called honest pursuit of truth."
The word, fisk -- which means a line by line rebuttal of an argument -- was clearly visible on the video's captioning, as Dana pointed out in response to Goldman's erroneous tweet. Goldman deleted the tweet soon after Dana's response but not before countless misinformed responders seized upon a perceived opportunity to launch a tirade of malicious threats against Dana and her family, all in the name of protesting violence.
Today, Dana responded to the threats and hateful criticism of her latest NRA Ad. "The New York Times deserves to be fact checked, to be fisked," said Dana. "Their reporter Adam Goldman proved my entire point on media bias when he maliciously lied and sexualized my ad by accusing me of threatening to perform a sexual act on their newspaper. Who the hell envisions 'fisting' a newspaper?"
"As a result of these reporter's lies, I was slammed with threats. … This week I'm meeting with a member of the FBI to handle some security concerns, and we have to develop safety protocols for my children as they received threats due to the media malpractice," she said, going on to add, "What I find terrifying is that these reporters and their minions believe that a promise to factcheck is a physical threat. Anything that upsets their narrative is met with this level of ridiculousness."
To see more from Dana, visit her channel on TheBlaze and watch full episodes of "Dana" live weekdays 6–7 p.m. ET or anytime on-demand at TheBlaze TV.