© 2023 Blaze Media LLC. All rights reserved.
Horowitz: Deficit explodes in June as interest on debt becomes third-largest gov't expenditure
Most people have to work from January 1 until mid-April just to pay for our decrepit government before they can begin earning profit beyond their tax liability. But now, and for the foreseeable future, you will be working three and a half months a year for no reason but to pay interest on the debt accrued by government agencies that hate you and shouldn't exist.

According to the U.S. Treasury fiscal statement for the month of June, the annualized cost of interest for servicing the debt has now surpassed $900 billion for the first time. For context, our record levels of spending on the military are still a little below $900 billion. Government spending grew by 15% last month to a total of $646 billion! With revenues of just $418 billion, the deficit for just one month was $228 billion.
Overall, $823 billion in new debt was issued for the month of June, more than during any other month except for the COVID spendathon in April 2020. This time, however, we officially have a stable economy with very low unemployment. Or do we actually have a stable economy?
In reality, we've never faced such insurmountable amounts of debt. The reason the debt has been blown off for so many decades is the interest for servicing it was low. Now, all the new deficits are serviced at much higher interest rates. Moreover, as more of the existing $32.5 trillion in debt continues to mature and is refinanced at three times the interest rate, the gross interest on the debt is going up astronomically.
What does this mean in the context of the broader monthly budget? Interest on the debt itself is now the third-most expensive expenditure of the government! It is more expensive than the following departments combined: Commerce, Education, Energy, Homeland Security, HUD, Interior, Justice, Labor, State, Transportation, and Veterans' Affairs.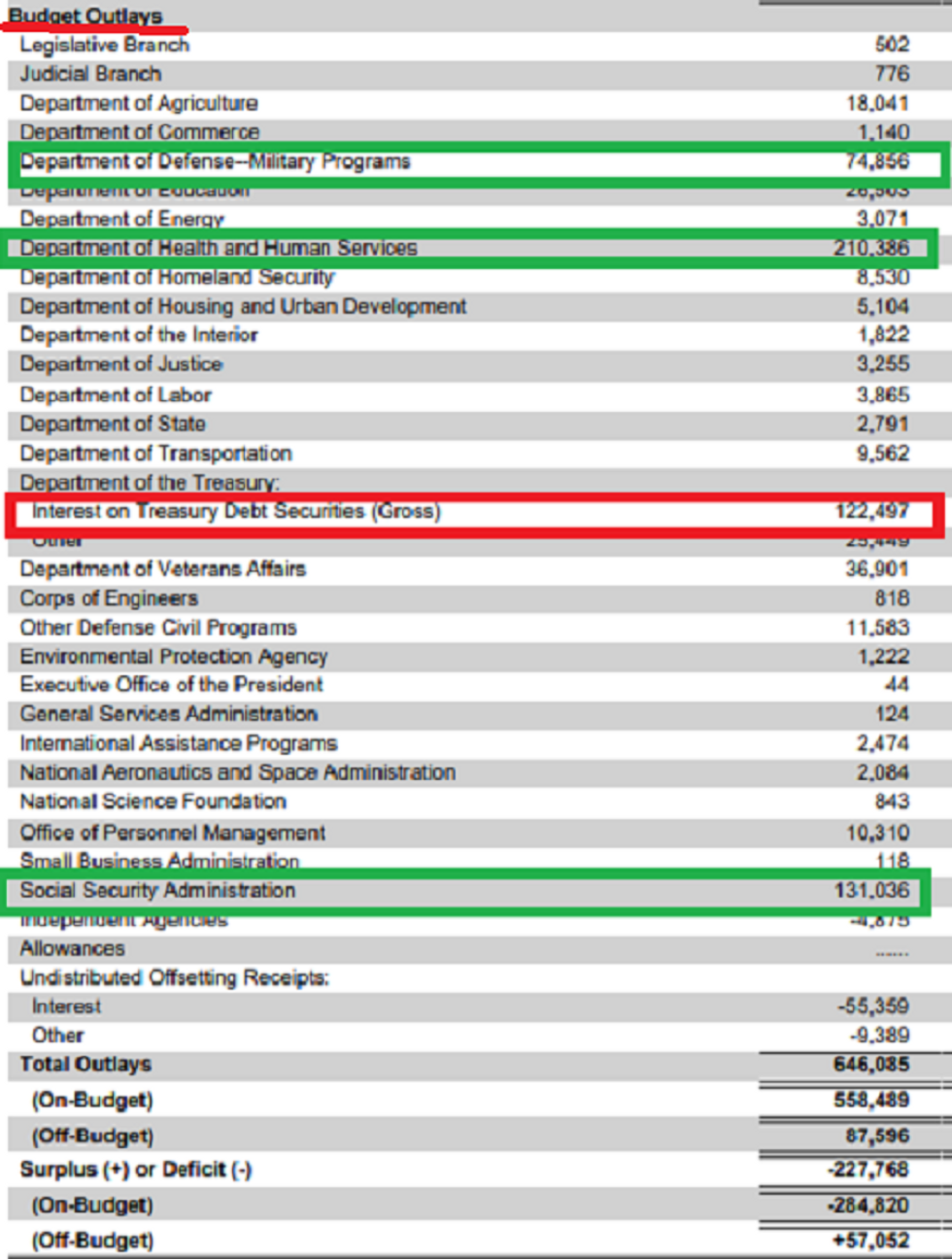 At $122 billion, interest on the debt topped the entire Pentagon budget of $75 billion for the month of June. It was only slightly less than Social Security, and, of course, the number-one expenditure of government: the HHS, mainly because of Medicare and Medicaid. In other words, interest on the debt itself is the new Social Security. No country can go on much longer with the cost of debt being as high as something as behemoth as Social Security for an aging population.
Remember the Bush years when we lamented the bipartisan spending binge that cost the GOP control of the House in 2006 for the first time in 12 years? Back then, the gross debt was 61% of the GDP. Today, it has doubled to 123%. Our debt will forever be larger than our economy.
Guess what happens when such gargantuan sums of money are printed to service so much debt? It kills the economy. As the White House touts "Bidenomics" with no self-awareness, officials would like you to think this is the new "roaring '20s," just a century later. The reality of this hard data demonstrates that our government has never been in a worse fiscal crisis — a crisis that will act like a dead and diseased rat on the rest of the economy it smothers.
We are still coasting at a record-high baseline of inflation because of this debt. That in itself is dampening revenues due to the cost of living and is therefore depleting government tax revenue. Tax revenue for June was the lowest for that month since the lockdown, which doesn't exactly reflect the humming economy the Biden administration seeks to project. Revenue fell by a massive 9.2%. Guess what happens with less revenue? Even deeper deficits and even higher costs for interest on the debt! So, the two constantly reinforce each other. As CBO warned in its latest long-term budget projection, "High and rising debt would have significant economic and financial consequences" and would "slow economic growth, drive up interest payments to foreign holders of U.S. debt, elevate the risk of a fiscal crisis, increase the likelihood of other adverse effects that could occur more gradually, and make the nation's fiscal position more vulnerable to an increase in interest rates."
At present, 18% of all our spending is just interest on debt, and that number is set to grow exponentially. The days of dismissing the debt as a mere figure on a spreadsheet are over. The insane COVID policies beginning in March 2022 changed all of that, inducing an unfathomable $9 trillion expansion of the debt in just 40 months. Our quality of life and standard of living will never be the same until this issue is confronted head-on.
October 1, when the new fiscal year begins at 12:01 a.m. is the time for House Republicans to draw a line in the sand and refuse to fund the government without transformational changes.
Want to leave a tip?
We answer to you. Help keep our content free of advertisers and big tech censorship by leaving a tip today.
Blaze Podcast Host
Daniel Horowitz is the host of "Conservative Review with Daniel Horowitz" and a senior editor for Blaze News.
RMConservative
more stories
Sign up for the Blaze newsletter
By signing up, you agree to our
Privacy Policy
and
Terms of Use
, and agree to receive content that may sometimes include advertisements. You may opt out at any time.